In my last article, I recommended Acadia Pharma (ACAD), which I believe it will see $12 a share in 3 years. At the time, it was trading at $1.60 and I stated it would see $1.80 in the short term. I was wrong, the stock actually went much higher hitting $2.06 in its last trading session. I am always trying to find small cap bio-pharmas that I feel have a great shot at bringing investors large returns. Granted, they are riskier plays, but have huge rewards when their drugs see positive results. Today, I write about a company I feel could actually double in the next 2 months or so, and will give my reasons why I feel this way in this article.
NuPathe (PATH) pps: $3.40
NuPathe is a specialty pharmaceutical company that focuses on the development and commercialization of branded therapeutics for diseases of the central nervous system, including neurological and psychiatric disorders.
Key pipelined drug: NP101
NP101 actively delivers sumatriptan, the most widely prescribed migraine medication. In clinical trials involving more than 10,000 applications, NP101 offered patients fast onset and sustained relief of debilitating migraine symptoms including headache pain and migraine-related nausea (MRN). It utilizes SmartRelief, a proprietary transdermal delivery technology that rapidly transports medication through the skin using a process called iontophoresis.
MAP Pharma (MAPP) faces a PDUFA FDA decision on March 26, 2012 for its drug Levadex (inhaled dihydroergotamine), a treatment for Migraine headaches. Levadex approval could trigger a $50 million milestone payment from Allergan (AGN), which is contingent upon the first sale of the drug and potentially more milestones adding another $25 million.
Allergan is a larger pharma that is certainly interested in getting into the migraine market, which is a multi-billion dollar one. At least 7 million people in the United States alone suffer from migraines
Pfizer's (NYSE:PFE) oral tablet Relpax generated over $300 million in sales in 2010. As we can see with the above 2 examples, NP101 has great money making potential for NuPath.
NP101 could be just as effective, if not more effective than Levadex and Relpax because it is delivered transdermally, which could provide a more effective and potent treatment than Pfizer's Relpax and MAP's Levadex, because transdermal treatments are not ingested, bypassing stomach and liver absorption. When a drug passes thru the liver, much of its potency is lost, requiring higher doses to achieve the desired efficacy. This can cause more undesired side effects including nausea, making MRN even more intolerable for migraine sufferers.
I believe Levadex will be given the green light come March 26th.
Potential Benefits of NP101:
Because NP101 delivers sumatriptan transdermally, NP101 could be a more attractive treatment option for migraineurs who might otherwise delay or avoid taking medication due to migraine-related nausea.
As mentioned prior, the delivery mechanism of NP101 avoids the need for gastrointestinal absorption. As a result, the patch could provide more consistent relief for migraineurs who experience gastroparesis as well as nausea.
Also according to the company, the migraine patch tightly controls the delivery of sumatriptan. As a result and based on clinical trial experience, the company believes that the patch will offer a low incidence of triptan sensations.
On Aug 30, 2011, NuPathe announced that it has received a Complete Response Letter (NYSE:CRL) from the FDA regarding the New Drug Application (NDA) for its migraine patch (NP101 or Zelrix).
In the CRL, the FDA acknowledged that NuPathe established the efficacy of the migraine patch in the overall migraine population. The CRL primarily contained chemistry, manufacturing, and safety questions which the company believes it has, or shortly will have, sufficient data to address. The company may conduct additional clinical and/or non-clinical studies to address these issues.
The CRL is the only real reason the company's stock is not selling for 3 times its current price level of around $3.40 a share in my opinion. Efficacy was good, and I believe this is a viable and more efficient treatment for those who suffer from migraines that could be revolutionary in terms of bringing faster relief and preventive recurrence of migraines. I believe the company has properly addressed the issues the FDA raised in the CRL response, so it is my opinion NP101 will be approved this time around.
I found something very interesting from NuPathe's last 10k summary which could also boost the stock price very high in the short term.
On August 2, 2011, we entered into a common stock purchase agreement ("Purchase Agreement") with Aspire Capital Fund, LLC ("Aspire Capital "), which provides that Aspire Capital is committed to purchase up to an aggregate of $30.0 million of our common stock over the term of the Purchase Agreement. Upon execution of the Purchase Agreement, we issued 84,866 shares of common stock to Aspire Capital as a commitment fee in consideration for entering into the Purchase Agreement (the "Commitment Shares" and we sold 70,721 shares of common stock to Aspire Capital at a per share purchase price of $7.07 resulting in gross proceeds to us of $500,000 (the "Initial Purchase Shares").

We have registered under the Securities Act of 1933 Aspire Capital's sale of the Commitment Shares, the Initial Purchase Shares, and 2,746,147 additional shares that we may elect to sell to Aspire Capital under the Purchase Agreement. The conditions to the commencement of sales under the Purchase Agreement were satisfied on August 15, 2011. As a result, on any trading day on which the closing sale price of common stock is not less than $4.00 per share, we may direct Aspire Capital to purchase shares of Company common stock at a known per share purchase price based on prevailing market prices, using a formula as set forth in the Purchase Agreement (a "Regular Purchase"). The maximum number of shares that we may direct Aspire to purchase on any trading day pursuant to a Regular Purchase is 100,000 shares or such lesser number of shares that results in an aggregate purchase price of not greater than $500,000.
It is my opinion the stock has been shorted as a hedge for the shares Aspire bought at the $7 price range. A stock price of $4 will allow Aspire to both cover its shorts if they have any, and buy more stock above the $4 price range. This should give the stock a further appreciation when and if the stock goes over $4 a share, and I believe this will occur soon.
NuPathe has not received its just due in my opinion. Approval of NP101 could see a stock price triple over night. Before you might think I am nuts to say this, I would point out that there are only 4.2 million shares available to be traded, which is a very small float. As I mentioned prior, I believe NP101 will be approved this year.
The company's market cap is $47.88M, which in my opinion is far too low considering the speculative value of NP101 alone.
Other drugs in pipeline:
NP201 according to Nupathe, is a long-acting formulation of ropinirole, a generic, FDA-approved dopamine agonist also known as Requip. Using NuPathe's patented LAD technology, the company is developing NP201 to provide continuous delivery of Parkinson's disease medication for up to two months in an easy-to-administer and tolerable dose formulation.
LAD technology is comprised of a biodegradable polymer matrix using commonly available medical polymers and an active drug, combined to form a small implant for injection just below the skin. Physicians can remove LAD using a minor outpatient procedure if a decision is made to stop therapy.
Based on a proof of concept study in a well-accepted animal model of Parkinson's Disease, the company believes NP201's continuous low-dose delivery has the potential to significantly increase the efficacy of ropinirole by reducing "on and off" time.
NP202 according to Nupathe, is a long-acting formulation of an FDA-approved antipsychotic based on the company's LAD technology using a biodegradable polymer implant as well as novel methods of treating schizophrenia, bipolar disorder and other specified psychiatric disorders with the implant by delivering therapeutic levels of risperidone, 9-hydroxy-risperidone, or haloperidol. It is a unique treatment that is designed to provide up to six months of continual medication with a single dose in an easy to administer and tolerable dose formulation.
Both drugs are pre-clinical and will be in clinical soon.
On 2/29/12 Nupathe announced that the United States Patent and Trademark Office (USPTO) has issued a notice of allowance for U.S. Patent application 11/183,232 entitled "Drug Containing Implants and Methods of Use Thereof" for NP202.
Nupathe is definitely working on very interesting treatments to say the least. In my opinion, NP202 is very promising as schizophrenic patients are known to skip taking their medication due to the delusions most of them suffer from. NP202 would ensure the patients are receiving the proper dosage of medication to maintain their mental stability.
Nupathe's CEO is Jane H. Hollingsworth, one of NuPathe's founders and has served as a director and Chief Executive Officer since January 2005. Prior to founding the company, Hollingsworth co-founded and served as Executive Vice President, Secretary and General Counsel of
Auxilium Pharma (AUXL).
Prior to co-founding Auxilium, Hollingsworth served as Vice President, Secretary and General Counsel of IBAH, Inc., a multinational contract research organization. Earlier in her career, Ms. Hollingsworth practiced law at the law firm of Montgomery, McCracken, Walker & Rhoads. Ms. Hollingsworth holds a BA from Gettysburg College and a JD from the Villanova University School of Law.
Hollingsworth also suffers from migraine headaches, as she noted on the company website.
Having co-founded Auxilium is quite an accomplishment, which in my opinion, gives Hollingsworth the experience to better help Nupathe get its drugs FDA approved. Hollingsworth really does a good job explaining NP101 and The Nupathe business goal with the drug in a video I found on YouTube.
| | |
| --- | --- |
| *Shares Outstanding: | 14.73M |
| Float: | 4.65M |
| % Held by Insiders: | 69.13% |
| % Held by Institutions: | 9.00% |
| Shares Short (as of Feb 29, 2012): | 352.13K |
| Short Ratio (as of Feb 29, 2012): | 7.90 |
| Short % of Float (as of Feb 29, 2012): | 6.00% |
Balance Sheet
Total Cash (mrq):
29.99M
Total Cash Per Share (mrq):
2.04
Total Debt (mrq):
14.71M
Total Debt/Equity (mrq):
81.08
Current Ratio (mrq):
2.46
Book Value Per Share (mrq):
1.23
Cash Flow Statement
Operating Cash Flow (TTM):
-21.51M
Levered Free Cash Flow :
-18.00M
As a developmental bio-pharma, Nupathe does burn a considerable amount of cash and has some debt. However, with nearly $30 million in cash on hand, and with the company's strong non toxic financing deal with Aspire, Nupathe is in better shape financially than most developmental pharmas.
*Insider Transactions:
| Date | Insider | Shares | Type | Transaction | Value* |
| --- | --- | --- | --- | --- | --- |
| Sep 15, 2011 | ROCHE ROBERT P JR Director | 10,000 | Direct | Purchase at $2.68 per share. | 26,800 |
| Sep 9, 2011 | HOLLINGSWORTH JANE H Officer | 20,000 | Direct | Purchase at $2.56 per share. | 51,200 |
| Sep 7, 2011 | KURTZMAN GARY J Director | 7,500 | Direct | Purchase at $2.49 per share. | 18,675 |
| Aug 11, 2010 | QUAKER BIOVENTURES II LP Beneficial Owner (10% or more) | 491,879 | Indirect | Acquisition (Non Open Market) | N/A |
| Aug 11, 2010 | QUAKER BIOVENTURES II LP Beneficial Owner (10% or more) | 2,793,182 | Direct | Acquisition (Non Open Market) at $8 - $10 per share. | N/A |
As of late, there has not been any new insider buying. We can see above that Quaker bought a substantial amount of shares at a much higher price than the stock is currently selling for. As I mentioned prior, I am sure some of these large purchasers shorted the stock after the price fell to a certain level in order to hedge their bets. What I am seeing now in the chart shows accumulation occurring, let's take a look: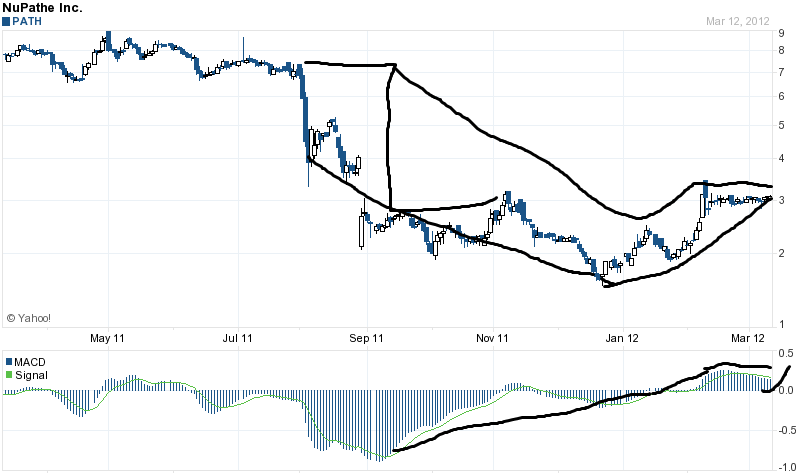 I drew some crude black lines above to represent what I see in the chart. Starting at $7 a share, we can see a steady decline in the stock price. After August 2011, likely in September, is where I believe large purchasers of the stock began to hedge their bets by short selling after Nupathe received the CRL from the FDA regarding NP101.
Beginning in February, I believe we are seeing strong pennant accumulation. The MACD and signal have gone positive and both remain steady. Volume has been somewhat light, and it appears to me investors are accumulating shares in NuPathe quietly. Where the black lines come closer together at the end of the chart represents a tighter bollinger banding, indicating a possible break-out on the horizon.
A move to over $4 a share is coming very soon in my opinion. Because I have so many shares wrapped up in Antares Pharma (AIS), I cannot personally buy any significant amount of Nupathe stock. However, as an offer of disclosure, I advised my father to buy some shares yesterday, and he now holds Nupathe stock.
I see no significant short term high risk, but there is longer term high risk; if NP101 fails to gain approval this go around, the stock would likely trade a dollar lower than it does now. However, because of the other 2 drugs in its pipeline which I find to be very impressive, the company would still have a value far greater than the current $47 million dollar market cap.
My opinion: Strong buy with short term target of $4.00, midterm target of $6.50, and a 1 year target of $12.00, which assumes NP101 gains approval, which again, I believe it will. To clarify, because the stock has such a low float, approval of NP101 would likely see a 5 to 7 dollar gap, or higher in the stock price.
*Data sourced from Yahoo Finance
Disclosure: I am long AIS.
Additional disclosure: Disclosure: My Father is long PATH.
Disclaimer: This article is intended for informational and entertainment use only and should not be construed as professional investment advice. Always do you own complete due diligence before buying and selling any stock.