After establishing an 80-week residence on the New York Times best sellers list for Children's Series, "The Hunger Games" (HG) trilogy now appears ready to take Hollywood by storm. In addition to smashing pre-sale records at Fandango.com 10 days ago, the latest industry tracking reports point to audience anticipation levels that are off the charts for a film still two weeks away from major release. With the potential to join "Harry Potter" and "Twilight" in the elite echelon of Hollywood movie franchises, HG also stands to reap monster rewards for its studio Lions Gate Films, Inc. (LGF). Though the stock price already reflects HG's blockbuster potential, we believe there is still significant upside for LGF in the short-to-intermediate term. Why? As the film's tagline so matter-of-factly states, "The World Will Be Watching" - and we could not agree more. Let's discuss.
Industry Tracking/Pre-Sale Reports
Perhaps the most surprising revelation from last week's industry report on HG is how well the movie is tracking across all demographics. While one look at the recent frenzy HG created during a mall tour stop in Dallas, leaves little doubt opening weekend will be dominated by teenage girls, the report also highlights the film's growing interest with both teenage boys and men over 25. This is significant. Such data points to a movie with tremendous cross-over appeal, which in turn, should give HG "legs" for weeks after its opening, a phenomenon "Twilight, Breaking Dawn" did not enjoy. Now consider that with a predominantly female fan-base, Breaking Dawn did almost $140M on its opening weekend and grossed close to $300M overall domestically. With this in mind, now tack on a whole subset of males who are eagerly anticipating the HG release and not just being dragged to the theater by their girlfriends. Cross-over appeal like this is rare. It suggests a film with major staying power, one that will not peter out after its second week like Breaking Dawn.
Hunger Games Brings Them Out in Droves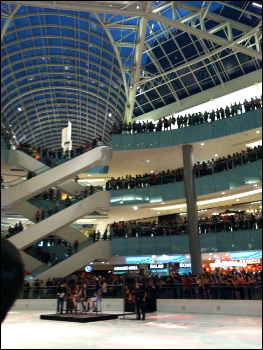 Source: Huffington Post
After shattering one-day, pre-sales records at Fandango.com 10 days ago and selling out hundreds of theaters already, we expect to see a second HG Pre-Sales report either this week or next. The numbers will not disappoint. Due to the tremendous pent-up demand for the film, theaters around the country are scrambling to add midnight viewings for opening night. Take a look at the attached analysis of midnight showings currently scheduled within 25 geographic regions of the country:
(Click to expand)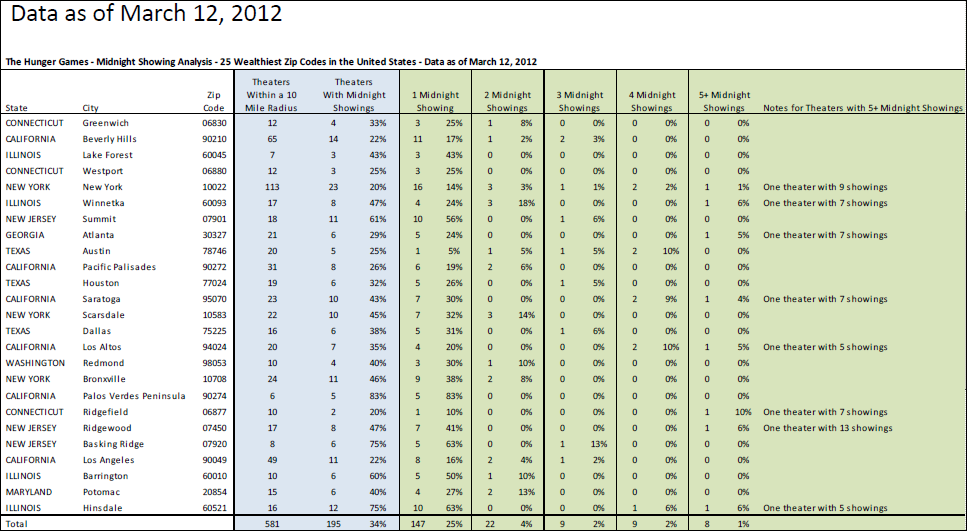 Source: Moviefone.com
The sheer scale of theaters with midnight viewings, not to mention multiple midnight viewings, bodes extremely well for HG's odds to challenge the all-time weekend box office record for March of $116M set by "Alice in Wonderland" in 2010. As excitement and demand for HG continues to grow over the next 10 days, we fully expect to see the number of midnight viewings increase in kind in multiplexes across the country. The next round of Pre-Sale data should confirm what our due diligence has already uncovered: the public's appetite for HG appears insatiable. Stay tuned.
"Hunger Games" Facebook Page
Hoping to gain a social-networking perspective on the growing anticipation for HG, we have been tracking the number of daily "likes" on "The Hunger Games" Facebook page over the past week. Prior to last week, we observed 10k-15k new "likes" a day. However, as of Friday, March 9, there has been a groundswell of activity and interest on the HG Facebook page. New fans of the upcoming film are now joining at an accelerated rate of almost 30k a day. We expect these numbers to hit critical mass as we move closer to HG's nationwide release on March 23. It would not surprise us to see the number of "likes" explode to 4M as the frenzy builds toward opening night. Compare the interest in HG on Facebook to some other movies focused on the teen audience such as "John Carter," "21 Jump Street" and "The Vow." The cross-over appeal of HG becomes quickly apparent and you can begin to make the case for a $350M - $400M juggernaut.
Take a closer look at the data below: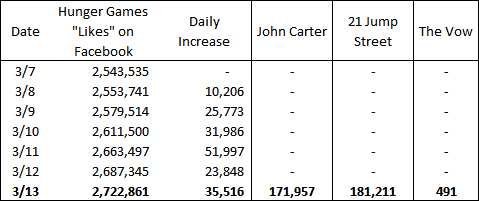 Source: Facebook.com
Google Trends Data
In an effort to ascertain where HG ranks in relation to "Twilight," "Breaking Dawn" and the final installment of "Harry Potter, The Deathly Hallows," we conducted a comparative analysis of each film on Google Trends. Note that HG is well on its way to surpassing the high point of "Breaking Dawn" and is on the same trajectory The Deathly Hallows experienced before its release date. Take a look below: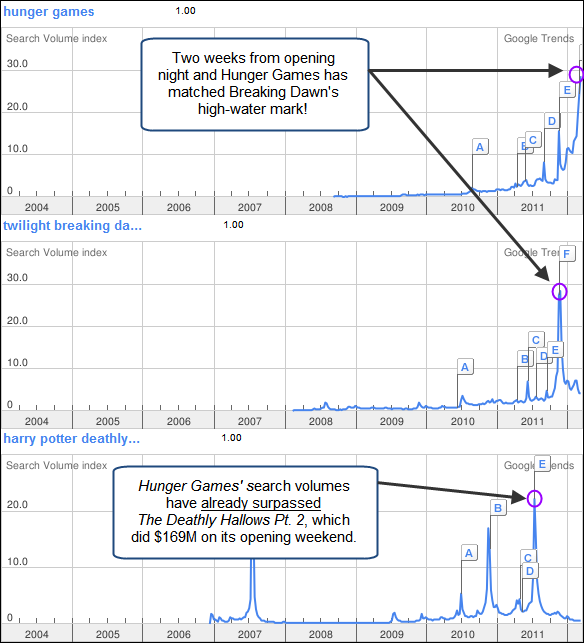 Source: Google Trends
Positive Reviews Should Push LGF Much Higher
After the L.A. premiere on Monday night, we expect positive critical reviews of the HG to act as the next upward catalyst for LGF stock. A little over a week ago, Lionsgate held a pre-screening engagement for the press who were bound by non-disclosure agreements and embargo. As of Monday, March 12, the studio lifted some of these constraints and allowed these lucky viewers to express their reactions to HG. Well the filmerati have spoken and their first-look Twitters and Tweets have been glowing thus far. Take a look at what awaits you on the silver screen in just two short weeks:
"The Hunger Games" Twitters & Tweets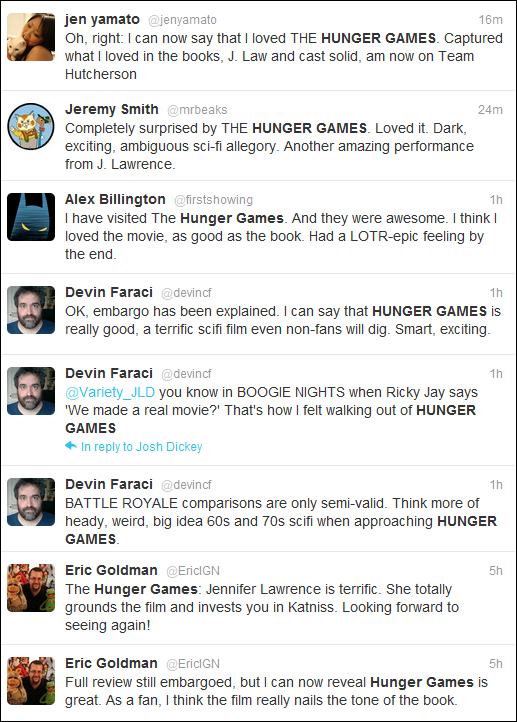 When you consider the screenplay for HG was carefully crafted by screenwriter Billy Ray, in collaboration with "The Hunger Games" author, Suzanne Collins, the quality of the adaptation and faithfulness to the source material should be exemplary. This should go a long way to garnering positive critical reviews and appeasing the die-hard fans that fear a "Hollywood sellout."
Collins herself recently weighed in on the movie in the beginning of March stating: "I've just had the opportunity to see the finished film of The Hunger Games. I'm really happy with how it turned out. I feel like the book and the film are individual yet complementary pieces that enhance one another." While one could argue the author has no incentive to trash her own movie, please go back and re-read the recent tweets from the press. The early reviews certainly jibe with Collins' original statement. And those twitters are coming from critics and film fanatics bloggers who typically love to shred a Hollywood adaptation.
If we are correct, praise from the critics will be the final part of the equation that vaults HG to elite blockbuster franchise status. Rave reviews entice moviegoers who are "on the fence." If those viewers, in turn enjoy the movie, it creates positive word-of-mouth and "water cooler" chatter and suddenly viewers from all demographics want to see "what the hype is about." Look for this mass effect in Weeks 2-6, after the tweens and teenagers have had their first go-around in Week 1. We underscore "first" because many of those tweens and teens will want to see HG more than once, perhaps the second time on an IMAX screen.
Add it all up and we see the potential for LGF's stock to go parabolic over the next few months as new institutions discover the name. With current estimates for HG's box office in the range of $225M-$275M, when HG demolishes these numbers, analysts will have no choice but to raise their expectations for the overall franchise value to Lionsgate. Look for price targets to move to the high-teens and subsequently into the $20s, with the stock following close behind. To finish, let us invoke just one more HG tagline - "May the Odds Be Ever in Your Favor." With that in mind, we like our odds on LGF.
Disclosure: I am long LGF.