After two-straight weeks where commodity-related exchange-traded products saw positive inflows across all asset classes, the investment tide changed course this week ending Thursday, with $425 million in net outflows.
Precious metals led commodity asset classes with outflows of $188 million, followed by energy with outflows of $126 million; broad market (multicommodity) with $68 million in outflows; agriculture with $25 million in outflows; and industrial metals with $18 million in lost investment capital.
Exchange-traded products (ETPs) include exchange-traded funds (ETFs), exchange-traded vehicles (ETVs) and exchange-traded notes (ETNs).
ETP Inflows/Outflows
Energy funds dominated the top inflows. The S&P Oil & Gas Exploration & Production (NYSEARCA:XOP) attracted $48 million in inflows, followed by Alerian MLP (NYSEARCA:AMLP), iShares S&P Global Energy (NYSEARCA:IXC), JPMorgan Alerian MLP ETN (NYSEARCA:AMJ) and PowerShares DB Oil (NYSEARCA:DBO) with inflows of $32 million, $30 million, $27 million and $18 million, respectively.
Energy and metals funds populated the top outflows. The Energy Select SPDR (NYSEARCA:XLE) saw outflows of $283 million, followed by SPDR S&P Metals and Mining (NYSEARCA:XME), United States Oil (NYSEARCA:USO), iShares Silver (NYSEARCA:SLV) and Market Vectors Junior Gold Miners (NYSEARCA:GDXJ), with outflows of $113 million, $69 million, $46.5 million and $46 million, respectively.
ETP Price Performance
Energy also commanded most of the top-performers spot for the week as well, led by iPath Dow-Jones UBS Natural Gas Total Return (NYSEARCA:GAZ), with an increase of 9.55 percent, followed by iPath Pure Beta Sugar ETN (NYSEARCA:SGAR), with a gain of 4.58 percent; iPath Global Carbon ETN (NYSEARCA:GRN), with a gain of 2.77 percent; ETRACS Natural Gas Futures Contango ETN (NYSEARCA:GASZ), with a gain of 1.66 percent; and ELEMENTS MLCX Biofuels Total Return ETN (NYSEARCA:FUE), with a gain of 1.64 percent.
The worst performers were more of a mixed bag, led by the iPath Dow Jones-UBS Lead Total Return ETN (NYSEARCA:LD) that fell 8.83 percent, followed by iPath Dow-Jones Coffee Total Return ETN (NYSEARCA:JO), with a 7.65 percent decline; Guggenheim Solar (NYSEARCA:TAN), with a loss of 7.4 percent; Market Vectors Solar Energy (NYSEARCA:KWT), with a loss of 7.29 percent; and United States Natural Gas (NYSEARCA:UNG), with a loss of 6.7 percent.
Fund Flows Data: (March 1 - March 8, 2012)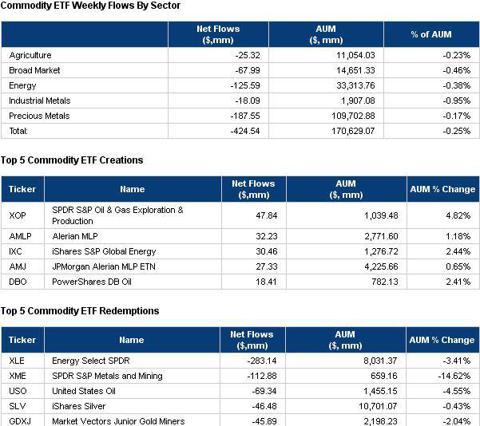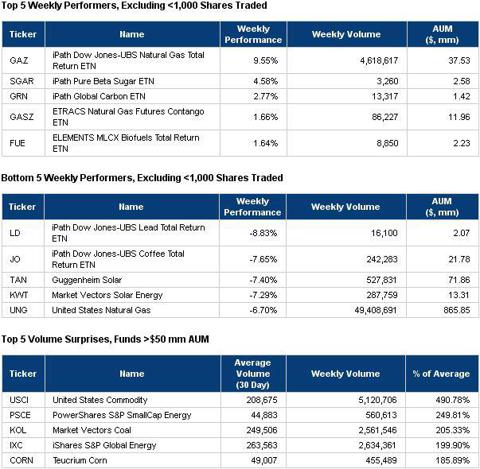 Disclaimer: Data provided by IndexUniverse. All data as of 6 a.m. Eastern the date of publication. Data is believed to be accurate; however, transient market data is often subject to subsequent revision and correction by the exchanges.