"If it's true that every person who tries the service gets "immediately hooked" as you say, then why is it that the company reports 1 million cancellations per quarter and 4 million cancellations per year?"

- Cameron Kaine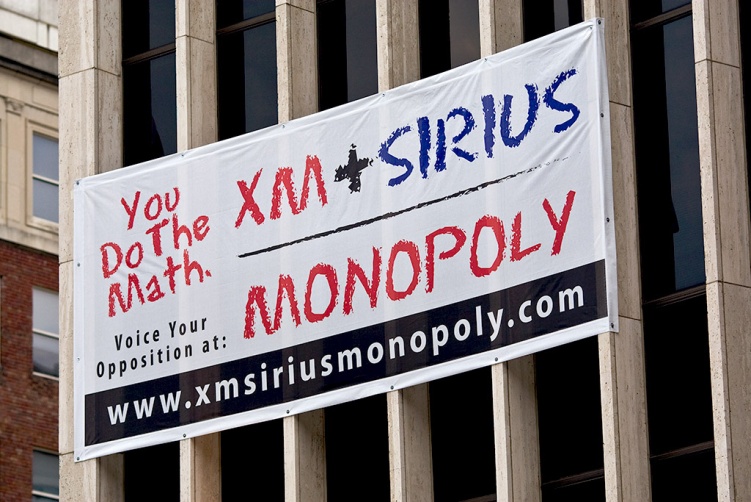 Being a good and loyal customer does not make one a great investor. This is something that many investors have failed to realize. I always hear about how great Sirius XM (NASDAQ:SIRI) is from several investors to the extent that many are quick to point out that it is a monopoly. However, in every conference call, investors can hear how the company's management point to many competitive threats from Pandora (NYSE:P), Clear Channel, terrestrial radio, iHeartRadio and a host of others that are IP based. In fact, Sirius' CEO, Mel Karmazin, was quick to point out on his recent appearance on Jim Cramer's show, that IP competition are popping up all the time.
The monopoly myth and the competition
So for Sirius investors to insist that the company is a monopoly, I continue to ask how? Being the only one that uses satellite transmission does not suffice as an argument and nor does it matter. Is Sirius the only entry in the automobile? Is Sirius the only streaming audio content provider? Is Sirius the only place to get the NFL? Not really because I can get it on mobile with DirecTV (DTV). I can get CNBC, NPR as well as ESPN streamed online as well as a host of other original programming through its own individual smart phone app. So where is the monopoly?
This is what the rest of the market understands by virtue of its high short interest and what many Sirius investors fail to realize. The fact is, just because you enjoy a product it does translate to a good understanding of the business and nor does it make it worthy of a good investment. I often wonder how many would invest in Sirius if investors fully appreciated the (real) growth potential as well as the risks to the company. It is disappointing that investors rather continue following the litany of rumors instead of investigating the truth for themselves as part of a thorough due diligence process. What I have noticed is that investors take large positions in the stock because of its low price level without realizing that the value is pretty limited by its P/E of 33.
The result is an immediate emotional attachment that occurs due to the daily movement watching of a few pennies. The question that I would like for any Sirius investor to answer is, what are the probabilities that the company's earnings can grow to the extent that its P/E can drop to what is considered "standard" according to the market? The company is trading higher than Apple (NASDAQ:AAPL), Hewlett Packard (NYSE:HPQ), Cisco (NASDAQ:CSCO) and Intel (NASDAQ:INTC) and is not as established and does not generate a return. In other words it is trading as a technology bellwether that does not innovate nor invest in technology. As you take in your long positions, ask yourself how long will this continue?
Appreciating market dynamics
Sirius and XM were the first to enter the market, to the extent that I will say that both firms were the pioneers before their merger. At the onset, the word "monopoly" might have been acceptable, but using it now is completely absurd. Here's what you need to understand: Competitive threats are often nowhere to be found whenever a new market is formed. The perfect example if Research In Motion (RIMM) and (even better) Netflix (NASDAQ:NFLX). RIM created the smart phone market, one that was pioneered by Palm.
For a while both companies battled it out for market share until Palm gave up the fight. RIM dominated the market until Apple (AAPL) realized that the market was growing and it decided it wanted a piece of the pie. Now it owns the pie and caused Google (NASDAQ:GOOG) to want to jump in as well. The end result is a saturated market where RIM is now wondering what happened? The same thing is now occurring to Netflix. The company created the mail movie delivery business and immediately made Blockbuster a dinosaur. It then wanted to enter streaming. While not a bad idea, its execution was grossly flawed. Since then Amazon (NASDAQ:AMZN), Coinstar, Apple, Google and a host of other firms including cable providers have now saturated the market leaving Netflix looking for other options.
Summary
This is what is going to happen for Sirius unless it changes its model. But I suspect that it may not matter for much longer if Liberty (LMCA) has anything to do with it. While it is true at one point Sirius and XM were the only players within the space, as a merged company investors have to realize that market dynamics often dictate the success of the companies - Sirius at the moment is not a monopoly.
The audio entertainment market has been established and more players have now become involved and it is growing more rapidly than before. The question is, how confident are you that Sirius will be able to seize enough market share to grow into its already high valuation? In fact, it is my understanding of these factors surrounding its business, particularly with its dependency on the automobile, convinces me that it is a good short play at $2.35.
Disclosure: I am short SIRI.