The collapse of dry bulk shipping rates over the last three years has caused the bankruptcy of several shipping companies, including Omega Navigation Enterprises and General Maritime Corporation. With this winter's decline in Supramax spot rates from over $14,000/day to under $8,000/day, it is likely that the shipping industry hasn't seen its last casualty. (See "BSI" on pg. 3, here and here).
Eagle by the Numbers
At $1.48, Eagle Bulk Shipping (NASDAQ:EGLE) is clearly trading at a steep discount, its share price having fallen over 95% in the last four years and over 60% in the last year alone. At first glance, the company seems like a steal at this price: Eagle has one of the largest and youngest fleets of any publicly-traded company, with 48 Supramax ships at an average age of 5 years. Based on current Supramax resale prices I've estimated the fleet to be worth $960m, which dwarfs Eagle's market cap of only $93m. Undoubtedly, Eagle is selling at a steep discount, but its current price reflects the precariousness of the company's current financial situation.
When Eagle Bulk Shipping (EGLE) released its last report in November of 2011, the company's financial position already looked grim. The company had $1,129m in debt, and was facing a steep series of debt repayments scheduled for 2012. Specifically, the company was required to raise the following amounts over its next three fiscal quarters:
$28m in principal repayment, due June 30, 2012.
$36m in interest repayment ($12m over three quarters).
$9m to raise cash reserves from $27m to $36m (a loan covenant requirement)
Total: $73m by June 30, 2012
Eagle is unlikely to generate this kind of income. To achieve this level of earnings the company would need to bring in $24.3m per quarter. This is unlikely, considering they reported EBITDA of $25.9m for Q3 2011, a period when Supramax shipping rates were at nearly double their current level.
To get a better picture of what we can expect in the next three quarters, I've tried to forecast the company's earnings using the contract rates on the company's website. You can view my spreadsheet calculations here. To give you some detail on how I came up with these estimates, the revenue figures I've listed are the contracted time charter rates, or for the ships on the spot market, the average Supramax spot rate for the quarter. The daily operating expense of $5300 per ship was taken from the company's annual report. Brokerage fees, drydocking expenses and overhead costs are assumed to remain at their levels from Q3 2011.
This gives us the following earnings projections: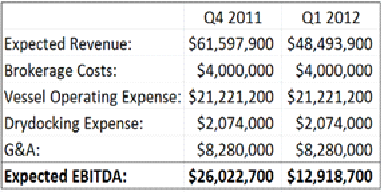 As you can see, we should expect the company to only make some $37m by the end of March, and with shipping rates at their present levels they are unlikely to generate the remaining $37m they will need by the end of June. Eagle's lenders have restricted the company from selling its ships without permission, so unless they can renegotiate terms with their lenders or find a new equity investor, they won't be able to make their principal payment by the end of June.
Annual report delayed
Eagle has released its Q4 earnings and annual report on March 2 of every year since the company was formed. This year, however, the company has delayed until March 15 to release its report. So why have they delayed? Right now we can only give speculative reasons (see footnote), but we might conjecture that management was looking for more time to try to renegotiate with lenders or find a new equity investor.
Investors would have good reason to avoid this company, too. Management's reputation has been damaged by a shareholder suit that alleges they stole tens of millions of dollars from lenders and shareholders (see article here, court filings here). On top of this, management registered the company in the Marshall Islands, which allowed them to structure the company in a way that transfers power from shareholders to management.
Shipping finance requires trust, and when there are plenty of other shipping companies with trustworthy management that also need financing, it seems unlikely that Eagle will find a new investor.
Disclosure: I am short EGLE.