Due to the recent and continuing low-interest rate environment cash, CDs and Treasuries, many investors are looking for higher-yielding alternatives to supplement fixed income portfolios. One popular option now offering some of the highest dividends among publicly traded equities would be agency mortgage REITs.
Among residential mortgage REITs, some hold residential mortgage backed securities insured by federal agencies while others also own RMBSs without agency insurance. Agency mortgage REITs should have portfolios exclusively composed of residential mortgage backed securities insured by federal agencies.
An agency RMBS is similar to a U.S. Treasury, with some differences. Government agencies make mortgages and then issue a mortgage backed security. These agency RMBS come with an agency backing and an implied U.S. government backing. When borrowers default on agency-backed loans, the agencies make payments and/or buy out the defaulting obligations. Prepayment buying of loans often has a volatile affect upon a mREIT's quarterly income, its yield and asset valuation, but prepayment is considerably preferable to a true default.
Below, I have provided recent performance rates for five reasonably liquid and high- yielding Agency Mortgage REITs: American Capital Agency Corp. (NASDAQ:AGNC), Annaly Capital Management, Inc. (NYSE:NLY) , Anworth Mortgage Asset Corporation (NYSE:ANH), Capstead Mortgage Corp (NYSE:CMO) and Hatteras Financial Corp (NYSE:HTS). I have provided 1-week, 2012-to-date and 3-month equity performance rates, as well as each REIT's yield.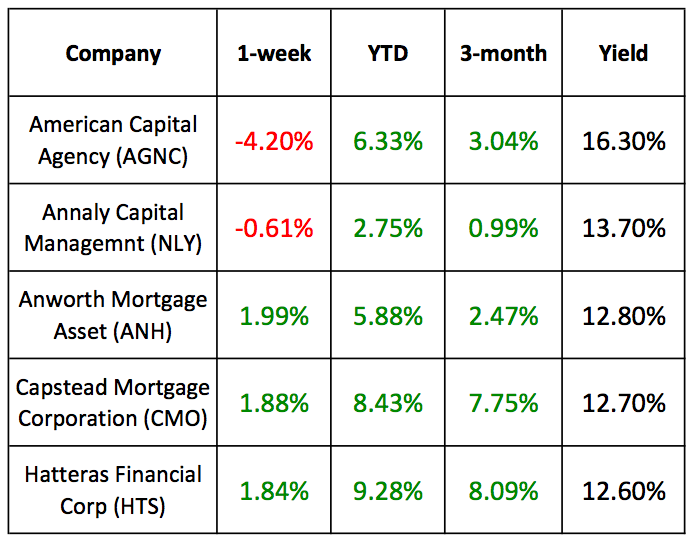 And below is a 2012-to-date performance comparison chart: (Click to enlarge)


This often quiet group of mREITs has reported some key information in the past few days. Last week, American Capital Agency Corp announced and priced a massive secondary public offering of 62 million shares of common stock for total estimated gross proceeds of about $2.0 billion. Just last month, AGNC reported Q4 2011 earnings of $208.7 million, or $0.99 per share, compared with $1.39 per share during the Q3 2011. Last month, AGNC also announced a dividend policy cut, lowering the quarterly payout to $1.25 from 1.40 per share.
Additionally, on Monday, March 12, Hatteras announced a 1Q 2012 dividend of $0.90 per share. This was the same dividend HTS distributed last quarter, at which time it had reduced its dividend from one dollar per share. Then, on Tuesday, March 13, Capstead announced a 1Q 2012 dividend of $0.43 per share, which is also the same dividend it paid out for Q4 2011, at which time it had reduced its dividend from $0.44 per share.
Most investors came to these names for their yields, but those investors will also take the 6.53% average appreciation so far in 2012. Some of this recent strength is because in late January, Ben Bernanke extended the estimated time frame for keeping the Federal Funds Rate near zero through 2014, further pushing investors into high-yielding income alternatives like REITs and MLPs, and also increasing the value of agency mREIT portfolios.
Agency REITs achieve their substantial yields through leverage. These listed REITs currently have leverage rates of between 5x and 8x assets. Leverage risk may one day become a major concern. If interest rates do spike up, these REITs could suffer not only reduced spreads but also leveraged reductions to their book values.
Because of the risks associated with such leverage and potential peaking of Treasury valuations, exposure to agency mREITs should be limited to a reasonable percentage of a portfolio, based upon your risk profile, time-horizon, income needs and other investments. Additionally, most REIT dividends are taxed as regular income and not at the lower corporate dividend rate, making them substantially better performing investments when held within tax deferred or exempt accounts.
Disclosure: I am long NLY.
Disclaimer: This article is intended to be informative and should not be construed as personalized advice as it does not take into account your specific situation or objectives.