Close Reading: On The History Of Bear Markets And Dour Predictions
May 07, 2020 12:59 PM ET
SPY, QQQ, DIA, SH, IWM, TZA, SSO, TNA, VOO, SDS, IVV, SPXU, TQQQ, UPRO, PSQ, SPXL, UWM, RSP, SPXS, SQQQ, QID, DOG, QLD, DXD, UDOW, SDOW, VFINX, URTY, EPS, TWM, SCHX, VV, RWM, DDM, SRTY, VTWO, QQEW, QQQE, FEX, ILCB, SPLX, EEH, EQL, QQXT, SPUU, IWL, SYE, SMLL, SPXE, UDPIX, JHML, OTPIX, RYARX, SPXN, HUSV, RYRSX, SCAP, SPDN, SPXT, SPXV
47 Comments
Summary
Prominent media articles often have dramatic titles that scare readers witless.
Investors must look beyond the headline to consider the logic and evidence for the argument.
This is an example of an article that might seem scary until you think about the conclusion and the data.
I provide a few helpful tips to do this.
A reader saw a disturbing article and sent me a question about it. I suspect that many other readers of this article were also worried. It was a mainstream media article using data from a reputable source. Despite these credentials, the title, Will the stock market tumble back to its coronavirus lows in March? About 92 years of S&P 500 history says there's a good chance, is not supported by the evidence and argument.
Investors must protect themselves by going past the headline. If the conclusion seems important, give the entire article a close reading before taking any action with your investments. I'll use this article as an example. Let's start with the heading for the story:
Since 1928, reviewing the past 25 bear markets, there has been a lower price put in by the S&P 500 index 60% of the time
Suppose this statement is accurate. Is it worrisome?
1. It means that there was a lower price 15 times, but not the other ten. Looking at the actual numbers instead of creating 60% "odds" presents a clearer picture. The chance of returning to the lows would be little more than a toss-up. 25 cases do not provide a very good sample for this type of conclusion. Suppose that you learned that your child's class had 15 girls and ten boys. If a new student transferred in, would the odds be 60% that it was a girl? If you looked at another class at the same school would the gender division be the same?
2. Are the prior bear markets similar to current conditions? No, they actually seem quite different. Every metric I examine shows unprecedented readings. Investors are confronting a unique problem. Will the recovery be as fast as the decline? Will it require revisiting the lows? I don't know, and I won't find out by looking at past bear markets.
What can we learn from the data? The author writes as follows:
Making a finer point, however, Bespoke notes that of the 11 bear markets from 1928 through 1940, 9 of them saw the S&P 500 make a lower low, but since 1940 most bear markets have tended not to see retest (see attached table):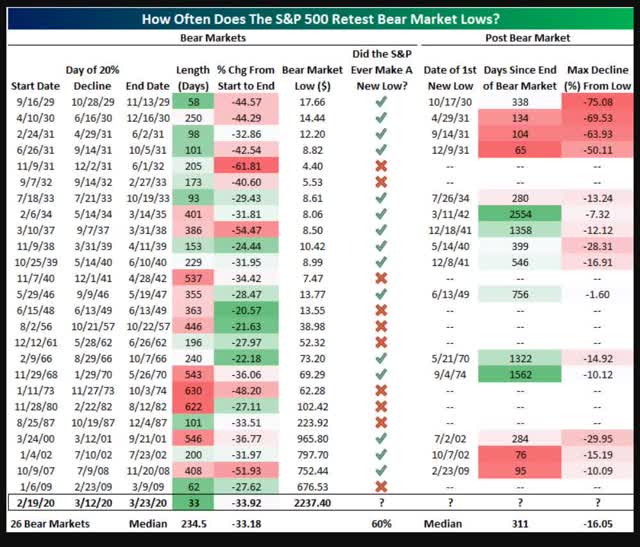 Another way of describing the result would be to look only at the time after the Great Depression. Six of 14 cases, only 43%.
Or look at the time since 2000 and say that a new low was made 75% of the time!
Takeaway for Investors
I chose an article that accurately provided all the data and where the author's conclusions were modest and nuanced. The headline is another matter.
Look past the headline. These are often presented in a dramatic manner that overstates the evidence.
Ask whether the evidence supports the conclusion. You need not be an expert in statistics to spot problems like an inadequate number of relevant cases.
If possible, look at the data yourself. What patterns, if any, do you see? If you were to write a report summarizing the information, what would you say?
Personal Note
Making good investment decisions can be challenging. Applying close reading and critical thinking is essential for your own protection.
I began 2020 with a commitment to advancing investor education, so I plan more articles on this and similar themes. I welcome questions and examples that could be the topic for future posts.
This article was written by
Seeking Alpha mourns the passing of Jeff Miller, on May 7, 2021. During his time at Seeking Alpha, Jeff attracted a following of close to 40,000 readers and published more than 1,500 articles. He was a portfolio manager at Incline Investment Advisors, LLC. Jeff also was President of NewArc Investments, Inc., and served as a university professor.....................................................................................................................................Jeff is Portfolio Manager for Incline Investment Advisors, LLC.,manager of both individual and institutional investments. A registered investment advisor, he was formerly President of NewArc Investments, Inc. Jeff is a former college professor with a hands-on, real world attitude. His quantitative modeling helped inform state and local officials in Wisconsin for more than a decade. A Public Policy analyst, he taught advanced research methods at the University of Wisconsin, and analyzed many issues related to state tax policy. Jeff began in the financial business as Research Director for a trading firm at the Chicago Board Options Exchange. He investigated anomalies in the standard option pricing models, taught classes for beginning options traders, and developed new forecasting techniques. In 1991 he established a general research consultancy, working with professional traders at all of the Chicago financial exchanges. In 1998 he started NewArc Investments, Inc. Jeff has a commitment to the specific needs of individual investors. It is not a one-size-fits all approach, but one that emphasizes the unique circumstances of each client. Jeff also serves on the board of a small technology company. He occasionally serves as an expert witness in legal cases involving financial markets and hedging.
Analyst's Disclosure: I/we have no positions in any stocks mentioned, and no plans to initiate any positions within the next 72 hours. I wrote this article myself, and it expresses my own opinions. I am not receiving compensation for it. I have no business relationship with any company whose stock is mentioned in this article.
Seeking Alpha's Disclosure: Past performance is no guarantee of future results. No recommendation or advice is being given as to whether any investment is suitable for a particular investor. Any views or opinions expressed above may not reflect those of Seeking Alpha as a whole. Seeking Alpha is not a licensed securities dealer, broker or US investment adviser or investment bank. Our analysts are third party authors that include both professional investors and individual investors who may not be licensed or certified by any institute or regulatory body.