Natural gas prices are at a 10-year low as the supply outpaces the demand for this product. There is no anticipated change in the supply demand equation in 2012. The best way to play low natural gas prices is through new uses for the gas such as compressed natural gas used for transportation and increased profits by companies that use natural gas in their production process such as chemical and fertilizer producers. Here are some ideas with companies that will benefit from low natural gas prices.
Currently, Honda (NYSE:HMC) is the only company selling passenger car natural gas vehicles (NGVs) to the public in the U.S., with a dedicated version of its compact Civic model available in New York, California, Utah, and Oklahoma. Honda is planning to expand its NGV dealer network to 35 states. Recently, General Motors (NYSE:GM) and Fiat's (FIATY) Chrysler unit stated they will begin selling versions of popular light trucks that can run on both gasoline and compressed natural gas (CNG). The trucks have two tanks, and drivers can choose which fuel they want to use; if they run out of one, the vehicle automatically switches to the other. The ability to run on either fuel is an important step for winning over new customers who might be interested in the cost savings from the significantly cheaper CNG but worry about running out of fuel and not finding a compatible station. The cost savings of using CNG instead of gasoline is significant. The amount of CNG that is equivalent to a gallon of gasoline now sells for between $1.50 to $2.00 less than a gallon of regular gasoline.
In addition to producing oil and gas, Apache (NYSE:APA) has been a leading advocate of NGVs, which have not received the same media attention as electric vehicles but offer many environmental advantages over gasoline or diesel-fueled vehicles. So far, NGVs haven't gained much traction in the U.S. Of the 13 million in use around the world, just 112,000 are in the U.S., according to the Natural Gas Vehicles for America trade group. Many of those vehicles are transit buses or garbage trucks. APA has been converting its own U.S. vehicle fleet to CNG, and hopes to have about 800 on the road by the end of 2015.
While the technology to build NGV has been around for years, one issue holding back their acceptance has been the small number of fueling stations. There are currently only about 1,000 fueling stations operating in the U.S. that offer CNG. Moreover, many of those are for not open to the public and often for government-owned vehicles or corporate fleets. Apache has built and operates seven CNG fueling stations, and has nine more in various stages of planning and construction. Of the new stations, five will be open to the public.
With natural gas prices at 10-year lows, APA still makes money on selling it because its cost is only $0.50 cents per million cubic feet of gas. APA has stated it will not cut back on natural gas production. Apache owns 40% of an LNG project in Kitimat, British Columbia, while Canada's Encana Corp. (NYSE:ECA) and EOG Resources (NYSE:EOG) own 30% each. The terminal is expected to be able to ship 700 million cubic feet a day to producers in Asia by 2015. Negotiations to find a major Asian customer for a liquefied-natural-gas (LNG) exporting terminal in Canada continue and a long-term contract is expected this year.
APA has been on an acquisition binge, including the pending Cordillera Energy purchase, which will add significant future opportunity in core regions. APA has a proven track record of unlocking value from acquired assets, and it has focused on integrating and exploiting mature reserves and directing capital to large projects. Its portfolio of reserves is balanced between liquids and gas (46/54) and is geographically diverse. In 2012, we expect the Granite Wash and Permian Basin programs to garner more attention and drive onshore U.S. volumes. APA is one of the largest operators in the Permian, where it generates premium margins.
APA reported its fourth-quarter profit increased by about 75% to $1.17 billion, or $2.98 a share, from $670 million, or $1.77 a share, in the year-ago period. Adjusted earnings in the latest quarter totaled $2.94 a share. The oil and gas producer's revenue increased to $4.3 billion from $3.4 billion. Apache plans to increase 2012 production by 7% to 13%, compared with 14% growth in 2011. APA is expected to have EPS of $12.75 in 2012, and $15.45 in 2013, up from adjusted EPS of $12.01 in 2011, reflecting production and oil price gains. At a PE ratio of 10, APA has a target price of $154 in 2013. APA is currently trading at $107.50, a 43% discount to the target price.
On February 9 2012, APA announced the company hiked its quarterly dividend by 13%, citing its strong growth prospects and financial position. This is an increase to $0.17 a share from $0.15. APA has a current dividend yield of 0.64%.
The fertilizer stocks use natural gas to fuel its production process for making products. They benefit from the lower cost of natural gas which lowers the cost of products. In turn, this increases the profit margins. In addition, the increasing demand for food worldwide has increased the demand for fertilizer.
Producers are optimistic about the medium-term fundamentals for fertilizers, based on the general uptrend in grain prices and below-average inventories. We think recent forecasts from the USDA regarding corn inventories and farm income continue to provide support not only for grain prices but also for fertilizer consumption as farmers reach for extra yield. We note that prices for certain phosphate fertilizers bottomed near $300 per tonne in 2009 and climbed back to $600 per tonne by early December 2011. However, they have since declined, and are now closer to $515 per tonne. This prompted producers to begin cutting production in early 2012, as farmers and dealers appear to be anticipating lower prices in coming months. Input costs, for natural gas in particular, have declined sharply in the past several months, which we expect will have a favorable impact on producers' margins in 2012. The S&P Fertilizers & Agricultural Chemicals Index increased 16.6% year to date through March 2, versus a 9.0% increase in the S&P 1500 Composite Index.
Here is a list of fertilizer stocks benefiting from lower natural gas prices with a BULLISH outlook:
CF Industries Holdings, Inc., (NYSE:CF) manufactures and distributes nitrogen and phosphate fertilizer products, serving agricultural and industrial customers worldwide. It operates in two segments, Nitrogen and Phosphate. CF is trading at $179.00 with a PE of 8.11. AGU has an equity summary score of 9.4 of 10 for a VERY BULLISH outlook. CF has a dividend yield of 0.89%. Year to date, AGU's price is up 24.42%. Zacks Investment Research has a price target of $190 on CF.
Agrium Inc. (AGU) engages in the retail of agricultural products and services worldwide. The company operates in three segments: Retail, Wholesale, and Advanced Technologies. AGU is trading at $82.65 with a PE of 8.74. AGU has an equity summary score of 7.2 of 10 for a BULLISH outlook. AGU has a dividend yield of 0.55%. Year to date, AGU's price is up 22.47%. Zacks Investment Research has a price target of $87 on AGU.
The Mosaic Company (NYSE:MOS) engages in the production and marketing of concentrated phosphate- and potash-based crop nutrients for the agriculture industry worldwide. MOS is trading at $55.15 with a PE of 10.51. MOS has an equity summary score of 7.4 of 10 for a BULLISH outlook. MOS has a dividend yield of 0.36%. Year to date, MOS's price is up 9.4%. Zacks Investment Research has a price target of $62.80 on MOS.
(Click to enlarge)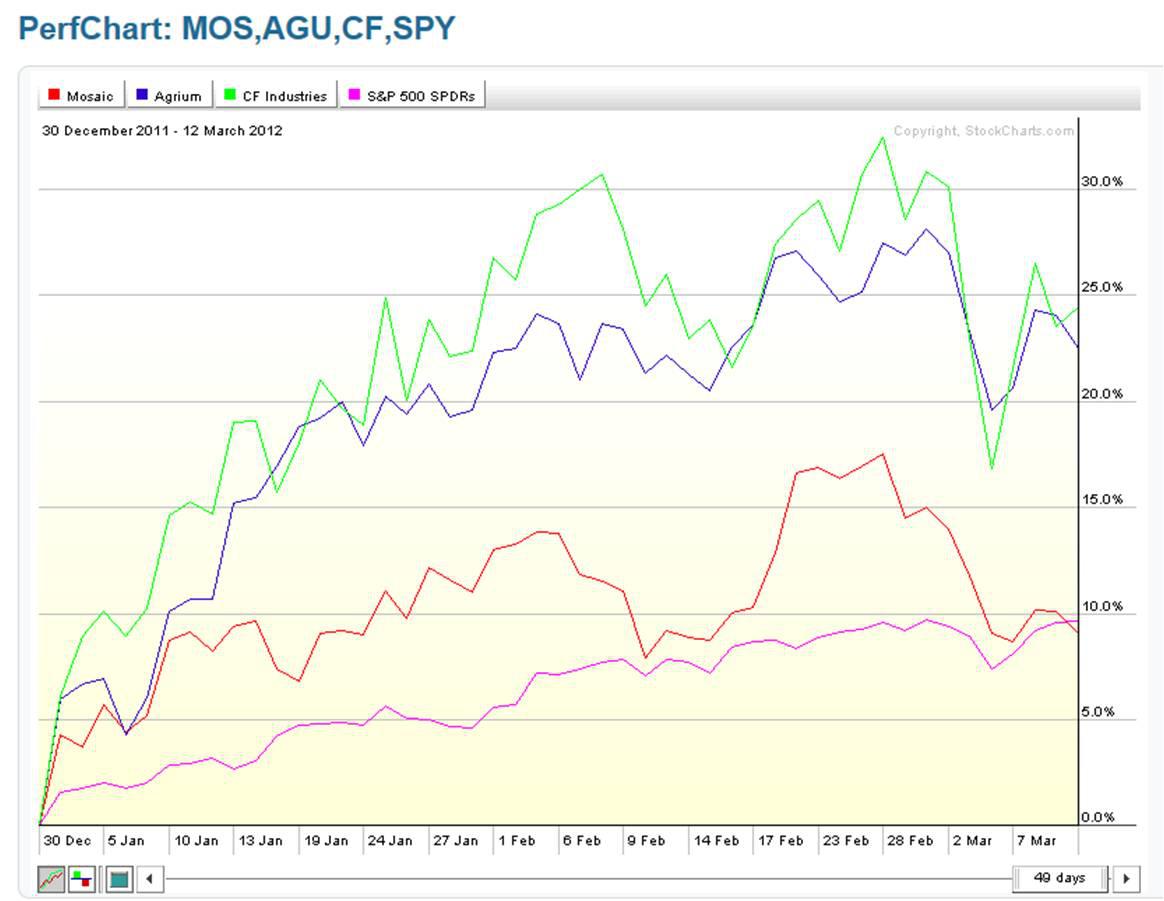 Disclosure: I have no positions in any stocks mentioned, and no plans to initiate any positions within the next 72 hours.