3 Overvalued Closed-End Funds To Rotate Out Of If You Own Them
Summary
CEFs are often inefficient, with prices diverging for no reason other than limited supply and demand.
We present three CEF rotation opportunities that we highlighted to our members last week.
One has already played out fully, but two are still in play. Don't let mean reversion catch you out!
Looking for more stock ideas like this one? Get them exclusively at CEF/ETF Income Laboratory. Get started today »
Author's note: This article was initially released to CEF/ETF Income Laboratory members last week (April 28, 2020). An update of the numbers and situation are presented after each trade suggestion. One suggestion has already played out fully, but two are still in play.
3 More Quick Rotation Opportunities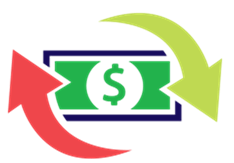 Rotating between overvalued closed-end funds into less overvalued ones is a cornerstone strategy at CEF/ETF Income Laboratory which we call "compounding income on steroids."
Here are three quick rotation opportunities that you may consider if you own the overvalued fund. After premium/discount reversion takes place, you can consider swapping back to the previously sold fund to gain "free shares" of the fund, no matter whether the markets has moved up, down or sideways in the meantime!
The main risk of this strategy is that the valuation difference can widen further, so sometimes patience is required! More active traders can consider shorting the overvalued fund, and possibly hedge by buying the undervalued fund.
-----------------------------------
1. FGB --> BIZD
Sell: First Trust Specialty Finance and Financial Opportunities Fund (FGB)
Buy: VanEck Vectors BDC Income ETF (BIZD)
(Source: Stanford Chemist, CEFConnect, data from 4/27)
What's FGB doing at a +27.17% premium? Beats me! As of writing, FGB is up +5.26% while the benchmark ETF (BIZD) is about flat, putting the intraday premium at approximately +33%. The one-year z-score is +4.71, indicating extreme relative overvaluation.
The premium is highest since inception of the fund in 2007.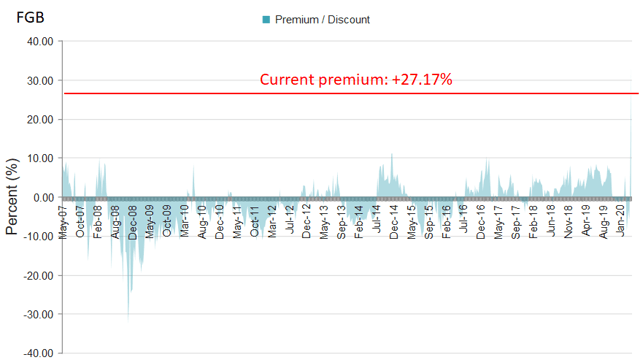 (Source: CEFConnect, data from 4/27)
There isn't another BDC CEF available, so the swap would be for BIZD.
Importantly, FGB is expected to announce its next quarterly distribution in around two weeks (the last announcement was on February 10). Given how much the NAV of the fund has fallen over the past several months, a distribution cut is quite likely, since the current NAV yield of 21.26% is too high. This is a similar setup to what we highlighted recently with EDF and EDI, which was an excellent short call as they suffered large price losses when they announced their distribution cut last week, allowing myself and members who followed this trade suggestion to reap 10%-plus profits in a single day (see EDF And EDI: The Hazards Of Chasing Yield).
Note that FGB's leverage of 41% as presented by CEFConnect (and which is shown in the table above) is stale. First Trust are one of the sponsors that reports daily leverage, and this has been decreased to 10.61% as the screenshot below shows. This would make it even more unlikely that the current distribution would be maintained.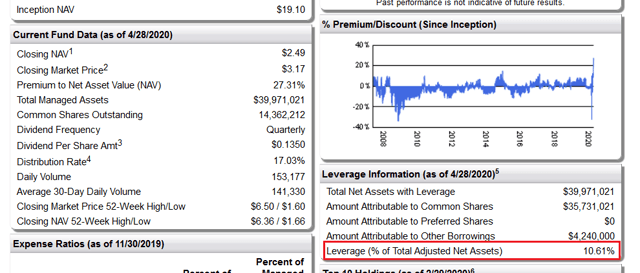 (Source: FGB website, data from 4/27)
May 7, 2020, update:
Since the initial trade recommendation last week, BIZD has outperformed FGB nearly 600 bps. While this already is a very decent result, I still consider the trade to still be in play because FGB hasn't announced its next quarterly distribution yet. We continue to expect a cut, and with FGB still at a 21% premium (down from 27% last week), there's still considerable downside should a large cut materialize. However, the risk is that if the dividend were to be maintained, the price could shoot up higher.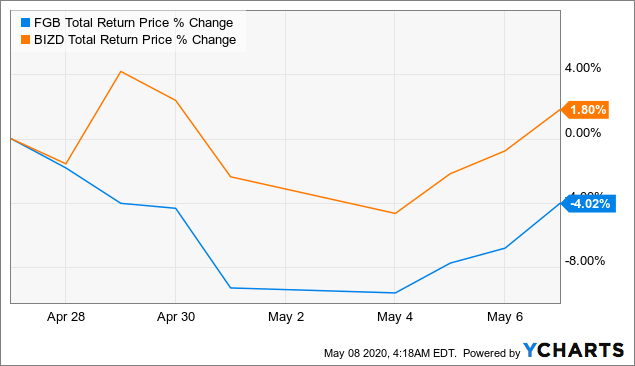 -----------------------------------
2. OXLC --> ECC/OCCI
Sell: Oxford Lane Capital Corp (OXLC)
| | | | |
| --- | --- | --- | --- |
| | ECC | OXLC (est.) | OCCI (est.) |
| 3/31 NAV | $ 6.12 | $ 3.94 | $ 8.69 |
| 4/27 price | $ 6.17 | $ 4.85 | $ 8.31 |
| 4/27 discount | 0.82% | 23.24% | -4.39% |
Here we have a 20%-plus differential in premium/discount valuation between OXLC and ECC or OCCI. While NAV may not be the most useful metric to determine the intrinsic value of CLO funds, I still find it useful to help assess relative valuation within the peer group to execute our CLO rotation strategy.
Importantly, OXLC is about to announce its 3/31-end results in around a week's time (the last quarter's results were released on Feb. 4). We are anticipating a large decrease in NAV of around -40% to -50%, as well as a sizable distribution cut, based on what ECC reported earlier this month. It's possible that investors do not yet realize that OXLC's last reported NAV of $6.81 for 12/31 is wholly inaccurate (in fact CEFConnect is still showing the 9/30 NAV of $6.63 and a discount of -16.11%)!
Because of the above, sidestepping the announcement by moving into the more undervalued ECC and OCCI could be a profitable strategy. One thing to bear in mind that OCCI is due to announce its next three months of distributions very soon (the last announcement was on Jan. 29). Therefore, swapping to ECC may be the safer choice if one fears the reaction of a distribution cut from OCCI, which is likely to happen. Although as our CLO expert, Alpha Male, mentioned in the chat, there's a small off-chance that the distribution at OCCI could be maintained or cut only slightly just to give a positive impression of the fund.
May 7, 2020, update:
Wow! This was one of our best rotation suggestions that we have ever made in the Income Lab. OXLC's share price has slumped by over a third, while ECC and OCCI has fallen by much less (and possibly in sympathy). The profit differential from the pairs trade was around +30% in just over one week.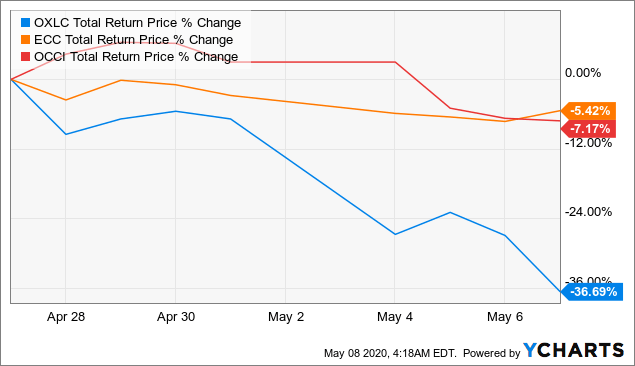 What happened? OXLC posted its Q4 results and reported a large NAV decline, to $3.58 on March 31, 2020, down from $6.81 the previous quarter. Moreover, management stated that "we believe that the Company's Board of Directors will likely elect to reduce or suspend the Company's distributions for those months (July, August, September)." Both the large NAV decline and the distribution cut were something that we predicted at the Income Lab, although apparently not known by the market as OXLC was still trading a hefty premium before the crash. CEF inefficiency at its finest! Thankfully, our members were alerted of this possibility in advance and saved countless dollars, while active traders who shorted OXLC would have been equally pleased.
As of writing, the pendulum appears to be swung the other way, with OXLC now being cheaper than ECC. Hence, this trade appears to have been fully played out. Those who swapped from OXLC to ECC or OCCI previously now have a chance to rotate back to OXLC to gain ~30% "free shares" of OXLC, or else maintain their previous share count but to retain the excess in cash.
| | | | |
| --- | --- | --- | --- |
| | ECC | OXLC | OCCI (est.) |
| 3/31 NAV | $ 6.12 | $ 3.58 | $ 8.69 |
| 5/7 price | $ 6.11 | $ 3.33 | $ 7.45 |
| 5/7 discount | -0.16% | -6.98% | -14.28% |
-----------------------------------
3. JHAA --> BSJN
Sell: Nuveen High Income 2023 Target Term Fund (JHAA)
Buy: Invesco BulletShares 2023 High Yield Corporate Bond ETF (BSJN)

(Source: Stanford Chemist, CEFConnect, data from 4/27)
JHAA's +11.06% premium is very puzzling given that it is a target term fund due to liquidate it under three years' time, giving a negative alpha of nearly -4% a year.
Instead, JHAA investors should consider switching to the corresponding ETF which has similar NAV performance (in fact it held up a bit better than JHAA in the crash because it is unleveraged), but which isn't trading at a high premium. If JHAA reverts back to near par one can always swap back to JHAA once again!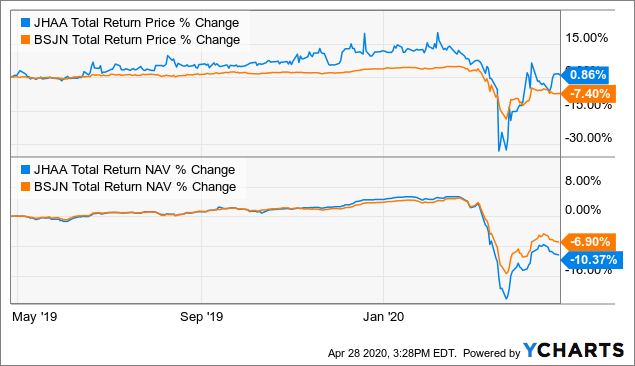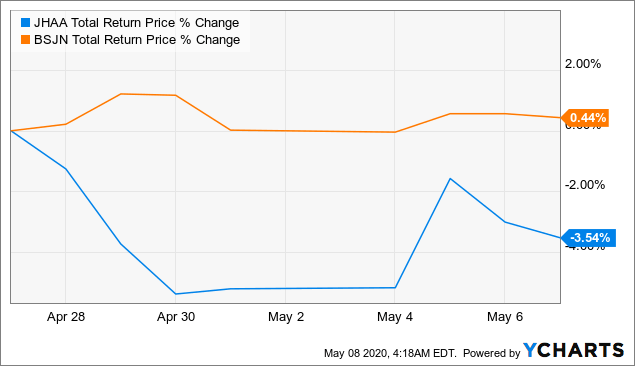 Summary
The current market volatility can create significant dislocations in the pricing of CEFs, which the nimble investor can take advantage of. There are probably other opportunities out there, one just has to look for them! We are constantly doing for our portfolios each day as well.
Remember, closed-end fund valuation matters!
Profitable CEF and ETF income and arbitrage ideas

At the CEF/ETF Income Laboratory, we manage market-beating closed-end fund (CEF) and exchange-traded fund (ETF) portfolios targeting safe and reliable ~8% yields to make income investing easy for you. Check out what our members have to say about our service.

To see all that our exclusive membership has to offer, sign up for a free trial by clicking on the button below!




This article was written by
CEF/ETF income and arbitrage strategies, 8%+ portfolio yields
CEF/ETF Income Laboratory is a premium newsletter on Seeking Alpha that is focused on researching profitable income and arbitrage ideas with closed-end funds (CEFs) and exchange-traded funds (ETFs). We manage model safe and reliable 8%-yielding fund portfolios that have beaten the market in order to make income investing easy for you. Check us out to see why one subscriber calls us a "one-stop shop for CEF research."
Click here to learn more about how we can help your income investing!

The CEF/ETF Income Laboratory is a top-ranked newsletter service that boasts a community of over 1000 serious income investors dedicated to sharing the best CEF and ETF ideas and strategies.

Our team includes:
1) Stanford Chemist: I am a scientific researcher by training who has taken up a passionate interest in investing. I provide fresh, agenda-free insight and analysis that you won't find on Wall Street! My ultimate goal is to provide analysis, research and evidence-based ways of generating profitable investing outcomes with CEFs and ETFs. My guiding philosophy is to help teach members not "what to think", but "how to think".

2) Nick Ackerman: Nick is a former Financial Advisor and has previously qualified for holding Series 7 and Series 66 licenses. These licenses also specifically qualified him for the role of Registered Investment Adviser (RIA), i.e., he was registered as a fiduciary and could manage assets for a fee and give advice. Since then he has continued with his passion for investing through writing for Seeking Alpha, providing his knowledge, opinions, and insights of the investing world. His specific focus is on closed-end funds as an attractive way to achieve income as well as general financial planning strategies towards achieving one's long term financial goals.
3) Juan de la Hoz: Juan has previously worked as a fixed income trader, financial analyst, operations analyst, and economics professor in Canada and Colombia. He has hands-on experience analyzing, trading, and negotiating fixed-income securities, including bonds, money markets, and interbank trade financing, across markets and currencies. He is the "ETF Expert" of the CEF/ETF Income Laboratory, and enjoys researching strategies for income investors to increase their returns while lowering risk.

4) Dividend Seeker: Dividend Seeker began investing, as well as his career in Financial Services, in 2008, at the height of the market crash. This experience gave him a lot of perspective in a short period of time, and has helped shape his investment strategy today. He follows the markets passionately, investing mostly in sector ETFs, fixed-income CEFs, gold, and municipal bonds. He has worked in the Insurance industry in Funds Management, helping to direct conservative investments for claims reserves. After a few years, he moved in to the Banking industry, where he worked as a junior equity and currency analyst. Most recently, he took on an Audit role, supervising BSA/AML Compliance teams for one of the largest banks in the world. He has both a Bachelors and MBA in Finance. He is the "Macro Expert" of the CEF/ETF Income Laboratory.

Analyst's Disclosure: I am/we are long ECC, OCCI. I wrote this article myself, and it expresses my own opinions. I am not receiving compensation for it (other than from Seeking Alpha). I have no business relationship with any company whose stock is mentioned in this article.

I am short FGB.
Seeking Alpha's Disclosure: Past performance is no guarantee of future results. No recommendation or advice is being given as to whether any investment is suitable for a particular investor. Any views or opinions expressed above may not reflect those of Seeking Alpha as a whole. Seeking Alpha is not a licensed securities dealer, broker or US investment adviser or investment bank. Our analysts are third party authors that include both professional investors and individual investors who may not be licensed or certified by any institute or regulatory body.