In January 2011, I wrote "Here Comes the Next Big Lending Boom." In it, I wrote "the evidence suggests we're at a launching point for big bank profits. In short, we're at the starting line for a multi-year lending boom." Plenty of people believed it would be a bust rather than a boom, but a year later we're getting more data suggesting banks aren't nearly as bad off as many believed early last year, and that's bullish for banks including JPMorgan (NYSE:JPM), Wells Fargo (NYSE:WFC) and U.S. Bancorp (NYSE:USB). It's also bullish for mid and small cap banks such as First Horizon (NYSE:FHN), Keycorp (NYSE:KEY), Hancock Holding (NASDAQ:HBHC) and Bank of the Ozarks (OZRK).
For over a year, banks have increased their lending activity for commercial and industrial borrowers. These businesses have been tapping cheap rates to build capacity as demand returned. Here's the chart of total commercial and industrial loans when I wrote the article last year: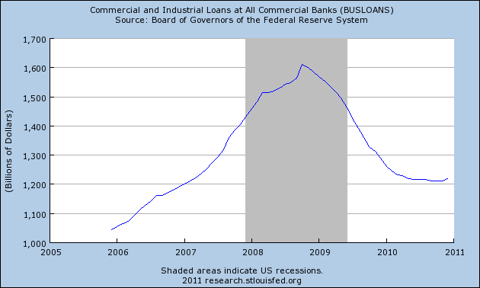 And, here's how it looks today: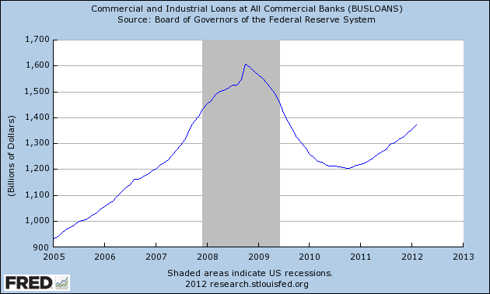 At the end of February, commercial banks held $1372.7 billion in C&I loans compared to $1223.5 billion in February 2011, up 12.2%. Not a bad year to be a commercial banker.
Loan growth isn't showing signs of backing off. The average month-to-month growth in such loans is averaging 1.27% this year, up from 0.51% in Q1, 2011 and 0.81% through all last year. In fact, signs also are starting to suggest loan growth is spreading to consumers.
In February, real estate loans at all commercial banks rose 1.01% from January, the fourth month-to-month gain in the past five months and the fastest growth since late 2009 when programs were still giving buyers incentives to purchase. For comparison, the measure had shown month over month contraction for 17 consecutive months prior to last October.
And, job growth and consumer confidence are making consumers more confident about pulling out plastic. In the most recently updated month of January, total revolving credit outstanding was $800.9 billion, up from a low of $790.3 billion last April. The following chart overlays C&I loans with revolving credit.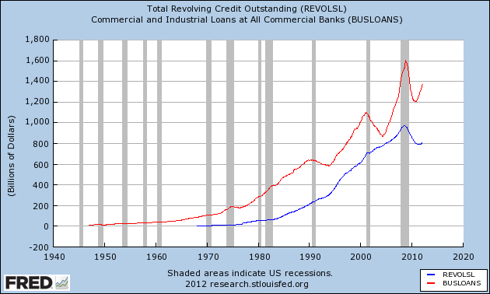 Given where we sit in the economic cycle, investors should pay particular attention to the financials this year. Stocks should finally begin to reward investors who were willing to take risk in 2011, particularly as loan growth spreads from businesses back to households.