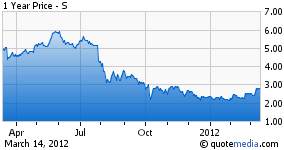 Getting ahead in a business like wireless telecom services requires strategic planning. After all, telecom companies compete on their service areas, cost and special features - that's about it.
It's the "holy trinity" - whatever a company is lacking in one area, it has to make up for in another. So, if a company, let's say AT&T (NYSE:T), had a monopoly on providing service for a popular phone, like Apple (NASDAQ:AAPL)'s iPhone (which it did for a while), it could charge a premium for its services. Likewise, when Verizon Wireless - a joint venture between Verizon Communications (NYSE:VZ) and Vodafone (NASDAQ:VOD) - and Sprint Nextel (NYSE:S) were allowed to start providing service for iPhones, AT&T had to up its ante. It introduced personal hotspots, better data rates and more flexible upgrades.
Today, the issue is 4G LTE (that's short-hand for "fourth generation long-term evolution network"). It was the primary distinguishing characteristic of the "new iPad," unveiled March 7, and it is going to be a major issue going forward. These 4G LTE networks have download speeds that are roughly 10 times that provided by existing 3G service - a major benefit given that today's mobile surfing very slow. A faster network would allow smart phone and tablet users to download and stream media faster, and who doesn't like faster?
Verizon and AT&T already offer 4G LTE networks, which means that Sprint is left to play catch up. Sprint is currently in the uphill process of building up a network to rival those of Verizon and AT&T. It should have the network ready by mid-2012. Part of this venture includes a $5 billion network upgrade that will take place over the next several years. It is part of a drive to boost its wholesale business, which includes customers like America Movil SAB (NYSE:AMX)'s Tracfone.
Sprint's wholesale business has been a cheaper way for the company to grow - saving it on the costs involved in user acquisition and marketing. This is why Sprint was able to boost its customer numbers by 2.7 million last year - more than any other business. On March 1, Sprint announced an agreement with the Chrysler Group to act as a strategic wireless partner for its Uconnect program. Then, on March 7, the company announced that it had recently signed up several companies for its nascent 4G LTE. Matt Carter, president of Sprint's wholesale solutions and new ventures, who declined to identify those companies, said only that "It's in the double digits."
It all sounds pretty good, but it isn't showing in Sprint's numbers - at least not yet. Sprint recently traded for $2.43 a share and has a mean one-year target estimate of $3.80 according to Yahoo Finance. The company doesn't offer a dividend, but, if analysts are right, it could provide an upside of over 56% in the next 12 months. Some analysts are even more bullish on the stock. The folks at Standard & Poor's give Sprint a one year target estimate of $4.50 a share. Obviously, either assumption is a big one, especially for a stock that has dropped over 50% in the last 52 weeks, but the issue is much deeper than whether or not Sprint made its earnings estimates. The concern is whether Sprint will have the money to catch up to Verizon and AT&T - and those concerns are certainly valid.
Sprint's net income fell significantly when compared to the same quarter last year (-$929 million to -$1.3 billion) and its operating cash flow fell by almost 26%. The company's return on equity also decreased. While the change was only slight, it does signify a weakness in the company. As it stands, Sprint also has a high debt to equity ratio of 1.77, suggesting the way it manages its debt should be re-evaluated. Also, its share price fell over 40% last year - hardly encouraging.
That said, Sprint does have a fairly strong quick ratio, which at 1.35 shows that the company can at least manage its short-term liquidity needs. And, part of the reason for the low stock price was uncertainty over Sprint's future - an issue that is now being laid to rest.
Sprint has been under agreement with a small start-up company called LightSquared. Hedge fund manager Phil Falcone and his fund Harbinger own the lion's share of LightSquared. Under the terms of its agreement with Sprint (which was reached last year), LightSquared was to give the company $9 billion in payments and another $4.5 billion in service credits for Sprint to build and operate LightSquared's network for the next 11 years. But it doesn't seem like it was meant to be.
LightSquared was trying to gain clearance to build a network that converts satellite signals into signals that can be used for communication in tandem with cell phone towers. The company hit a snag after the FCC ruled in February that it would block LightSquared's planned network, explaining that such a structure would interfere with global positioning systems. LightSquared has said that it remains committed to finding a solution to this issue, but we aren't convinced one will come so easily. Sprint could be pulling out as early as next week if LightSquared fails to meet some of the conditions in the agreement.
The idea behind the agreement had been for Sprint and LightSquared to share expansion and equipment costs, provided LightSquared got the necessary approvals. Sprint has already pushed the deadline back frequently. Now, Sprint appears to be drawing a hard line, saying that it does not plan to offer any further extensions. This spells bad news for LightSquared. The company recently had to cut roughly 45% of its 330-plus member staff to save money. And it impacts Phil Falcone - who invested roughly $3 billion from his Harbinger fund. But it could put Sprint in a terrific position.
Certainly, there are those who disagree. Both Joel Greenblatt's Gotham Asset Management and George Soros' Soros Fund Management sold out of their positions in Sprint during the fourth quarter. But we think that with the extra funds, Sprint ought to be able to turn it around.
See, of the money LightSquared has given the company to date, Sprint is within its rights to keep $236 million of those payments, returning up to $74 million. Sprint can use this money to compete directly against rivals AT&T and Verizon, specifically by bolstering its position and building a better network. We think that this will help Sprint to rebound considerably.
For instance, Sprint has a deal on the table with MetroPCS (PCS) that would give it access to an additional 9.3 million customers and additional airwaves. Sprint's board rejected the deal at the end of February, but another one could be in the works. The deal the board rejected priced MetroPCS stock at roughly $8 billion, which is a 30% premium to its current share price, but it has not yet ruled out another offer.
A MetroPCS deal would allow Sprint to gain a stronger foothold in the prepaid wireless market. While the deal does seem like a departure from Sprint's overall strategy - don't forget the company spent billions on its deal to have access to Apple 's iPhone, so much that it is expected to lose money on the deal until 2014 - MetroPCS has high positive cash flow, which could help Sprint with cash generation while it pursues 4G LTE.
In any case, Sprint has made it clear that it is on the prowl for an acquisition that would be large enough to help it compete effectively against AT&T and Verizon. If not MetroPCS, there are other equally attractive stocks in the arena.
There are other reasons to be bullish about the company as well. Now that the deal with LightSquared is likely over, uncertainty over Sprint's future isn't going to be as much of an issue. Plus, not all Sprint's numbers were bad. The company was able to improve its return on assets compared to the same quarter last year while keeping its debt marginally the same. The company was also able to increase its cash held quarter over quarter, as well as up its net sales.