Markets preparing for pullbacks send many different signals. I use the Point & Figure charting system to catch these signals. With this type of charting systems, you can find the bullish or bearish price targets. You want to be able to reveal where there is a heavy demand, as seen with Xs, or heavy supply, with Os. These signals can help to guide your choices made in buying, holding, selling an issue or a market.
The iShares Barclay's Aggregate Bond Fund is still sending a message that equities are the focus. Putting assets toward fixed income is still under pressure.
The reports from the Federal Reserve Stress Tests came in on Tuesday, March 13, with an explosive reaction of new highs and the Dow over 13,000. But the cash put to work Tuesday doesn't mean there is not a pullback coming over the horizon. The markets always run efficiently, with either supply or demand in control.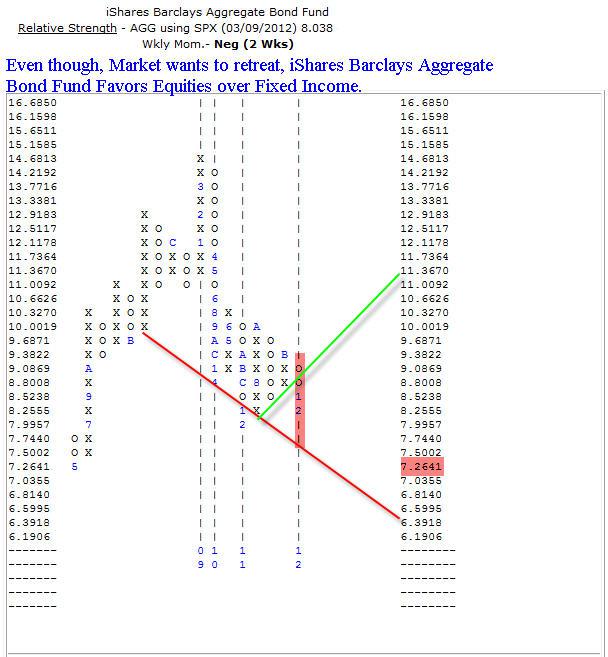 Source: Dorsey, Wright & Associates
The other side of the charting world sees action from the Russell 2000, as another signal confirming pullbacks can come from the indexes of Small-Caps and Mid-Caps. Look at the next chart, showing the RUT out of the Minyanville.com comment by Jeff Cooper.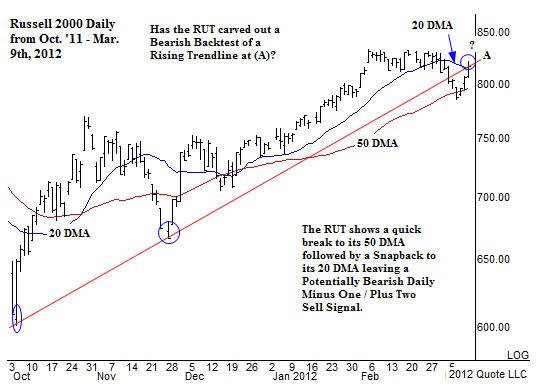 Source: Dorsey, Wright & Associates
Cooper points out there are some cracks in the story of the market just taking off and beating current resistance levels in most of the indexes.
What causes money to come off the sidelines and go to work? It comes with strength projections seen in the following charts of the Nasdaq, and the S&P 500 (NYSEARCA:SPY).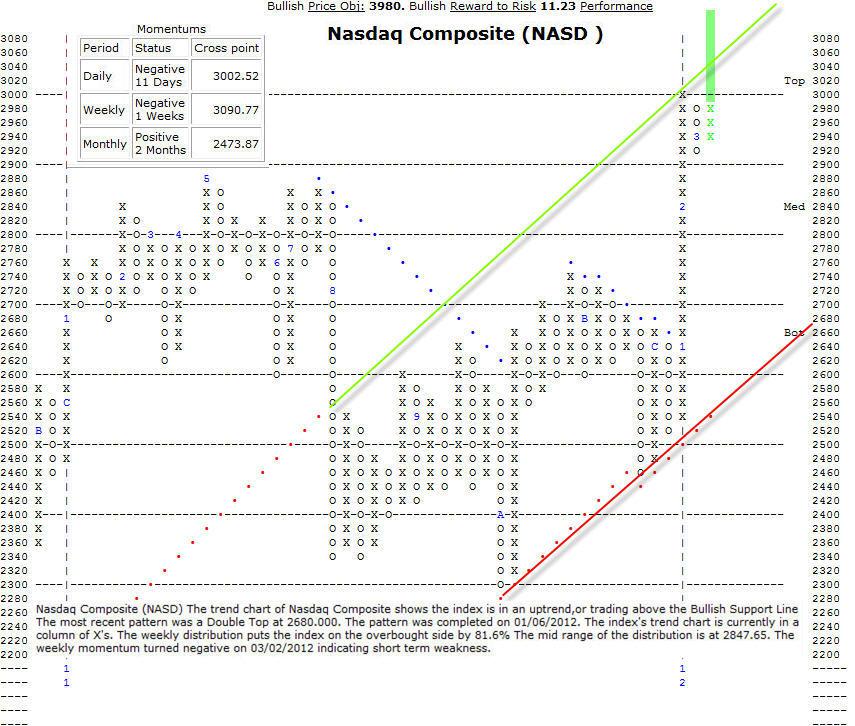 Source: Dorsey, Wright & Associates
Viewing the S&P can also stimulate the sidelines to continue buying on the "Wall of Worry."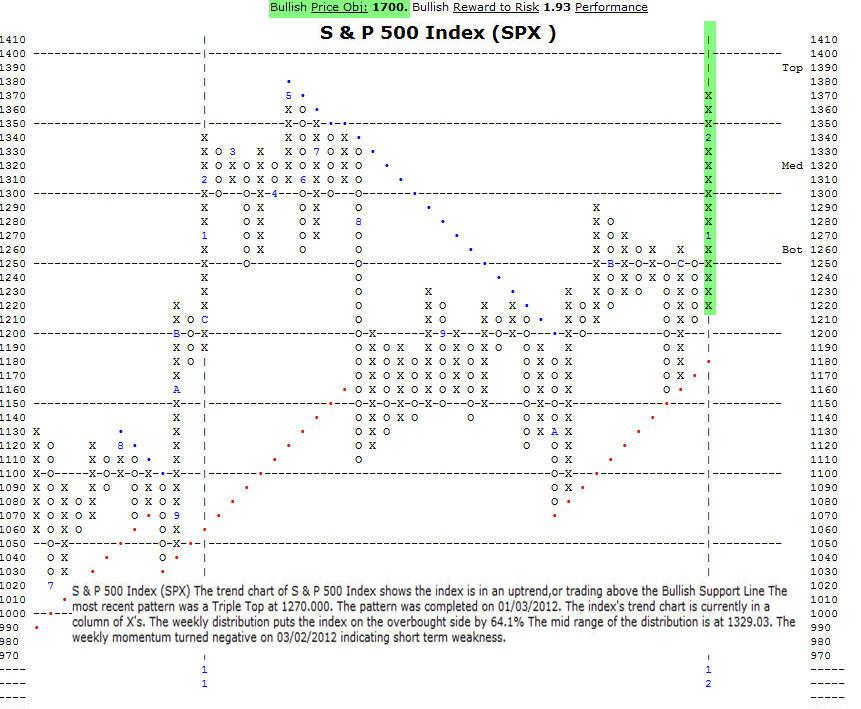 Source: Dorsey, Wright & Associates
THE ENERGY SECTOR CONTROLS MARKET DIRECTIONS
Handicapping Insider Transactions, Downgrades, and Opinions
This wouldn't be an article if we didn't give some great stock and fund picks. We chose the Energy Sector, giving a compelling early entry play. The play brings front and center, Seadrill LTD (NYSE:SDRL), and Tidewater, Inc., (NYSE:TDW), as seen in the oil price stability problems plaguing the nations of our world.
It's important to understand the forces that influence a stock brought by market makers -- like, potentially, Goldman Sachs (NYSE:GS) dragging down (artificially) Seadrill LTD on these matters of downgrades recently in March. The news makes it striking -- as in options striking. Goldman Sachs may be pulling off their selling of puts on behalf of the Seadrill CEO's trust fund, reducing his ownership from 29% percent to 23%, as announced through Dow Jones News Wire.
Margins play an important role. We see margins measured through our subscription services of Investors Business Daily and Market-Grader.com. The points being made through our article come from comments provided by The Motley Fool. David Gardner pointed to why Seadrill LTD should be in your portfolio as a true growth and dividend player.
Downgrades seem to keep coming in like clockwork. Analysts from Societe Generale downgraded Seadrill March 12, 2012. Societe based their downgrade on Ebitda estimates. This makes four downgrades to date, with price target upgraded by two of these analysts to $44, with a $70 selling price given by a Morningstar analyst.
Why are these downgrades hitting? This is an unanswered question. We again believe that Goldman Sachs's mission is to push the market makers into driving strike prices in the options market by the many downgrades. But if one reviews Seadrill Limited, it keeps saying it has a bullish potential target into the $54s - $70s. This most recent target was from information we believe to be good out of Morningstar.com, a premium subscription service, and Dorsey Wright and Associates' Point & Figure services.
"What makes Seadrill LTD one to watch, are each buck it earns in revenue, the more money it has to invest in growth, fund new strategic plans, or (gasp!) distribute to shareholders. Healthy margins often separate pretenders from the best stocks in the market." as stated by Seth Jayson from The Motley Fool. That's why we check up on margins through all our sources at least once a quarter.
Here's how the stats break down:
Over the past five years, gross margin peaked at 61.3% and averaged 52.5%. Operating margin peaked at 42.8% and averaged 34.2%. Net margin peaked at 41.4% and averaged 26.2%.
TTM gross margin is 61.3%, 880 basis points better than the five-year average. TTM operating margin is 42.8%, 860 basis points better than the five-year average. TTM net margin is 34.7%, 850 basis points better than the five-year average.
With recent TTM operating margins exceeding historical averages, Seadrill Limited looks like it is doing fine.
BUILDING THE FUNDAMENTALS
Building a rating moving forward is critical and we gave our view that growth seemed slowed from their most recent earnings report. Seadrill's third quarter net fell 90.05% to $35.00 million from the year earlier profit of $351.80 million (excluding extraordinary items), which contrasts with its growth in 12-month trailing profit over a three year period. Also including last quarter's results, the company's profit grew to $1.72 billion for the 12 months ended September 30, 2011, a 124.89% jump from full year profit of $764.60 million reported for the period ended three years earlier. The company reported strong margin growth during its latest quarter, extending its recent expansion, albeit at a slower pace from the two preceding periods; it's EBITDA, operating and net margins grew by an average of 22.69% compared to the same quarter a year before.
Looking further in to Sea Drill's earnings per share; they have grown at an impressive annualized rate of 218.93% in the last two years. The combination of such a high growth rate with an apparent margin expansion probably means the company has been gaining market share in recent quarters without sacrificing financial performance, evidenced by its superior overall profitability. This combination offers a strong case for future gains in the stock price. Currently the stock also has a forward P/E of 12.70, which interestingly enough is higher than its trailing P/E but lower than the S&P 50s forward P/E of 15.20.
Seadrill's current market value is 3.86 times its tangible book value, which excludes intangible assets such as goodwill; this valuation seems attractive, especially considering that only 20.49% of the company's total stockholders' equity is based on intangible assets. When the value of those assets is added back into total book value, the price to book ratio is an even lower 3.07. Relative to the $3.62 in cash flow per share generated by the company in the last twelve months, the stock is attractively priced at 11.23 times cash flow per share considering its strengths across our fundamental indicators.
It bodes well for Seadrill moving ahead, as they are able to pull in higher rental rates, making for a very profitable company with strong overall indicators. While this most current earnings report showed a decline is obviously not a positive near term sign, but the company's leverage, with total debt 1.53 times total equity, should not be a cause for concern, as business is still very strong. Its capital structure is indeed healthy, with long term debt accounting for 57.77% of total capital. Sea Drill's $3.19 billion in twelve month trailing core earnings, or EBITDA, shows a remarkable increase of 45.43% from the twelve months ended a year earlier, in which its core operations generated $2.20 billion.
Seadrill's cash flow grew considerably in its latest quarter, to $627.00 million, a 79.86% increase from $348.60 million reported in the year earlier period. This growth seems to be accelerating considering that in the last twelve months the company's cash flow was 26.66% higher than the twelve months ended a year ago, a nice increase but quite lower than the current pace. This upward trend should boost its margins and overall profitability in the next few quarters.
The company's net debt, which we define as total debt minus cash on hand, was $9.12 billion last quarter, 17.05 times its EBITDA of $535.00 million. Not only did this ratio increase from 13.26 in the equivalent quarter a year ago, but it is now fairly large, suggesting the company's flexibility in paying down its debt or raising new capital to pursue new opportunities may start to become limited. This we will keep watch on moving forward. Meantime, by reviewing the chart below, there is a lot of upside potential, and I don't think you want to be sitting short on this one for any amount of time.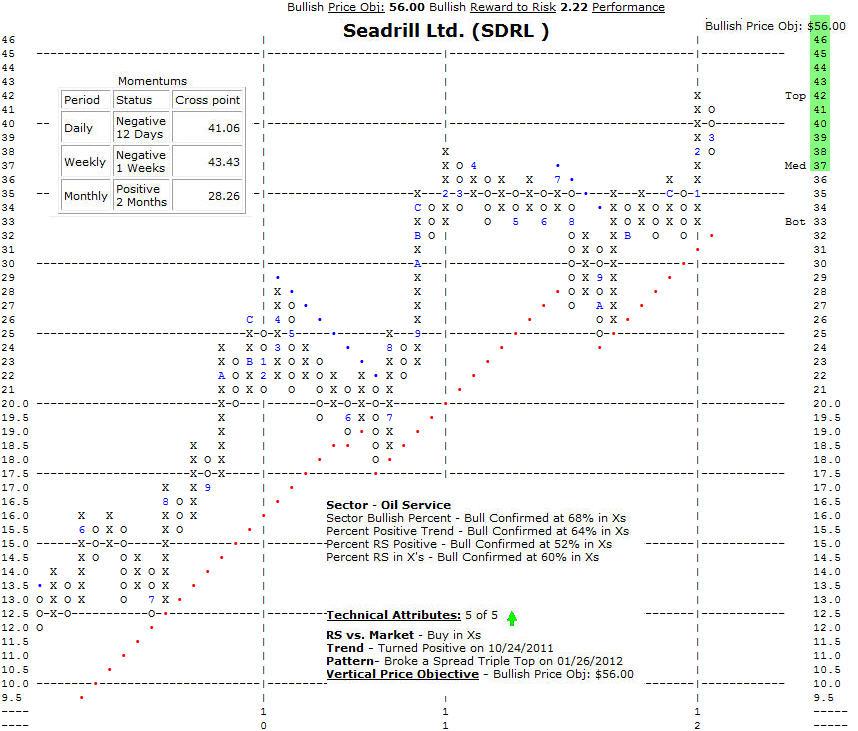 Source: Dorsey, Wright & Associates
We try to show key players in the Energy Sector. The revealing of weakness may be giving great pullback entry in the weakness of iShares ETF XLE and Tidewater, Inc. (TDW), as seen in the chart provided below.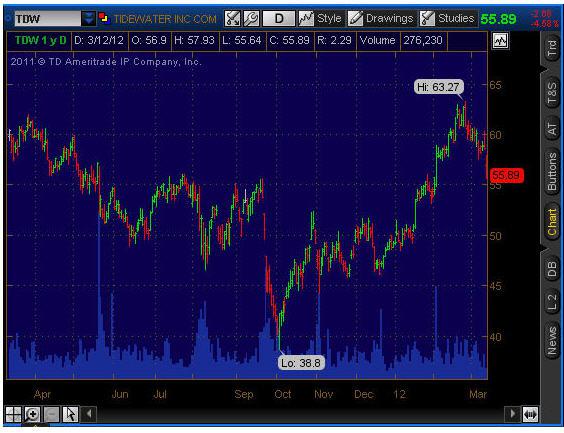 The world's stage brings tensions with hyperinflation leading to the dangerous signs of deflation or double-dip recession. However, the hot spot of issues, is dealing with economic welfare in developed nations getting a handle on their oil consumption. Oil consumption is reaching critical mass, and Seadrill is one of only a few companies that can retrieve it from beneath the ocean floor. Iran's threats keep continued world pressure, with the US and other nations trying to avert any further conflicts interrupting oil supplies. Even the most recent contract making news builds the argument for Seadrill moving forward.
For many reasons, this becomes part of the equation for US and world politics. Securing another 4 year term for the incumbent or opens the door for the Republican challenger in the US Presidential election. It further seems this may not be in the cards for the current administration, causing, possibly, President Barack Obama to fail in his re-election hopes. Elections and $5 - $6 gas prices to be paid at the pump don't work well with the voters. Bring in the health care reform, austerity economics, and you have opened up Pandora's box for both parties through 2012 leading in to 2013 politics.
The time is ripe for trying to handicap Republicans and Democratic candidates. These political parties need to pull out all the stops, even after this presidential election is over. Seadrill LTD plays an important role to the United States moving forward during the near term.
Some of the biggest answers to the immediate energy problem come through the oil drillers. Until either party can secure energy concerns moving forward, with costs at the pump back to pre-President Bush $2.95 a gallon, all bets are off. Oil drillers seem to be a better hedge than gold (NYSEARCA:GLD) at this point.
THE STRATEGY THAT BROUGHT DOWNGRADES - THE BASICS
If you are bullish, you might consider selling put options.
If you choose to buy or go long a put option, you are purchasing the right to sell the underlying instrument at whatever strike price you choose, until the expiration date. The premium of the long put option will show up as a debit in your trading account. The cost of the premium is the maximum loss you risk by purchasing a put option. The maximum profit is limited to the downside if the underlying stock falls to zero.
In most cases, you are anticipating that the short put option will simply expire worthless on the expiration date so that you can keep the premium received. The premium amount is the maximum profit you can receive by selling a put option. The insider knowledge of the CEO and market-maker Goldman Sachs are building an in an extreme bullish profit position.
Experienced Market Makers, like Goldman Sachs, who choose to go short put options, do so in a stable or bull market because the put will not be exercised unless the market falls.
Opportunity comes at any time of the trading day, even in the pre- and post-market newswire events. Could we be thinking this may be a very foolish idea? No. When you have what everyone in the world needs, and you raise the yield to hover at 6.00% - 8.28%, you have created a desirable stock issue that's a buy for many money managers and retail investors.
In the last earnings recently filed, Seadrill LTD increased their dividend from $0.76 to $0.80 each quarter. This presents a buying signal, as Jim Cramer of Mad Money on CNBC instructs during the lighting round, back up the truck and load up on the potential profit by double-bagging the dividend with stock appreciation for serious income players.
ANOTHER AREA WE LIKE: CLOSED-END FUNDS FOR INCOME
When trying to get dividend monthly income, we look at consistent payers, even through the tough times. Alpine Dynamic Dividend Income Fund may provide the steady income an investor may be looking for.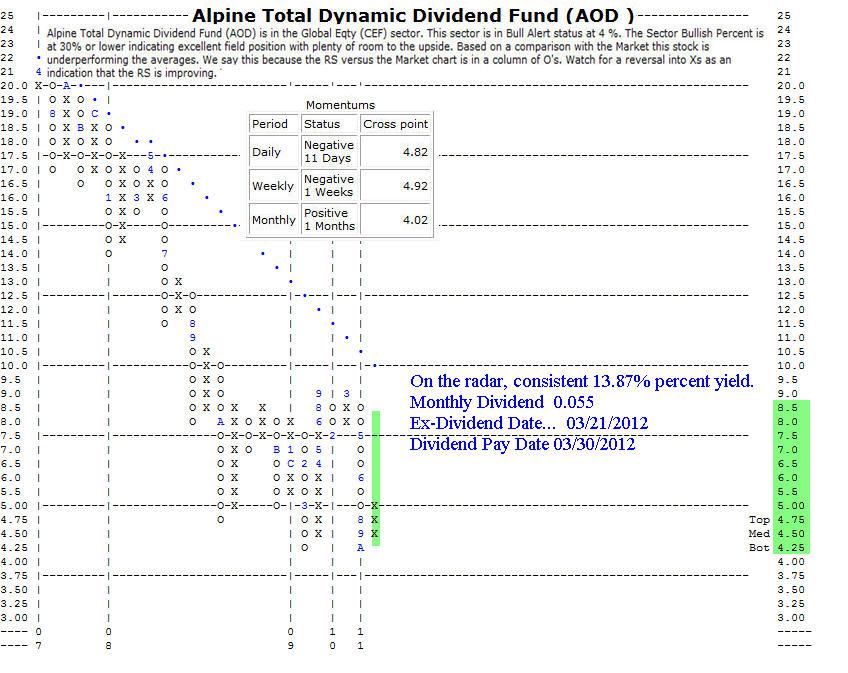 Source: Dorsey, Wright & Associates
Always trade safe by doing your do diligence. Good practices in researching and gaining the understanding of when to buy and sell portfolio positions will make the difference when it comes to gains or loss. There are plenty of closed-end funds paying a monthly dividend. The secret is choosing one that pays consistently.
FINAL NOTE ON SEADRILL LTD
Motley Fool's David Gardner and a few other prominent analysts can keep their theme intact. I still see targets again well into the mid-$50s to $70s near-term, 6-12 months. I look forward to the trader's comments from working these markets wanting to retreat.
Disclosure: I have no positions in any stocks mentioned, and no plans to initiate any positions within the next 72 hours.
Disclaimer: Stock and options trading involves substantial risk. The valuation of stock and options may fluctuate, and as a result, in some cases, clients could lose more than their original investment. In no event should the content of this correspondence be construed as an express or an implied promise, guarantee or implication by or from James Gornick and/or Seeking Alpha and or their affiliates that you will profit or that losses can or will be limited in any manner whatsoever. Past results are no indication of future performance. Information provided in this correspondence is intended solely for informative purposes and is obtained from sources believed to be reliable. Information is in no way guaranteed. No guarantee of any kind is implied or possible where projections of future conditions are attempted.