The old saying: "You can't believe everything you read" was never more true than when I look at the way Wall Street analysts and financial columnists try to explain Freeport McMoRan Copper & Gold (NYSE:FCX). The stock's price momentum over the last 6 months defies everything written about it. Notice how the price momentum on this chart provided by Barchart shows a stock that is clearly going down and is below its 20, 50 and even 100 day moving averages.
Click on charts below to enlarge: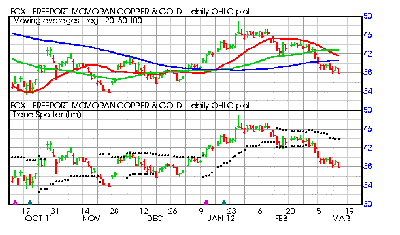 Analysts have predicted that this is a mining stock and all mining stocks, especially those that produce the essential metals of copper and gold, will recover as the economy recovers. Well, the market has been in a rally for the last 6 months and if you compare the downward price momentum of the stock to the upward price momentum of the market as expressed in the Value Line Index, you can see that theory isn't holding true. While the Value Line Index is up about 20% and getting stronger in the last 6 months, Freeport McMoRan is steadily trending downward. I see no correlation: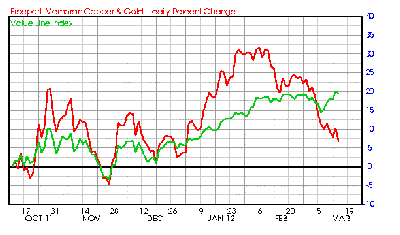 Then there are those who say the the stock will follow the price of the underlying metals it produces. When I chart the price of Freeport McMoRan over the past year, the price is down over 26%. Meanwhile, copper as measured by the DJ-UBS Copper ETN is down only 11%, the price of gold as measured by the Comex Gold Trust ETF is up 17%. Again there seems to be no correlation.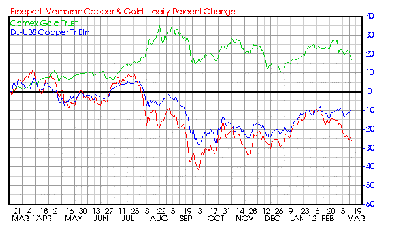 Then there are those that say mining stocks move in unison as the economy recovers and should be expected to have similar price recovery. Over the past 6 months while Freeport McMoRan is up 7%, Newmont Mining (NYSE:NEM) is down 16%, Southern Copper (NYSE:SCCO) is up 17% and BHP Billiton (NYSE:BHP) is down 1%. Again little correlation: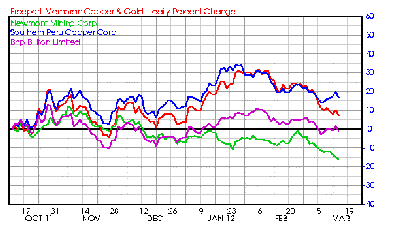 Let's ignore the charts on this stock and see what the technical, fundamental and individual investors are saying.
Freeport-McMoRan Copper & Gold Inc. engages in the exploration, mining, and production of mineral resources. The company primarily explores for copper, gold, molybdenum, cobalt hydroxide, silver, and other metals, such as rhenium and magnetite. It holds interests in various mines located in the Grasberg minerals district in Indonesia; Morenci minerals district in North America; South America; and Tenke Fungurume minerals district in the Democratic Republic of Congo. As of December 31, 2011, the company's consolidated recoverable proven and probable reserves included 119.7 billion pounds of copper, 33.9 million ounces of gold, 3.42 billion pounds of molybdenum, 330.3 million ounces of silver, and 0.86 billion pounds of cobalt. Freeport-McMoRan Copper & Gold Inc. was founded in 1987 and is headquartered in Phoenix, Arizona. (Yahoo Finance profile)
Factors to consider
Barchart technical indicators:
Technical sell signals in a stock that is fundamentally sound can signal a value buying opportunity

56% Barchart technical sell signal

Trend Spotter sell signal

Below its 20, 50 and 100 day moving averages

35.49% off its 1 year high

Relative Strength Index 31.54%

Recently traded at $37.93, well below its 50 day moving average of $42.90
Fundamental factors:
Wall Street brokerage firms like this stock and 19 firms have assigned 22 analysts to monitor the company's numbers

Analysts predict revenues will be down 1.90% this year, but increase by 13.10% next year

Earnings estimates are for a decrease of 12.40% this year, a reversal and increase of 27.10% next year, and then continue to increase for the next 5 years at an annual rate of 4.09%

These consensus numbers result in analysts issuing seven strong buys, 12 buy, three holds and no under perform or sell recommendations to their clients

If all the numbers come true, analysts predict investors from this level can see an annual total return in the 10% - 16% range for the next 5 years

The P/E of 7.92 is about half the 14.90 P/E of the market

The 2.61% dividend, which is about 20% of projected earnings is slightly above the market dividend rate of 2.30%

The company enjoys an A+ financial strength rating

The stock has been hit partially because of the economy and partly from labor strikes effecting production, but that still doesn't explain the erratic price momentum
General investor interest:
The readers of Motley Fool are a good gauge of what is in the mind of the individual investor and 5,891 readers have an opinion on this issue

Those expressing an opinion voted 97% that the stock will beat the market

The more savvy and experienced All Stars voted 97%, for the same result

Fool follows many columnists and analysts and notes that all have been positive on the future of the company

Some positive comments were made by Stifel Nicolaus, Argus, Barclays, Goldman Sachs, and even Jim Cramer
Summary: This is not a stock that is easily understood. It appears not to respond in step with the stock market, prices of the metals it produces, and not even with other companies in the same mining sector. In spite of this, both the professional and individual investors seem to be high on this stock. The stock is heading downward and getting cheaper each day. My advice is if you want to enter into a position, you should follow the 14 day turtle channel, and when the technicals reverse, then jump in but monitor your position: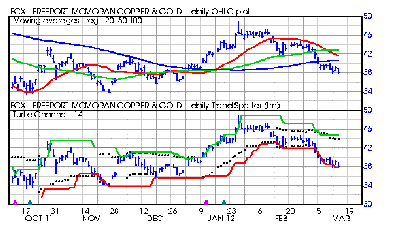 Disclosure: I have no positions in any stocks mentioned, and no plans to initiate any positions within the next 72 hours.