In today's world, markets transcend the static geopolitical boundaries, a trend that was, in former times, associated with wars. As corporations depart from overpopulating the crowded domestic markets to focus on more promising ones found in developing nations abroad, so too must the investor be willing to follow in the pursuit to capitalize upon world growth. However, despite the ever increasing awareness of a need to add international exposure, the worry of economic uncertainty often dissuades investors from actively seeking investments outside of the United States.
Yet exposure to world growth can be achieved through companies that have shown leadership and stability, and often through those that maintain a large domestic influence as well. Investors willing to seek capital appreciation in growth abroad should first be assured by a company's position of financial strength and the protection of limited volatility. Its for this reason that the following portfolio is comprised primarily of large multinational companies with a presence in many countries while maintaining a consumer-oriented focus.
Despite its diversification across multiple industries, the following portfolio is more geared towards a conservative approach to world growth. To accomplish this, a greater emphasis is placed on food and consumer staples, which is usually one of the last industries to suffer during hard economic times. When combined, the portfolio also yields a respectable 2.34% average dividend for those seeking to earn an income while they wait. All values were taken as of March 13, 2012.
| Company Name | Market Cap. | Forward P/E | Forward Div% | Industry |
| --- | --- | --- | --- | --- |
| Unilever (NYSE:UL) | $93.8 B | 14.27 | 3.6% | Consumer Goods & Food Products |
| Teva Pharmaceutical (NYSE:TEVA) | $39.2 B | 7.36 | 1.8% | Generic Drugs |
| Bunge (NYSE:BG) | $9.9 B | 9.21 | 1.5% | Agribusiness |
| Yum! Brands (NYSE:YUM) | $31.6 B | 18.30 | 1.7% | Quick-Service Restaurants |
| Intel (NASDAQ:INTC) | $137.3 B | 10.49 | 3.1% | Microprocessors |
Unilever (UL) With its headquarters located in the United Kingdom and founded in 1885, the company has grown into a consumer goods giant. The company currently has exposure to 190 countries worldwide and sells personal care, home care and food products, to name a few categories. With globally-recognized brand names such as Dove, Lux, Vaseline, Cif, Comfort, Bertolli, Lipton, and Slim Fast, Unilever has expanded its sales reach with over 400 brand name products that focus on health and well-being. The company boasts that on any given day, two billion people use Unilever products. With 55% of their business coming from emerging markets and well over $1.3 Billion spent on research and development annually, the company is poised for an extended duration of stable growth.
Teva Pharmaceutical Industries (TEVA) As the top ranked generic pharmaceutical company in the world, Israel-based Teva is poised to prosper as the baby boomer generation enters old age and seeks to medicate through the use of cheaper drug alternatives. Through its acquisition of leading rival Barr Pharmaceuticals for $7.46 billion in 2008, the company sealed its dominance over the market that is likely to result in only few major global players. With a direct presence in 60 countries worldwide, product distribution in over 120 markets, and 46,000 employees worldwide, the company appears ready to enter an age of strong demand for its products.
Bunge (BG) Headquartered in the United States but operationally centric to the region of Latin America, the company was founded in 1818 and has grown into one of the top-ranked agribusiness and food companies in the world. With integrated operations in seven regions of the world, the company focuses on its four business divisions which are agribusiness, sugar & bioenergy, food & ingredients, and fertilizer. With sugar's growing influence in the world, Bunge likely stands to prosper as one of the largest players in one of the largest sugar-producing nations in the world.
Yum Brands (YUM) As seen in the following screen capture of the company's homepage, it's clear that Yum Brands prides itself as a restaurant chain with an increasing global presence. With a large focus and revenue growth coming from its operations in China and India, the company also maintains an active presence in over 110 countries. Armed with the trio of popular fast-food chains found in KFC, Pizza Hut, and Taco Bell, the company has also pursued it's expansion with hundreds of casual dining concepts. With an above average revenue growth rate of 15.4% and an earnings growth rates of 29.9%, Yum Brands continues to demonstrate a growing demand for its franchises in the developing world.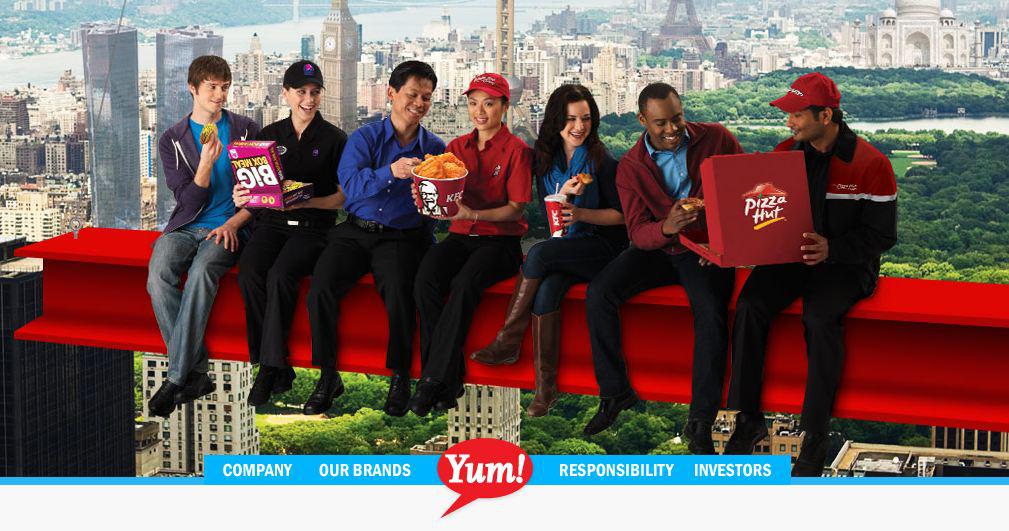 Intel (INTC) As the world's largest semiconductor chip maker, Intel reigns as a vital component in the consumer electronics market, where chipsets, network controllers and integrated circuits have become a part of everyday life. With the large-scale infrastructure to research, develop, and manufacture, the company's size serves as an advantage for a rapidly evolving industry that has high barriers to entry. As the developing world becomes ever more technologically-centric, Intel is sure to grow as a vital part of world growth.
Disclosure: I have no positions in any stocks mentioned, and no plans to initiate any positions within the next 72 hours.