Whether Mr. Market Is Aware Macy's Is The 10th Largest U.S. E-Commerce Company
Summary
According to eMarketer, Macy's is the tenth largest U.S. E-Commerce business.
Out of the Top Ten, only Macy's (42.7% short interest) and Wayfair (15.7%) are highly shorted.
I find it remarkable that the sell side says Macy's is a 'dying business' yet company has 1.1% E-Commerce Market Share. Can you 'cognitive dissonance'?
Looking for a portfolio of ideas like this one? Members of Second Wind Capital get exclusive access to our model portfolio. Get started today »
Year to date through yesterday, June 1, 2020, my portfolio is down 1.40% (see Appendix). This marks a dramatic recovery from the depths of early April 2020 when I was down 44.4%. Despite this recovery, Macy's, Inc (NYSE:M) is by far my largest position (I currently own 6,000 shares with a cost basis of $10.93) and Macy's is one of my Fab 5 positions. That said, I haven't publicly written about three out of my Fab 5 ideas on the free site.

Candidly, Macy's has been a major drag on performance. Going forward, I will be more disciplined and adhere to a strict 15% maximum sizing rule for any individual equity. Clearly, I lacked the imagination to envision that the entire United States would shut down, in mid March 2020, all 'non essential' retail stores due to Covid-19. Call it a bit of Confirmation Bias or perhaps Deer in Headlights Syndrome. And yes, I do closely monitor the financial news and I saw the shutdown in Italy so I should have connected the dots. However, I was too impressed with Macy's strong Q4 2019 results, which led me to miss the forest for the trees.
Anyway, the old Courage and Conviction would have written at least five articles since my writing return (on April 5, 2020) as a way to justify how outsized a bet this is. Instead, I have evolved and feel really good about my Macy's thesis. In fact, I have only written one free site piece on Macy's since my return (It's Time For Jeff Gennette To Sell Herald Square).
In today's short and sweet piece, I write to share a few compelling charts that I put together. Incidentally, over the weekend, a friend pinged me to inform me that Barron's wrong a negative Macy's article (Shopping for Macy's Shares? Better Tread Carefully). Within that short Barron's piece: Jefferies Analyst, Randal Konik was super bearish on Macy's and had this quote.
"You're looking at a dying core business," says Jefferies analyst Randal Konik. "The only relative value left in the business is probably the real estate."
I find it remarkable how subjective the sell side is when it comes to Macy's. I have been reading the imminent death of Macy's narrative for well over three years now.
Perhaps, the sell side could explain these charts? Moreover, if Macy's was truly a dying business then how in the world could it be the 10th largest U.S. E-Commerce company?
E-commerce sales
According to eMarketer, Macy's ranks #10 for the most E-commerce market share. Wayfair loses tons of money and only had 1.5% market share and yet Macy's has 1.1% market share.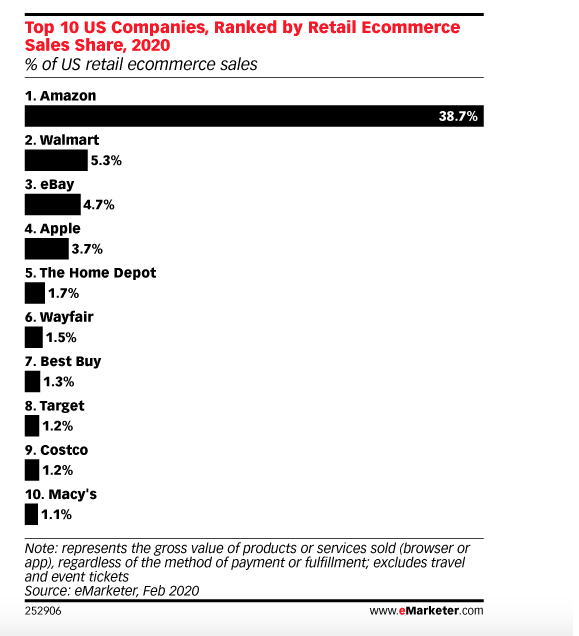 Enclosed below is a snapshot of Wayfair's (W) Adjusted EBITDA. It negative $497 million in FY 2019!

Source: Wayfair FY 2019 10-K
As of Friday, May 29, 2020, Wayfair had an enterprise value of $18.32 billion. So the market is valuing Wayfair at $12.2 billion for every 1% of e-commerce market share ($18.32 billion divided by 1.5% market share).
As of May 29, 2020, Macy's pro-forma enterprise value was roughly $7 billion. So why is Macy's 1.1% e-commerce market share worth so little?
Top Ten E-Commerce Valuations and Short Interest
As Alanis Morissette might say, 'Isn't It Ironic' that Macy's short interest is 42.7%. Could this have anything to do with why the sell sides lack of objectivity and overall market sentiment is so negative?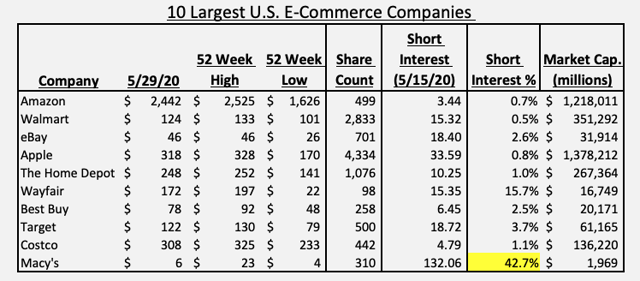 (Source: Author's Chart using 10-Ks)
Macy's Key Financial Metrics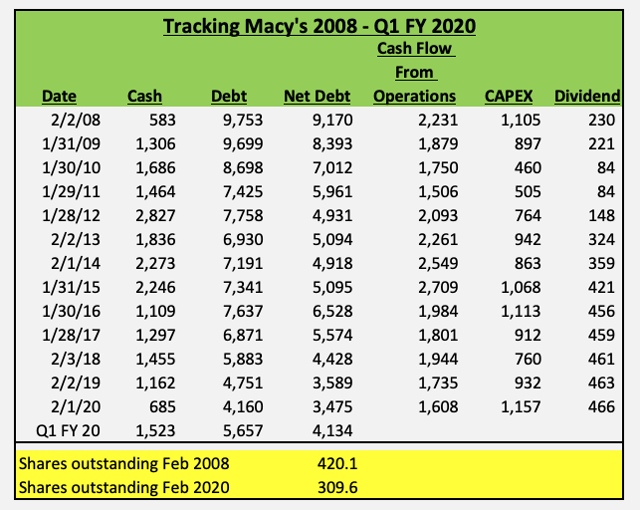 (Source: Author's work from Macy's 10-Ks)
Notice the following:
The decline in net debt
The consistently strong cash flow from operations
Reinvesting cash flow back into the business
The decline in the share count
On Macy's Q4 2019 conference call, Jeff Gennette revealed that E-Commerce business was $6 billion.
Our digital business generates $6 billion in revenue across all three brands and contributes to our profitability. And we see digital as a key engine of growth moving forward.
Macy's.com flows other vendors and has much more selection than in store.
Vendor Direct. In 2019, we grew the Vendor Direct program and added more than 1 million SKUs and 1,000 new vendors. This drove a nearly 60% increase in Vendor Direct sales, which now comprise approximately 13% of digital sales for the Macy's brand.
Ridiculous JC Penney and Sears Comparisons
Also, can we please stop comparing JC Penney (JCPNQ) and Sears to Macy's. They have nothing in common with the exception that they are all mall based retailers. When I hear a sell side analyst or a Barron's author start comparing Macy's with Penney and Sears, I start to wonder how much homework these analysts have actually done.
Here are JCP's historical financials (look at the big decline in sales and Adjusted EBITDA).

Source: JC Penney FY 2019 10-K
Here are Sears Holding's historical financials. Note that Sears hasn't filed a 10-K since February 2018!

Source: Sears Holdings FY 2017 10-K
Bonus Material
Are SA readers aware that Macy's has two 5% holders (non ETF based)?
Czech Billionaire, Daniel Kretinsky, owns 5%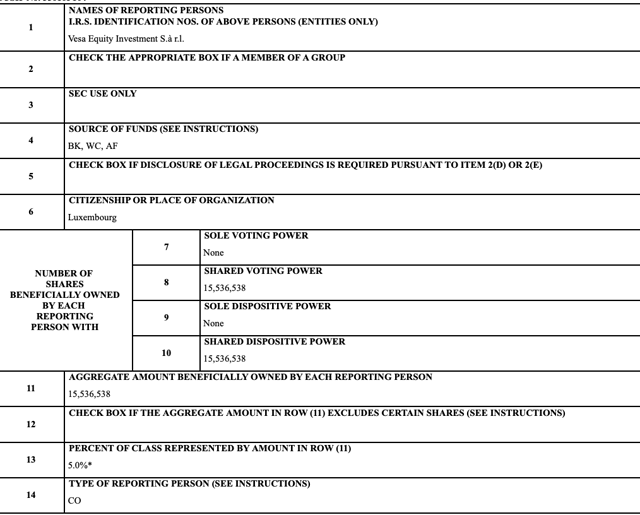 Source: Sec.gov
Yacktman Funds owns 14.67%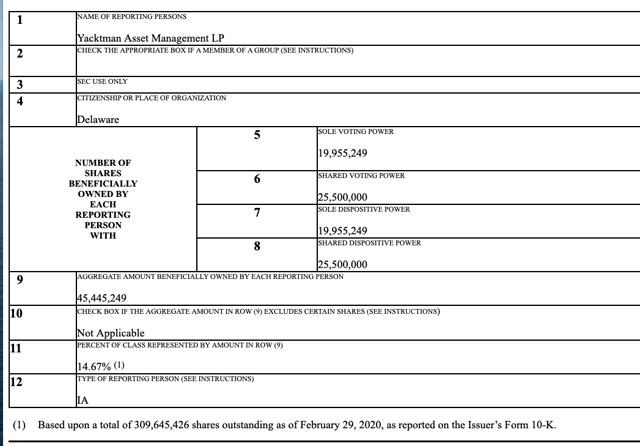 Source: Yacktman Funds
Yacktman funds is a good shop and manages $6 billion, as of March 31, 2020.

Source: Whalewisdom
Takeaway
I find it remarkable how negative the sell side is when it comes to Macy's. Moreover, why doesn't Macy's get any credit for its super valuable E-Commerce business? Call it cognitive dissonance, but how can Macy's be a dying brand and yet still be the tenth largest E-Commerce company in the United States? If you closely follow my charts, you can quickly work out that only Wayfair (a company burning tons of money to achieve that E-Commerce market share) and Macy's are highly shorted. And finally, Macy's has consistently generated strong operating cash flow, paid down debt, and bought back a ton of stock. Moreover, the company has reinvested in its core operations and has a fabulous e-commerce business. Maybe, one of these days, the sell side will work out how good and valuable Macy's E-commerce segment really is.
Appendix
Enclosed below is a snapshot of my accounting using Fidelity's performance tab.
I started the year at $204,547 and yesterday the account value was $201,677, hence the down 1.40% year to date through June 1st.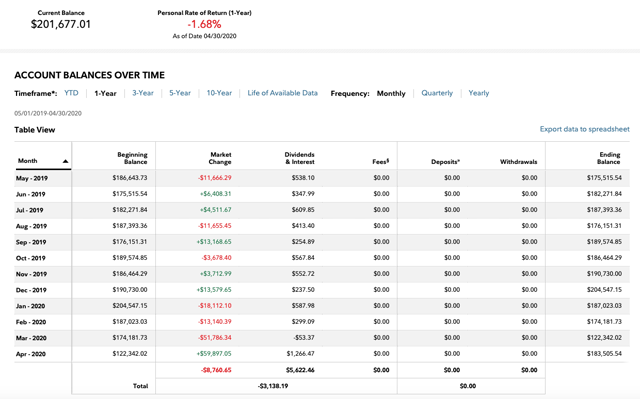 Second Wind Capital is a catalyst driven/ trading oriented service with an underpinning tied to value and out of favor sectors. The hold period can range from a few days to up to six months (sometimes longer if my conviction level for a particular thesis is elevated and fundamentally and tangibly intact). Risk management perimeters will be set based on position sizing and/or stop losses. No one bats a thousand, so if you can get it right 51% of the time and you manage your risk, you will generate out-sized returns. Join now with a 2 week free trial and follow my real-time porfolio. 
This article was written by
A career wanderer and journeyman, with a passion for deep value and contrarian investing. I spent five years on the buy side in investment grade bonds on a team that managed $50 billion of assets, 3.5 years as an energy credit analyst for an energy company, and had multiple stints in corporate finance, most recently as a strategic financial analyst. I have an undergraduate degree in Finance (UMass Amherst) and earned an MBA (Babson College).
I actively invest my own capital and for a few family members.

Favorite quotes:
"When you are inspired by some great purpose, some extraordinary project, all your thoughts break their bonds: Your mind transcends limitations, your consciousness expands in every direction, and you find yourself in a new, great and wonderful world. Dormant forces, faculties and talents become alive, and you discover yourself to be a greater person by far than you ever dreamed yourself to be." (Author - Patanjali)
"Tentative efforts lead to tentative outcomes. Therefore, give yourself fully to your endeavors. Decide to construct your character through excellent actions and determine to pay the price of a worthy goal. The trials you encounter will introduce you to your strengths. Remain steadfast...and one day you will build something that endures: something worthy of your potential." (Author - Epictetus)
"Hope sees the invisible, feels the intangible, and achieves the impossible." (Author - Unknown)
"When I stand before God at the end of my life, I would hope that I would not have a single bit of talent left, and could say, 'I used everything you gave me." (Author - Erma Bombeck)
Analyst's Disclosure: I am/we are long M. I wrote this article myself, and it expresses my own opinions. I am not receiving compensation for it (other than from Seeking Alpha). I have no business relationship with any company whose stock is mentioned in this article.
Seeking Alpha's Disclosure: Past performance is no guarantee of future results. No recommendation or advice is being given as to whether any investment is suitable for a particular investor. Any views or opinions expressed above may not reflect those of Seeking Alpha as a whole. Seeking Alpha is not a licensed securities dealer, broker or US investment adviser or investment bank. Our analysts are third party authors that include both professional investors and individual investors who may not be licensed or certified by any institute or regulatory body.