Launching Insider Opportunities: Picking Winning Insider Stocks With A Proven Strategy
Summary
I'm happy to launch Insider Opportunities, a service which picks out the winning insider stocks based on a formula with a strong track record, created by the founder.
Why should you try out becoming a member? It's simple: To reach higher returns based on empirical evidence in a very convenient manner.
Because of the fluent integration of all articles (from daily insider lists to in-depth articles) and features (real-time model portfolio, etc.), the user experience is very strong at Insider Opportunities.
Are you interested in insider outperformance? Don't hesitate to start a free trial. I provide early subscribers with a 10% discount on top of the low price of $39/month.
Editors' note: This article is meant to introduce Robbe Delaet's Marketplace service,
Insider Opportunities
.
Introduction
As a reader of this article, you are likely to be strongly interested by insider purchasing activity, just like I am. Insider purchases are very interesting to follow as it could indicate that the insider has superior insider knowledge and/or the stock is significantly undervalued.
As insider outperformance became a passion, I decided to put my acquired knowledge in the University of Ghent (yes, I'm Belgian) into work by writing an empirical paper on this topic. After dedicating months of my life into research, I found that on average insiders outperform slightly. However, there's a wide variety in outperformance and thus it's important pick out the best ones. Therefore, I created the Insider Outperformance Formula. This formula is the anchor of the Insider Opportunities service and has a proven track record with the 216 stocks picked by the formula outperforming the S&P 500 annually by 12.9%.
By subscribing at Insider Opportunities, investors may expect a convenient all-in-one service which provides actionable ideas regarding insider purchases. This article will discuss Insider Opportunities' valuable features, differentiation from free articles, key benefits and some background information about me.
Which valuable features does the service include?
Convenience is a key objective for this service. All articles and features are very well integrated into each other and provide an easy-to-use service (see the diagram below):
Insiders at breakfast is the first feature which includes a convenient daily insider purchases list of all stocks. Negatively- and neutral-rated stocks based on the Insider Outperformance Formula are thrown in the bin, as these are unlikely to provide excess returns. The positively-rated stocks are directly added to feature two.
Feature two includes a spreadsheet with all picks by the Insider Outperformance Formula. An analysis of these picks will be provided to give members a first idea about the stock. On average ~10-20 stocks are added each month in this list. For those who are interested in how this looks like and what types of stocks are picked, I included a screenshot of the May 2020 picks

below.

Feature three includes a spreadsheet model portfolio as it's not possible for investors to buy all the ~10-20 positively-rated stocks each month. This portfolio will include the "best" stocks from this list with a balance between industries and with up to 10% of hedges to reduce risks. The goal is to outperform the return of the prior list. Importantly, the stocks included in the model portfolio are discussed in a separate in-depth review and tracked regularly.
Finally, the service will provide a weekly video on Friday which includes the most relevant news. This brings the three big pieces back together. Have you had a rough week at work, did you go on vacation or did you simply not have enough time to read all the content? Don't worry, because the most important portfolio, insider and macro-economic news, will be discussed quickly in the Friday update.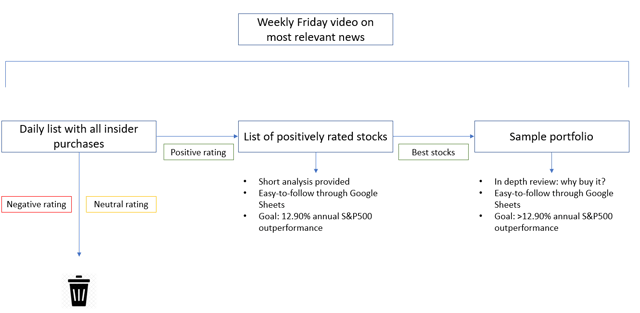 How does it differ from free articles?
I will keep writing free articles (weekly) to entertain and inform followers who decide not to become part of my community. These articles will primarily include individual analyses of stocks with insider purchasing activity, some of them picked by the Insider Outperformance Formula. I'm not going to share this formula to investors outside my community as I'm cautious that this could impact members' returns significantly. Also, I anticipate to keep writing a monthly overview of the most informative insider information.
The key point of differentiation of Insider Opportunities, in my opinion, is convenience. Many investors (possibly you as well?) have no time to digest all the news from different sites, read through many Seeking Alpha articles, etc. They strongly need a convenient, all-in-one approach which can lead to strong returns. Well - that's where Insider Opportunities is made for!
As a member of Insider Opportunities, you will be able to:
Digest the winning insider stocks from the losers.
Reach higher returns through buying the Insider Outperformance Formula picks and/or following the model portfolio.
Learn from me what information is important in insider trading.
Build a winning portfolio with only spending ~ 1-4 hours each week on reading/listening to information provided by my full-time work.
Learn more about stock valuation and determining which stock indicators are key.
Some background information about me
Well, finally, we arrive at some information about me, Robbe Delaet, a passionate analyst of insider purchases. If you look at my picture below you may probably already expect, based on my incomplete beard, that I'm quite young. In fact, I'm 22-years-old. This may provide some advantages:
High motivation to provide you the best information.
Fresh-in-mind knowledge obtained from my studies in Business Administration - Finance & Risk at the University of Ghent.
Understanding of all technologies to improve subscriber experience.
I also adopted a lot of knowledge from working at an M&A boutique, which improved my market research and valuation skills. What else do you want to know about me? Perhaps where I live? I live in Buggenhout, a small city in Belgium. Advantages of living here? I do not need to wake up too early to provide you the Insiders at breakfast content!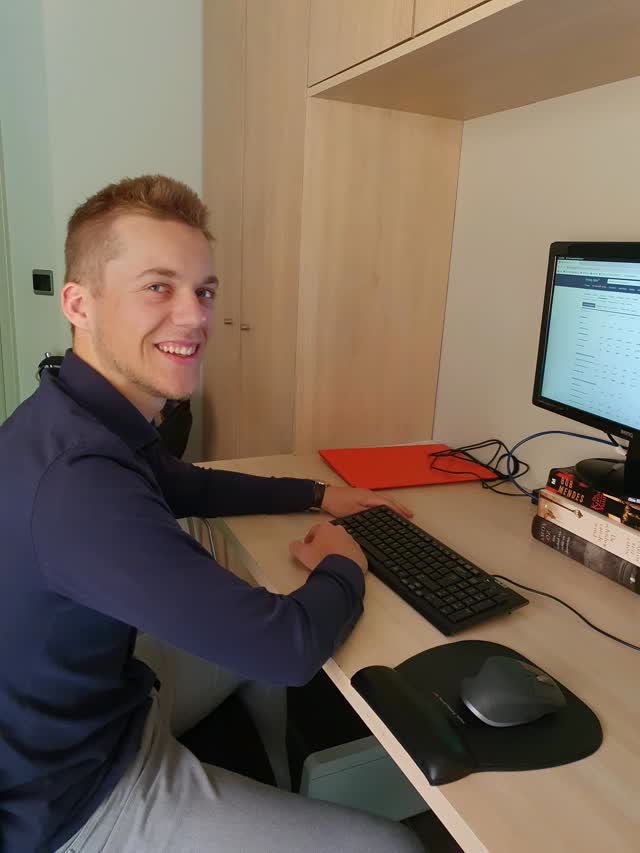 Sign up now and you get the cheapest price point possible
I'm determined to give members the best possible price for quality. Therefore, I decided to put the standard price at $39/month or $26/month if paid annually ($312/year). This is far below the average price on Marketplace and provides very good value (given the expected strong returns) for its price. Also, to thank early members for their trust, I provide a 10% discount on top for the first two weeks. As such, I would recommend interested investors sign up as quickly as possible for Insider Opportunities.
If you have any questions about Insider Opportunities, please contact me by clicking the envelope icon in the upper right corner.
This article was written by
Build a portfolio of winning stocks via our unique insider strategy
Voor Nederlandstalige beleggers - bezoek beleggersuniversity.com als je wil uitgroeien tot een succesvolle belegger

Founder of Insider Opportunities / A new way of investing (insiders+algos) with 43.6% annualized returns since 2010 / Made hundreds of investors successful and confident in this challenging market environment
During my Master of Business Administration at the University of Ghent (Belgium), I got passionated by finance. When writing my master's thesis I got attracted by the under-appreciated power of the insider investment strategy.
The theory is simple: by following insider (CEOs, CFOs, board members...) purchases, well-respected researchers have proven that you can outperform the market significantly. That's because this "smart money" knows better than anyone else when their stock is undervalued.
But adopting it in your investment practices is not easy: there are 850 purchases reported by the SEC each month, off which only a small fraction is valuable to follow up. As I enjoy challenges, I decided to dedicate my life into building a strategy around this very promising theory.
After years of empirical research, I discovered a revolutionary strategy based on insiders and algorithms which generated 47.2% annual returns since 2010 (3x the S&P 500). My IO Golden Value, Growth and Biotech algorithms pick out the winning insider purchases (on average 6 per month) based on fundamentals and valuations.
I understood this unique strategy could be extremely valuable to investors like you, enhancing returns and strengthening one's confidence in the market. To start improving investors' wealth generation, I decided to find Insider Opportunities in 2020.
Click here to discover Insider Opportunities 14 days for FREE.
By joining our community, you'll have an edge compared to other investors to find undiscovered, undervalued stocks. You'll get exclusive access to our daily Insider at Breakfast articles, outperforming portfolios, weekly market updates, group chat with other investors, and much more.
I'm always happy to talk with other like-minded investors and help them out. Don't hesitate to contact me any time!
Yours sincerely, Robbe
Analyst's Disclosure: I/we have no positions in any stocks mentioned, and no plans to initiate any positions within the next 72 hours. I wrote this article myself, and it expresses my own opinions. I am not receiving compensation for it (other than from Seeking Alpha). I have no business relationship with any company whose stock is mentioned in this article.
Seeking Alpha's Disclosure: Past performance is no guarantee of future results. No recommendation or advice is being given as to whether any investment is suitable for a particular investor. Any views or opinions expressed above may not reflect those of Seeking Alpha as a whole. Seeking Alpha is not a licensed securities dealer, broker or US investment adviser or investment bank. Our analysts are third party authors that include both professional investors and individual investors who may not be licensed or certified by any institute or regulatory body.