Investment Managers Should Not Design Target Date Funds
Summary
Target date funds should be designed by financial engineers for the benefit of beneficiaries.
Target date funds are mostly designed by investment firms for profit.
Although risk has been highly rewarded in recent times, dangers lie ahead, even beyond Covid-19.
Certain professions should not attempt to invade the provinces of other professions. For example, butchers should not design furniture and geologists should not design toilet seats.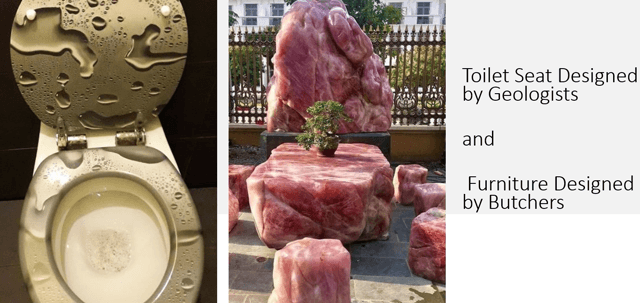 Such is the case with target date funds (TDFs). TDFs should be designed by financial engineers, following the specifications of experts in retirement savings and investments. In this article we discuss the differences between TDFs designed by investment firms and those designed by financial engineers.
When TDFs are designed by investment management firms
Investment management firms are in the business of investing other people's money for profit, the more profit the better. Accordingly, their design of a TDF maximizes profits within the rules of TDFs. The only such rule is that the glide path should reduce risk through time, but the amount of reduction is unspecified. On the profit side, the greatest profit is made at the target date because that's when account balances are their highest. Combining the rules with the profit motive leads to a design with the highest equity allocation allowed at the target date. That highest acceptable allocation is about 60% based on the actual TDFs designed by investment management companies.
The other consideration is how the remainder is invested, basically the amounts in long-term bonds and safe assets like stable value. Since fees on long-term bonds are higher than those on safe assets, the majority of the balance is in long-term bonds.
TDFs designed by investment management companies start out invested mostly in equities for young beneficiaries. This is particularly good for fund companies except there is not much money in these long-dated funds. The real money is in funds near the target date. These near-dated funds are relatively less risky than long-dated, with 55% in equity, but still quite risky.
Near-dated funds are high risk because most of the balance is in long-term risky bonds. They are about 55% in risky equities and at least 30% in risky bonds, so 85% in risky assets in total. This is much riskier than near-dated funds designed by financial engineers, putting beneficiaries at substantial risk. Be aware that beneficiaries bear this risk, not fund companies.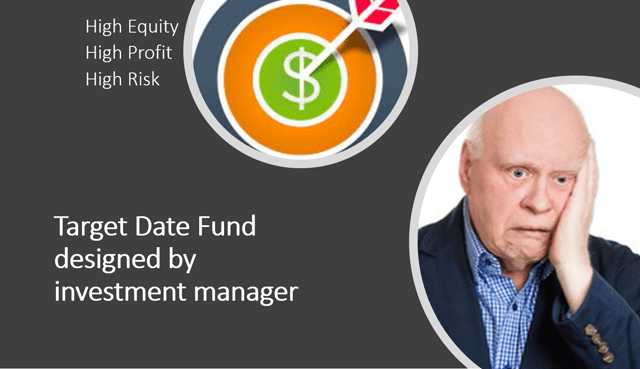 When TDFs are designed by financial engineers
Financial engineers are trained to design investment risk and reward tailored to investor specifications. Experts in retirement savings and investments like Dr Wade Pfau and Professor Moshe Milevsky say that it is important to not lose beneficiary savings, especially as beneficiaries transition from working life to retirement. This transition period is called the Risk Zone. Financial engineers use a discipline called "liability-drive investing" (LDI) to guard against losses along the glide path, and to protect in the Risk Zone with very safe investment – much safer than the designs created by investment firms. A financially engineered glidepath ends at the target date with 10% in equities and the balance in safe assets like T-bills, TIPS, and stable value.
The incredible differences
The following picture summarizes the differences.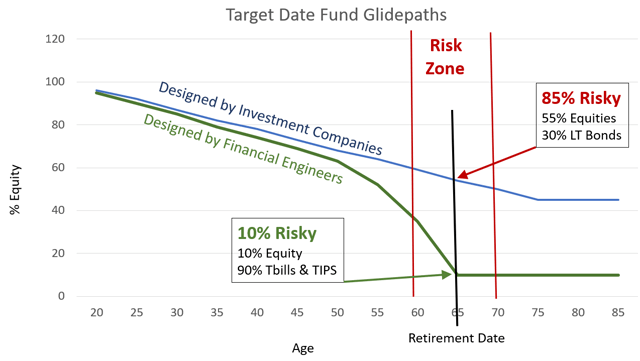 Those familiar with target date funds will recognize the glidepath designed by investment companies because it is the path followed by all but a few TDFs. The path designed by financial engineers is the patented Safe Landing Glide Path (SLGP). It is followed by the SMART Fund Target Date Fund Index and the Office and Professional Employees international Union (OPEIU). There are a few TDFs with glidepaths similar to SLGP, but none with an 11 history like SMART.
Why this matters
There is a lot of money and a lot of people in TDFs. More than $2.5 trillion is invested in TDFs by approximately 40 million people. Many of these people are in the Risk Zone and are facing not just the current pandemic but a whole host of disasters as discussed in this video. At least one of these disasters is highly like to occur as our 78 million baby boomers transition through the Risk Zone this decade.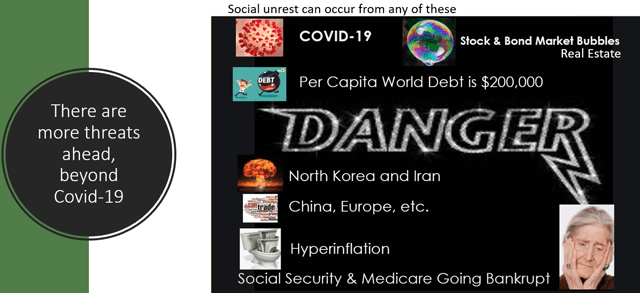 When baby boomers are financially harmed they become increasingly dependent on welfare programs that could be overwhelmed. 55 million baby boomers are dependent on welfare programs.
This article was written by
I'm president of  Target Date Solutions, developer of the patented Safe Landing Glide Path , Soteria personalized target date accounts, and Age Sage do-it-yourself investing. I;m also co-host of the Baby Boomer Investing Show.   My passion is helping his fellow baby boomers at this critical time in their lives when they are relying on their lifetime savings to support a retirement with dignity, so he wrote a book Baby Boomer Investing in the Perilous 2020s and he provides a financial educational curriculum I'm author of 3 books: Baby Boomer investing in the Perilous Decade of the 2020s, & 2 books on target date funds I'm smart with 2 Masters degrees and 55 years in financial consulting. I'm semi-retired, and prefer helping my fellow baby boomers rather than playing golf. I'm worried that our country, & most others, is playing with fire in its money printing. I'm here to help – that's my legacy space.I help investors deal with life's investment challenges, with the objective of enjoying a comfortable long retirement. I'm passionate about questioning and improving upon entrenched stale practices like jamming everyone into cookie cutter model portfolios. That's why I produce the Baby Boomer Investing Show live on Youtube and Facebook every other Tuesday at 10:00 PST. Watch live or replay by searching for "Age Sage Robo" on Facebook or Youtube. Please watch and support our Boomer Investing Show on Patreon ( https://www.patreon.com/user?u=35204315&fan_landing=true ) and visit our SA Blog at https://seekingalpha.com/account/authorboard/instablog . As president of Age Sage Robo (please Google), and CEO of GlidePath Wealth Management, I'm responsible for model development using my patented process . I have more than 50 years of financial service experience and hold a U.S. Patent for a time-tested glide path investment process that helps investors navigate the complicated financial decisions they face as they accumulate and preserve assets for their retirement years. Age Sage & GlidePath use this process to build Target Date, Special Purpose, and Life Span Portfolios that are tailored to the specific requirements of clients. My extensive financial career began at A.G. Becker Pension Consultants where I advised on the investment policies of several trillion dollars of retirement plan assets. After Becker I started my own consulting firms that developed innovative services for investors and the financial advisors who serve them. I've earned a BS and MS in Applied Mathematics from the University of Illinois and an MBA in Finance from the University of Chicago. I am author of the book "The Remarkable Metamorphosis of Target Date Funds" and co-author of "The Fiduciary Handbook for Understanding and Selecting Target Date Funds"Please visit https://babyboomerinvesting.show
Analyst's Disclosure: I/we have no positions in any stocks mentioned, and no plans to initiate any positions within the next 72 hours. I wrote this article myself, and it expresses my own opinions. I am not receiving compensation for it. I have no business relationship with any company whose stock is mentioned in this article.
Seeking Alpha's Disclosure: Past performance is no guarantee of future results. No recommendation or advice is being given as to whether any investment is suitable for a particular investor. Any views or opinions expressed above may not reflect those of Seeking Alpha as a whole. Seeking Alpha is not a licensed securities dealer, broker or US investment adviser or investment bank. Our analysts are third party authors that include both professional investors and individual investors who may not be licensed or certified by any institute or regulatory body.