Which Lies Ahead: Deflation Or Inflation?
Jun. 08, 2020 9:16 PM ET
SPY, QQQ, DIA, SH, IWM, TZA, SSO, TNA, VOO, SDS, IVV, SPXU, TQQQ, UPRO, PSQ, SPXL, UWM, RSP, SPXS, SQQQ, QID, DOG, QLD, DXD, UDOW, SDOW, VFINX, URTY, EPS, TWM, SCHX, VV, RWM, DDM, SRTY, VTWO, QQEW, QQQE, FEX, ILCB, SPLX, EEH, EQL, QQXT, SPUU, IWL, SYE, SMLL, SPXE, UDPIX, JHML, OTPIX, RYARX, SPXN, HUSV, RYRSX, SPDN, SPXT, SPXV
9 Comments
Summary
Many believe that deflation is imminent despite continuing infusions of mass amounts of money. This may be correct.
We have had, and will continue to have, inflating stock and bond market bubbles fed by Quantitative Easing (QE). It's a new kind of inflation.
We will also have old-fashioned inflation driving up grocery and gas prices, increasing the CPI. This could take a year or two.
Despite the trillions in stimulus money being poured into the US economy, there has been no inflation. In fact, many believe we are on a path to deflation, as explained in these articles:
Similarly, several articles explain that inflation has been subdued by a lack of velocity:
Ceaseless Decline in Velocity of Money Must Concern Fed
In the following, we share our belief that serious inflation lies in our future, but we will probably see a little deflation first.
Deflation soon
As shown in the following exhibit, decreases in the prices of goods and services, AKA deflation, can arise for several reasons: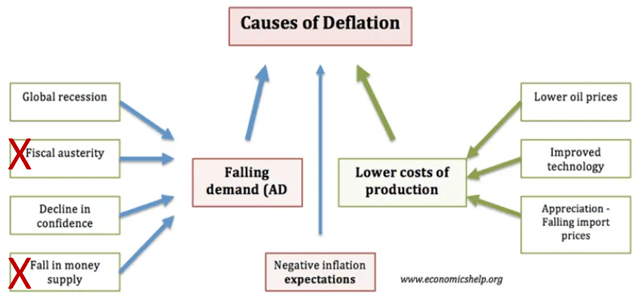 As you can see, all but two causes – austerity and decrease in the money supply – are currently in play, so deflation is a real possibility. But we see several of these causes diminishing through time, giving way to inflationary forces:
As the pandemic moves into the rearview mirror, the Global Recession will end, and consumer confidence will return.
When this happens, negative inflation expectations will morph into positive inflation expectations.
Oil prices are not likely to remain low.
Trade wars can reverse falling import prices.
No one knows how long this transition from deflation to inflation will take, but we believe it will be less than two years. We also believe that we have had and will continue to have a special kind of insidious inflation.
Continuing inflation
We have had inflation since 2009, but it has not been in consumer prices. Rather the prices of stocks and bonds have been seriously inflated. Yes, the miracle of the 2010 decade is nothing other than stock and bond balloons filling up with $5 trillion in Quantitative Easing (QE) money. Explanations for the flatness in CPI correctly identify the absence of velocity in purchasing consumer goods and services but totally miss the real inflation. That will change with the latest round of pandemic-related stimulus.
New inflation
Much of the $4 trillion that the Fed has dropped from helicopters in COVID relief will be used to purchase groceries. Some of it will pay housing costs like mortgages and rents, and these payments will also find their way into the economy rather than the capital markets. The following picture explains why asset price inflation will continue and will be joined by consumer price inflation (CPI).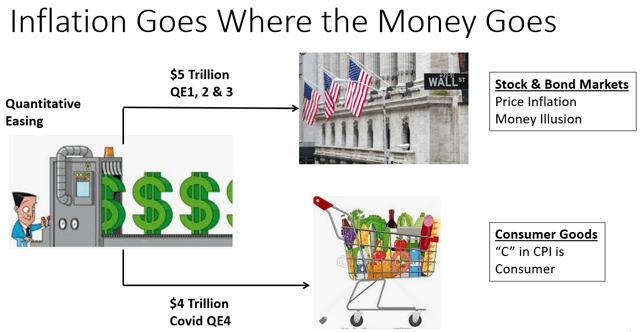 What to do
Asset price inflation will remain in stock, and bond market bubbles until the Fed takes it out, which might be an awfully long time from now. In the fourth quarter of 2018, the Fed began a modest unprinting of QE money, and the stock market reacted violently with a 15% decline, so now, we know what deflating asset bubbles looks like. Investors can take heed and sell their stocks and bonds on any Fed announcements about reversing QE because the last one out the door will not have lights to turn off. (I expect to get a lot of comments on this statement.)
As for consumer price inflation, investors can protect themselves with inflation-protected securities like Treasury Inflation-Protected Securities (TIPS), commodities, precious metals, and other "real" assets. Anecdotes abound of wealthy people hoarding physical gold; they might know something.
This article was written by
I'm president of  Target Date Solutions, developer of the patented Safe Landing Glide Path , Soteria personalized target date accounts, and Age Sage do-it-yourself investing. I;m also co-host of the Baby Boomer Investing Show.   My passion is helping his fellow baby boomers at this critical time in their lives when they are relying on their lifetime savings to support a retirement with dignity, so he wrote a book Baby Boomer Investing in the Perilous 2020s and he provides a financial educational curriculum I'm author of 3 books: Baby Boomer investing in the Perilous Decade of the 2020s, & 2 books on target date funds I'm smart with 2 Masters degrees and 55 years in financial consulting. I'm semi-retired, and prefer helping my fellow baby boomers rather than playing golf. I'm worried that our country, & most others, is playing with fire in its money printing. I'm here to help – that's my legacy space.I help investors deal with life's investment challenges, with the objective of enjoying a comfortable long retirement. I'm passionate about questioning and improving upon entrenched stale practices like jamming everyone into cookie cutter model portfolios. That's why I produce the Baby Boomer Investing Show live on Youtube and Facebook every other Tuesday at 10:00 PST. Watch live or replay by searching for "Age Sage Robo" on Facebook or Youtube. Please watch and support our Boomer Investing Show on Patreon ( https://www.patreon.com/user?u=35204315&fan_landing=true ) and visit our SA Blog at https://seekingalpha.com/account/authorboard/instablog . As president of Age Sage Robo (please Google), and CEO of GlidePath Wealth Management, I'm responsible for model development using my patented process . I have more than 50 years of financial service experience and hold a U.S. Patent for a time-tested glide path investment process that helps investors navigate the complicated financial decisions they face as they accumulate and preserve assets for their retirement years. Age Sage & GlidePath use this process to build Target Date, Special Purpose, and Life Span Portfolios that are tailored to the specific requirements of clients. My extensive financial career began at A.G. Becker Pension Consultants where I advised on the investment policies of several trillion dollars of retirement plan assets. After Becker I started my own consulting firms that developed innovative services for investors and the financial advisors who serve them. I've earned a BS and MS in Applied Mathematics from the University of Illinois and an MBA in Finance from the University of Chicago. I am author of the book "The Remarkable Metamorphosis of Target Date Funds" and co-author of "The Fiduciary Handbook for Understanding and Selecting Target Date Funds"Please visit https://babyboomerinvesting.show
Analyst's Disclosure: I/we have no positions in any stocks mentioned, and no plans to initiate any positions within the next 72 hours. I wrote this article myself, and it expresses my own opinions. I am not receiving compensation for it. I have no business relationship with any company whose stock is mentioned in this article.
Seeking Alpha's Disclosure: Past performance is no guarantee of future results. No recommendation or advice is being given as to whether any investment is suitable for a particular investor. Any views or opinions expressed above may not reflect those of Seeking Alpha as a whole. Seeking Alpha is not a licensed securities dealer, broker or US investment adviser or investment bank. Our analysts are third party authors that include both professional investors and individual investors who may not be licensed or certified by any institute or regulatory body.