An Update On Westport Fuel Systems
Summary
The stock fell to a new low with the rest of the market in March.
The shares doubled on high volume.
A promising Q1 report from the company.
Insider buying is a positive sign.
Is WPRT a buy again?
Looking for more stock ideas like this one? Get them exclusively at Hecht Commodity Report. Get started today »
The last time I wrote about Westport Fuel Systems Inc. (NASDAQ:WPRT) on Seeking Alpha was on October 29, 2019. On that day, WPRT shares were trading at $2.71. I suggested that "November 7 is the next time the company has the potential to surprise the market and ignite a rally." On November 8, the stock reached its peak at $3.39 per share, where it ran out of steam on the upside.
WPRT engineers, manufactures, and supplies alternative fuel systems and components for use in transportation applications worldwide. The company has a joint venture with Cummins Inc. (CMI), a leading engine manufacturing company.
Like many shares, WPRT fell like a stone during the price carnage in the stock market in March. After closing at $2.37 per share on December 31, 2019, the stock fell to a low of 70 cents on March 23. WPRT shares made an impressive comeback since the March low, but there is still room for the stock to move higher. I had not recommended a long risk position in WPRT shares since the stock was at just above the $1 level in February 2019, but now could be an excellent time to add this stock to your investment radar.
The stock fell to a new low with the rest of the market in March
The high is WPRT shares was at $2.86 on January 13, which was the highest level since mid-November 2019.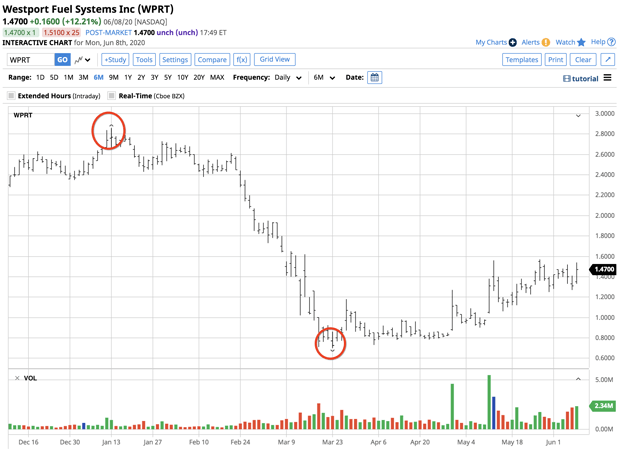 Source: Barchart
The chart shows that the selling that hit the stock market in late February through mid-March took the price of WPRT shares to a low of 70 cents. The bottom on March 23 was the lowest in history.
The shares double on high volume
When a stock moves to the upside and higher volume accompanies the rally, it tends to be a technical validation of an emerging bullish trend.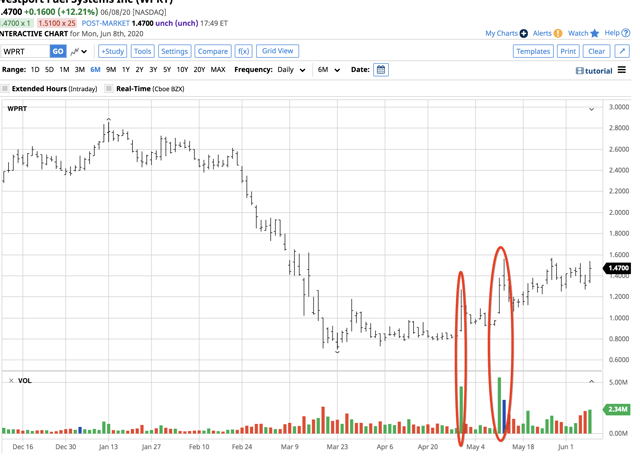 Source: Barchart
The chart shows that on April 29, WPRT shares moved from 87.1 cents to $1.27 per share and settled at $1.11. The volume on that day was just over 4.6 million shares. On May 11, the stock moved from $1.04 to $1.38 on a volume of almost 5.5 million shares. The next day, WPRT reached $1.57 per share. WPRT was trading at $1.47 on Monday, June 8.
Some promising news in the Q1 report from the company
Analysts were expecting a five cents per share loss for WPRT in the first quarter of 2020. The earnings were worse at an eleven cents loss. While WPRT missed the consensus earnings estimates by a mile, it did better than expected on revenues. According to Zachs, the company has topped revenue estimates four times over the past four quarters, and Q1 was no exception. Westport posted revenues of $67.22 million in Q1, companies to $73.19 million at the same time in 2019. However, the revenues were a bright spot for the company.
During the earnings conference call that followed the earnings release, explained the company's approach for the post-Coronavirus recovery. CEO David Johnson said, "Post-COVID the challenges of climate change and urban air quality have not disappeared. The need to efficiently move goods hasn't disappeared. The world needs affordable, clean transportation more than ever." He went on to explain that "cost reduction, disciplined cash management, and supporting our global team and their communities as we navigate this recovery period" is the company's focus.
Recent tests of WPRT products in China had positive results. The EU's Green Deal includes measures to increase the support of low emissions fuels, which improves demand for WPRT's engines.
Insider buying is a positive sign
According to Yahoo Finance, there have been two insider transactions to buy a total of 1.550 million shares and no sales over the past six months. Insiders hold 13.95% of the company's shares, with almost 25% owned by institutions.
WPRT has a market cap of $202.063 million and trades an average of around 2.3 million shares each day. Five analysts on Yahoo Finance have a one-year target of $3.50 per share for the stock, with a range of $2.50 to $5.00.
Is WPRT a buy again?
Westport Fuels shared have made two significant comebacks since early 2017.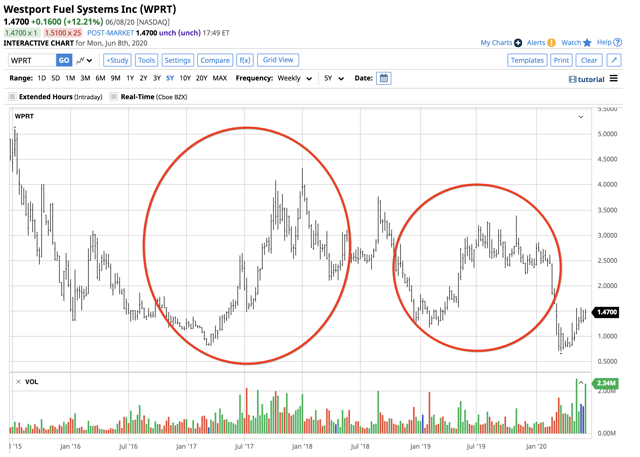 Source: Barchart
The chart shows that the shares rose from 82 cents in March 2017 to a high of $4.33 in early 2018. The next rally that began at $1.17 in February 2019 took the stock to a high of $3.39 in November 2019.
The first level of technical resistance on the stock stands at the November 2019 high. WPRT has made lower highs over the past years, but the stock could still have plenty of upside potential from the closing price on June 8 at $1.47 per share.
In a world that looks for a cleaner environment, the addressable market for WPRT's fuel systems and components is likely to expand. At below the $1.50 level, the stock is inexpensive if the stock market continues to move higher over the coming weeks and months.
The Hecht Commodity Report is one of the most comprehensive commodities reports available today from the #2 ranked author in both commodities and precious metals. My weekly report covers the market movements of 20 different commodities and provides bullish, bearish and neutral calls; directional trading recommendations, and actionable ideas for traders. I just reworked the report to make it very actionable!
This article was written by
Weekly commodities commentary and calls, from a Wall Street veteran
Andy Hecht is a sought-after commodity and futures trader, an options expert and analyst. He is the #2 ranked author on Seeking Alpha in both the commodities and precious metals categories. He is also the author of the weekly
Hecht Commodity Report
on Marketplace - the most comprehensive, deep-dive commodities report available on Seeking Alpha.
Andy spent nearly 35 years on Wall Street, including two decades on the trading desk of Phillip Brothers, which became Salomon Brothers and ultimately part of Citigroup.
Over the past two decades, he has researched, structured and executed some of the largest trades ever made, involving massive quantities of precious metals and bulk commodities.
Andy understands the market in a way many traders can't imagine. He's booked vessels, armored cars, and trains to transport and store a broad range of commodities. And he's worked directly with The United Nations and the legendary trading group Phibro.
Today, Andy remains in close contact with sources around the world and his network of traders.
"I have a vast Rolodex of information in my head… so many bull and bear markets. When something happens, I don't have to think. I just react. History does tend to repeat itself over and over."
His friends and mentors include highly regarded energy and precious metals traders, supply line specialists and international shipping companies that give him vast insight into the market.
Andy's writing and analysis are on many market-based websites including CQG. Andy lectures at colleges and Universities. He also contributes to Traders Magazine. He consults for companies involved in producing and consuming commodities. Andy's first book How to Make Money with Commodities, published by McGraw-Hill was released in 2013 and has received excellent reviews. Andy held a Series 3 and Series 30 license from the National Futures Association and a collaborator and strategist with hedge funds. Andy is the commodity expert for the website about.com and blogs on his own site dynamiccommodities.com. He is a frequent contributor on Stock News- https://stocknews.com/authors/?author=andrew-hecht
Analyst's Disclosure: I/we have no positions in any stocks mentioned, and no plans to initiate any positions within the next 72 hours. I wrote this article myself, and it expresses my own opinions. I am not receiving compensation for it (other than from Seeking Alpha). I have no business relationship with any company whose stock is mentioned in this article.

The author always has positions in commodities markets in futures, options, ETF/ETN products, and commodity equities. These long and short positions tend to change on an intraday basis.
Seeking Alpha's Disclosure: Past performance is no guarantee of future results. No recommendation or advice is being given as to whether any investment is suitable for a particular investor. Any views or opinions expressed above may not reflect those of Seeking Alpha as a whole. Seeking Alpha is not a licensed securities dealer, broker or US investment adviser or investment bank. Our analysts are third party authors that include both professional investors and individual investors who may not be licensed or certified by any institute or regulatory body.