Wow, today's market certainly seems to be pretty resistant to bad news. With a weak GDP report, mixed stories from Europe, and a falling dry bulk shipping index, the pullbacks over the last several months have been small and short-lived. Given the consistent and continued strength of the market, few traders have been willing to hold strong short positions at all, and even fewer shorts have been willing to hold positions for more than a day trade.
As the bullish consensus continues to grow and most equity and commodity markets continue to rally, I think it is worth looking at the fundamentals and technicals a little closer. Even today, while most traders and investors see a new recession as highly unlikely, the situations in China and Europe continue to raise questions about the overall strength of the global economy.
While no one is arguing that the U.S. economy is likely to reenter a recession anytime soon, a strong debate is still unresolved over how strong growth in the U.S. and abroad is likely to be over the next year. China continues to see weakness in their real estate and construction markets, and the economic outlook in the less industrial countries on the periphery of Europe has not improved. Since China is also the most leveraged economy to the Euro-Zone, the weakness in Asia seems to further highlight the weakness we continue to see in Europe as well.
Given the continued uncertainty over the strength of the fundamentals, I think it's worth looking at technicals to see if they provide any further insight into how much further the market rally may extend in the near-term.
Fundamentally the market outlook for bulls is fairly simple. The U.S. economy has definitively stayed out of a recession and maintained slow but steady growth. U.S. GDP growth came in at 2.9% for the fourth quarter, jobless claims have also continued to drop, and consumer spending and industrials orders remain stable.
Given the significant recent improvement in growth expectations in the U.S. and diminishing fears of a recession here or abroad, it is unsurprising the most cyclical stocks in the financial, retail, and industrial sector, have rallied the most.
However, today the market faces steeper challenges. Now that cyclicals have in many cases rallied significantly back to near their previous fifty-two week highs, I think it is worth asking what will drive the market higher. Will economic growth accelerate or flatline going into next year? Does the fiscal progress being made in Europe mean that the Euro-Zone economy will likely stabilize and grow at a normal rate of 1-2% a year?
If Europe remains weak how will that affect the Asian economies, who are still dealing with weakness in their real estate and construction industries. To me, the economic outlook still remains murky, and this is likely one of the reasons, in my opinion, that the market has had trouble breaking out to new highs over the last five months.
China is probably the most potentially troubling issue that has not been covered significantly by the press since most of the focus has been on Europe. The Chinese real estate industry is in a bubble and the dry bulk shipping index suggest their construction industry is still contracting. China is also the most levered economy to Europe, where industrial and consumer spending levels remain anemic.
The recent earnings reports of key European industrials like Siemens (SI), were miserable, and little real progress has been made in substantively reworking the debt situation of Greece and the other PIIGS. Chinese equities were also down nearly 40% last year in many cases, and have not rebounded significantly to date.
Also, while some companies like Apple (NASDAQ:AAPL) have reported fairly solid consumer spending trends in Europe, other retailers like Tiffany's (NYSE:TIF) and Abercrombie & Fitch (NYSE:ANF), have also painted a more bleak picture.
The U.S. economy is not the only economy in the world, and global uncertainty has made the fundamentals picture hard to read. Given the uncertainty over the fundamentals, I think it's worth looking a little closer at the technicals.
Oil and Copper are two commodities that have often led market rallies for most of the past three years. While oil prices are also affected by geopolitical issues, and copper is more tied to Chinese demand, these commodities have also generally risen with an improving outlook for the global economy. Given the strong past correlation between equities and commodities, I think traders and investors can still look at these asset classes to get a sense of the overall strength in markets worldwide.
The most important commodity to look at, in my opinion, within this asset class is oil. Here, the short-term and long-term charts are interesting. While, certainly, oil has had a strong move up with most of the other equity markets, oil has had trouble staying definitively over its strong previous resistance levels in the 105-110 level. Let's look at the 1 month chart.
Market trend chart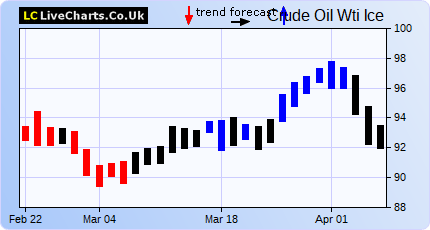 At first look, the 1 month chart looks like a reverse head and shoulders pattern, the chart also suggests that the recent 3 month rally has really just been a trend line rally in the commodity back to the resistance level of 110 dollars a barrel that it couldn't break through and hold nearly 2 years ago.
Copper, also, has had a strong move up, but appears to be running into resistance at the trend line. Let's look at a short-term chart of this commodity. Here's the 6 month chart.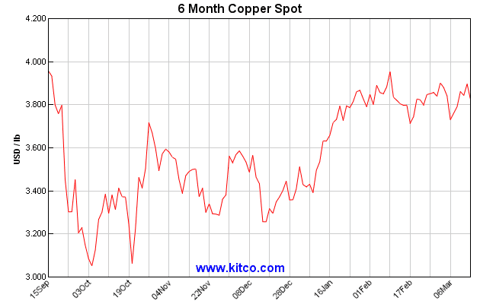 Again, while copper prices have rallied hard during the last six months, they are still just returning to the trend line resistance point of roughly four dollars a pound - a point of support during previous rallies in this asset class. The four dollar price point has also been resistance for several weeks now as this industrial metal has, like oil, failed to make new highs on the economic data.
Now, obviously, correlations often only matter for short periods of time. While oil and copper have usually been fairly closely correlated with bigger moves in the S&P 500 (NYSEARCA:SPY) over extended periods of time, these connections have often become disconnected for other shorter time periods.
Given that each of these commodities has followed equities fairly closely over extended periods of time, it is worth noting that each commodity has failed to significantly break through important previous resistance levels on the recently economic news.
While the rally in both commodities and stocks has been based unquestionably in large part on the improving fundamentals, the strength of the fundamentals moving forward is still an open question. Given that the uncertainty that surrounds the state of future growth prospects in the U.S. and abroad is not likely to be resolved anytime soon, while I remain bullish, I think it is worth continuing watch technicals a little closer than usual.
Disclosure: I have no positions in any stocks mentioned, and no plans to initiate any positions within the next 72 hours.