Citron Research published a note that values Sohu (NASDAQ:SOHU) at $93 per share based on Sum-of-The-Parts model. The firm argued that Sohu's share price is undervalued because its online video unit should be valued at least $1.2 billion based on Youku's (NYSE:YOKU) purchasing price of Tudou (NASDAQ:TUDO).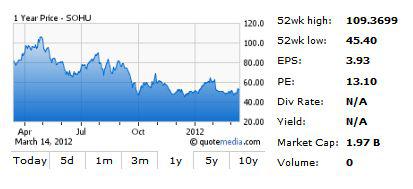 I view Citron's price target as overly optimistic and value Sohu at $70 per share based on Sum-of-The-Parts, which implies a 32% upside from Tuesday's closing price of $53 per share.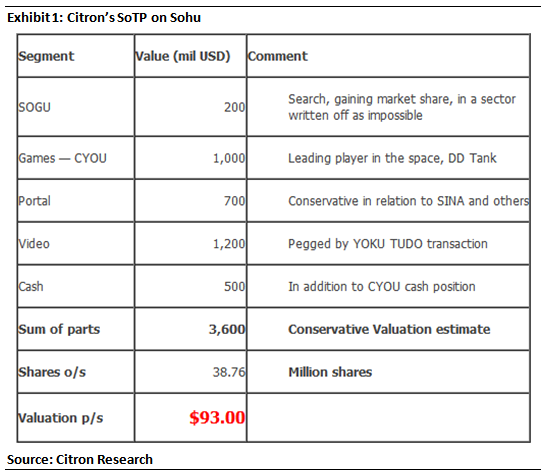 In my view, Citron's $93 price target is overly optimistic, because:
While Sogou's revenue has been growing at triple digit for the past four quarters, its market share in China's desktop search is still below 5%, compared to Baidu's (NASDAQ:BIDU) 80%. In addition, Sogou has yet to penetrate mobile search, which Baidu has ramped up its development in mobile OS and cloud computing.

Changyou (NASDAQ:CYOU) has been successful over the past three years due to its hit franchise Tian Long Ba Bu and DD Tank is gaining popularity. However, the company's latest developed title, DMD, is starting to become a failure in that it had immaterial contribution to Changyou's 4Q growth and that its ranking on Baidu's search query has fallen from No. 19 last October to No. 34 in January.

Before Youku-Tudou, Sohu TV was projected to become the second largest online video portal in China. However, Youku-Tudou could pose a serious threat to Sohu TV's growth because the merged company will be the clear No.1 player in the industry and will likely expand their combined market share by leveraging their user base, bandwidth infrastructure and content at the cost of other players. Sohu could face an uphill battle and might need to partner with another video portal to compete against Youku-Tudou. Therefore, I believe Citron's $1.2 billion valuation on Sohu video is overly aggressive.
I value Sohu's fair value to be $70 per share based on Sum-of-The-Parts analysis, which implies a 32% upside from yesterday's closing price.
Click to enlarge: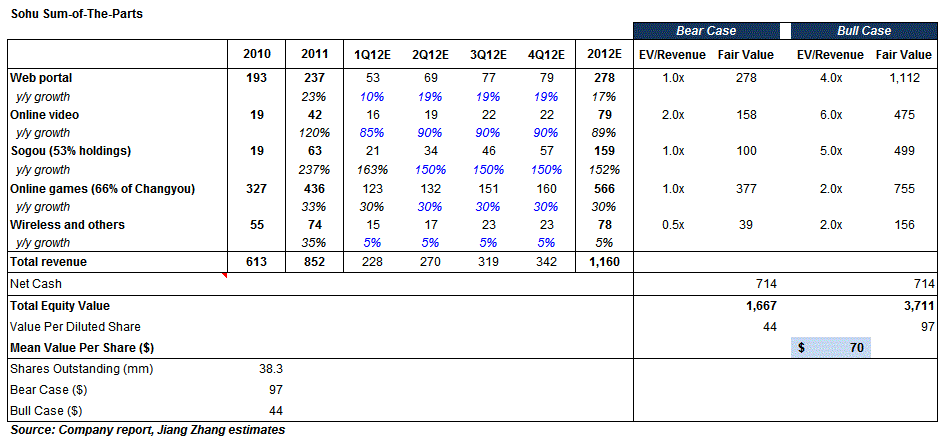 I model:
Portal revenue to grow 10% y/y in Q1 due to the impact of the Chinese New Year, and 19% y/y for the remainder of the year, which is on par with the industry average

Online video revenue to grow 85% y/y in Q1, and 90% y/y for the remainder of the year, based on peer projections

Sogou to grow 163% y/y in Q1, in line with management guidance, and 150% y/y for the remainder of the year

Online game to grow 30% y/y in 2012 as I believe there is no visible slowdown in Tian Long Ba Bu
EV/Revenue assumptions are taken from a range among peers.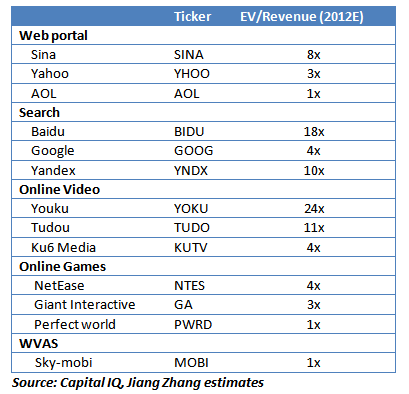 Disclosure: I have no positions in any stocks mentioned, and no plans to initiate any positions within the next 72 hours.