Rural communications companies pay big dividends now because of hefty free cash flow. Growing revenue, however, is essential to sustaining these payouts over the long haul.
The chief headwind is the long-term decline in traditional phone service sales, accelerated by the phase out of federal subsidies.
Consolidated Communications (NASDAQ:CNSL), however, nearly managed the trick last year by focusing on consumer and business broadband service, while holding local access line losses to less than 4 percent.
The happy result: Consolidated has increased capital spending, covered its distribution with free cash flow by nearly a 2-to-1 margin and eliminated debt maturities until December 2013.
And this year it looks set to turn the corner with the largest acquisition in its history, the $341 million (half debt, half equity) takeover of SureWest Communications (NASDAQ:SURW).
The deal requires the approval of SureWest shareholders, regulators in California, Kansas and Missouri, the Federal Communications Commission and the Federal Trade Commission.
This will likely take until the second half of 2012, though controversy is unlikely given the companies' total market capitalization of less than $1 billion.
Consolidated management forecasts the deal will cut annual operating costs by $25 million and will shave $5 million to $10 million in capital expenditures. This will lift free cash flow and further de-leverage the balance sheet.
And it pivots Consolidated further away from traditional phone business, particularly as SureWest's advanced networks in Sacramento and Kansas City have little exposure to subsidies.
The upshot is a larger and financially stronger Consolidated Communications that's set for positive revenue growth going forward. I don't expect dividend growth for at least a couple years.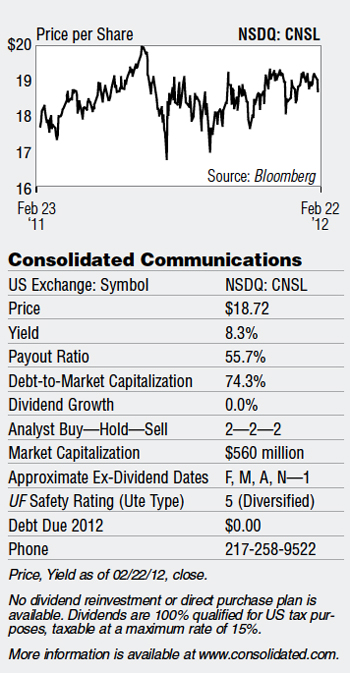 Disclosure: I have no positions in any stocks mentioned, and no plans to initiate any positions within the next 72 hours.