On Wednesday, March 15, 2012, Invesco Mortgage Capital Inc. (NYSE:IVR) declared a dividend of $0.65 per share for the first quarter of 2012. The dividend will be paid on April 27, 2012 to shareholders of record on March 26, 2012, with an ex-dividend date of March 22, 2012. The company initially, and a day earlier, announced a record date of March 23, 2012, and an ex-dividend date of March 21, 2012, but changed the dates due to NYSE notification requirements.
See a recent performance chart of IVR: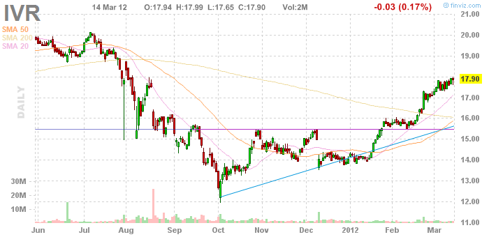 Also on Wednesday, Two Harbors Investment Corp. (NYSE:TWO) announced a quarterly dividend of $0.40 per share of common stock for Q1 2012, payable April 20, 2012 to stockholders of record on March 26, 2012.
See a recent performance chart of TWO: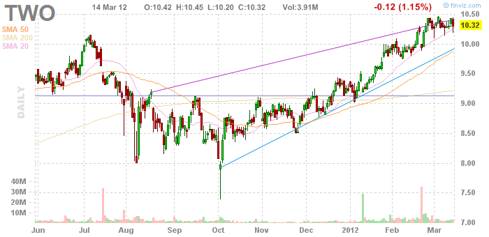 Both IVR and TWO are non-agency or hybrid mortgage REITs, which hold both mortgages insured by federal agencies and those without agency backing. Many hybrid mREITs have outperformed the broader market and also the agency REITs so far in 2012, though they did substantially underperform both in 2011.
Last quarter, IVR also announced a $0.65 dividend, while TWO announced a $0.40 dividend, meaning both companies have maintained their prior dividend. Similarly, at the start of the month Chimera (NYSE:CIM), the largest public hybrid mREIT, announced it would maintain its $0.11 dividend for Q1 of 2012.
Both CIM and IVR considerably reduced their dividend payouts during the prior several quarters. For Q1 of 2011, CIM's dividend was $0.14 (or about 27% higher), while IVR's was $1 (or about 55% higher). These two mREITs both lowered their dividends a few times over the last few quarters. Conversely, TWO has now maintained a $0.40 quarterly dividend for six quarters. TWO is now one of the highest yielding hybrid mREITs, providing a yield of about 15.5%.
Given the poor performance by most hybrid mREITs in 2011, coupled with continued growing concerns over agency mREIT leverage rates and potential yield spikes, it is possible that these hybrid mREITs will continue to outperform the agency-only variety, such as American Capital Agency (NASDAQ:AGNC) and Annaly Capital (NYSE:NLY), the two largest publicly traded agency mREITs.
Last month, AGNC announced it will reduce its dividend to $1.25 from $1.40, after maintaining the prior rate for two and a half years and then announced a large secondary after its ex-dividend date. Annaly is expected to report its Q1 2012 dividend next week, having already reduced its dividend during 2011.
Several other agency mREITs that had reduced dividends in 2011 have already announced that they are maintaining their Q4 2011 dividend for Q1 of 2012. If Annaly does not similarly match its prior payout, that news may only further the outperformance already evidenced by hybrid mREITs over the agency-only variety.
Under the current tax laws, mREIT dividends are taxed as ordinary income, and not at the lower corporate dividend rate. Since mREIT dividends are taxed as income, they are considered substantially better performing investments when held within tax deferred or exempt accounts.
Mortgage REITs continue to be one of the highest-yielding options available to income-oriented investors. Nonetheless, due to their significant risk profile, exposure to non-agency RBMS should be limited to a reasonable percentage of a high-risk portfolio, based upon an investor's total risk profile, time horizon, income requirements and total portfolio of investments.
Disclaimer: This article is intended to be informative and should not be construed as personalized advice as it does not take into account your specific situation or objectives.