I've been asked by a couple of my followers to comment on two of the newer mortgage-based REITs, AG Mortgage Investment Trust (NYSE:MITT) and American Capital Mortgage, (NASDAQ:MTGE).
Both of these REITs were started in the last year, and there are some similarities, and also some key differences. I will compare these two REITs with American Agency Mortgage Capital (NASDAQ:AGNC), which everyone loves, just to illustrate a few points I have been making recently about the companies in this business.
First, here is the current pricing and dividend yield:
| | | | |
| --- | --- | --- | --- |
| | | Price | Div Yield |
| American Agency Capital | AGNC | 29.88 | 16.90% |
| AG Mortgage Investment Trust | MITT | 20.09 | 13.94% |
| American Mortgage Capital | MTGE | 23.45 | 15.30% |
Here is a recent stock chart:
(Click charts to enlarge)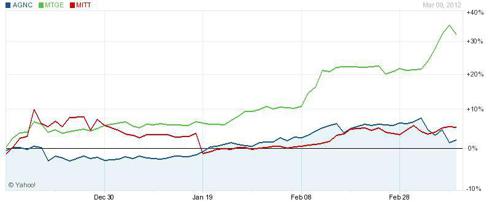 MTGE has had a nice month, as you can see, but it also made #3 on the "largest short percent increases" this week, so part of that price increase may be vulnerable.
I've gone through the annual reports of AGNC and MTGE, which are under the same management, and the recent quarterly announcement for MITT and accumulated some data about each:
Size
| | | | |
| --- | --- | --- | --- |
| Period | AGNC | MITT | MTGE |
| Portfolio ($B) | 55 | 1.4 | 1.78 |
| 2011 Int Income ($M) | 1108 | 10.2 | 16.4 |
The more established AGNC is much bigger than the two new funds. Note that the MITT and MTGE income stated above is for the part-year period between August and December last year.
AGNC has actually quadrupled between December 2010 and the end of 2011, and was the same size as these two young funds in 2008. Is bigger better? Well, possibly not. It is much easier to grow from $2B to $4B than it is to get from $50B to $100B, and once these funds get onto the flat part of their growth curve they become vulnerable to the kind of thing that happened to Invesco (NYSE:IVR) which could not expand fast enough to compensate for the shrinking interest rates last fall, and had to cut its dividend.
Portfolio Mix
| | | | |
| --- | --- | --- | --- |
| | AGNC | MITT | MTGE |
| Agency | 100% | 88% | 92% |
| Non Agency | 0 | 8% | 3% |
| Comm/Other | 0 | 4% | 5% |
Both MITT and MTGE are dabbling in non-agency-backed and commercial mortgages.
We did some analysis a while back
to try to figure out what difference this made, if any, and at the time, had basically come to the conclusion that the higher level of agency backing did tend to help the share price in the marketplace, but those companies with high levels of agency backing did not really do much better from an operations or earnings standpoint. Also, the percentages of commercial and non-agency loans in these two portfolios is relatively small.
Interest Spread and Leverage
| | | | |
| --- | --- | --- | --- |
| | AGNC | MITT | MTGE |
| Interest Spread | 2.30% | 2.25% | 2.36% |
| Leverage | 7.9 | 5.9 | 8 |
Interest spread is the average difference between the average coupon and the interest rate that the funds are paying. One would think that the commercial and non-agency residential mortgages in MITT and MTGE would make the spreads of these two funds larger, but that is not the case. I think this is an artifact of the interest rate decrease last fall. AGNC's coupon rate has dropped from 4.6% to 4.1% in the last year, and the two newer funds were born in an environment of lower mortgage rates. The problem going forward for AGNC is how to manage this portfolio over time if rates continue to drop. MITT and MTGE have a little more flexibility to get into higher levels of commercial and non-agency loans, which may eventually help them compensate.
Leverage is the ability of these funds to turn paid-in cash from stockholders into the portfolio, which can then make money. For AGNC and MTGE, they can do this at a rate of roughly 8:1, in the case of MITT, not so aggressive at 6:1. Is higher better? Not necessarily. Higher leverage means higher levels of borrowing and more hedging activity, therefore higher risk.
Risk Sensitivity
We've been doing a lot of work lately analyzing how these companies set up their derivative systems to try to reduce risk or even benefit from changes in interest rates.
Here is the table from the "Discussion of Qualitative and Quantitative Risk" sections of the last quarterly reports for MTGE and AGNC, and from the September quarterly report for MITT. This is the effect on net income from an increase or decrease in interest rates:
| | | | |
| --- | --- | --- | --- |
| Basis Point Change | AGNC | MITT* | MTGE |
| 100 | -3.1 | -8.63 | -10.9 |
| 50 | -0.4 | -4.31 | -4 |
| 0 | 0 | 0 | 0 |
| -50 | -2 | 3.64 | -1.9 |
| -100 | -13.2 | 4.96 | -11.5 |
It is a little easier to see graphically: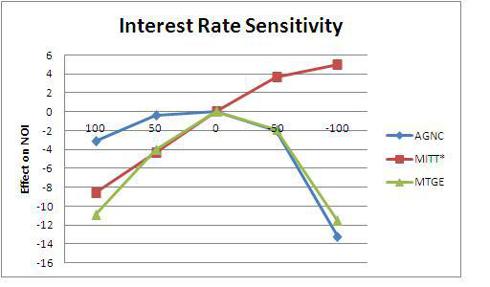 You can see that the managers of MTGE and AGNC have the same basic theory about interest rates, which is that they are going to remain relatively stable, and AGNC has a little more protection and less risk in the event of a possible increase in rates compared with MTGE or MITT. MITT's management has a different idea; it has set up the portfolio in such a way as to benefit from a decrease in interest rates, and the bigger the decrease the better.
Who is right? Time will tell. The consequences for an increase in interest rates will be much more painful for MITT and MTGE, however.
Derivative vs. Interest Income
We had some conversation the other day to the effect that a lot of these companies, especially the smaller ones, use the derivative income they have as a substantial portion of their overall income. You want to know if the company you are investing in is making its money in mortgage income versus speculating in derivatives.
Also, we want to know whether this income or loss is "realized," that is it actually made it, or "unrealized," which is all on paper for the moment.
| | | | |
| --- | --- | --- | --- |
| | AGNC | MITT | MTGE |
| Realized Derivative Income/Loss ($M) | 26.4 | -2.6 | -2.162 |
| Realized Derivative/Interest Ratio | 2.4% | -25.5% | -13.2% |
| | AGNC | MITT | MTGE |
| Unrealized Derivatives Income($M) | 378.9 | 1.4 | 9.929 |
| UDR/Interest Income | 34% | 14% | 60% |
Here is where AGNC is the star, and the other two funds are showing their relative youth. AGNC had a $26M realized derivative income last year, which was only 2% of its operating income and has an unrealized derivative income of $379M on the books, which is one big smiley face on the income statement, except as you know, there are no guarantees on anything.
The two smaller companies had realized derivative losses in their income statements, and their derivative trading activities represent a much bigger percentage of their net income or loss, however, that does not necessarily need to be bad if they are successful. Note that MTGE has an unrealized gain on derivatives equal to about 60% of the August through December profit.
So what to make of all of this:
The first question is: Is there a compelling reason to pick one of the young funds, MITT or MTGE over the other? If you think that interest rates will go down, MITT will do better, because it has set up the derivatives and hedging in anticipation of it. It has also had a recent share issuance, and as we have discussed in this article, it's a sign that the management intends to get the company much bigger, which means more dividend security at least while it is on the steep part of their growth curve.
The benefit to MTGE is that the yield is a couple of percent higher, even with the relatively inflated stock price, it has the same management as the well-respected AGNC, and at the moment has some favorable derivative income on the books, which could help keep the dividend stable for at least another quarter or two. It has announced its own share issuance, it will be more aggressive about turning it into performing assets than MITT is, which is something we know from the leverage number, above.
The second question is: Would you be better off in either of these new funds than in AGNC? Well, we know that the days of rapid growth for AGNC are probably nearing their end because it is already quite large. Once growth stops in these funds, the problem becomes how to manage the portfolio to keep the dividend constant. You can envision AGNC as this big, profitable, stable fund of 100% government backed mortgages that is still paying nearly 17% dividends, and with some insurance against rising interest rates, and a relatively small part of the activity based on derivatives trading, notwithstanding the $379M of favorable positions sitting on the books. The risk here is that the interest rates will go down, the margins will continue to shrink, and it will have to cut the dividend at some point. I believe this is at least a quarter or two off, but that is the underlying risk.
As we are so fond of saying, the world is chaotic, and there are no guarantees on anything, but at least at this point, we know the risks and potential rewards.
Do with this information what you will.
Disclosure: I am long AGNC, CIM, CYS, TWO, IVR. I also still have an open order to by ARR but may cancel it to catch up to it after the recent share issuance.