Lately, the market has become increasingly polarized.
On one hand, you have tech stocks such as Amazon (AMZN), Apple (AAPL) and Netflix (NFLX) that keep hitting new highs and trade at bubble-like valuations that remind many of the 1999-2000 period: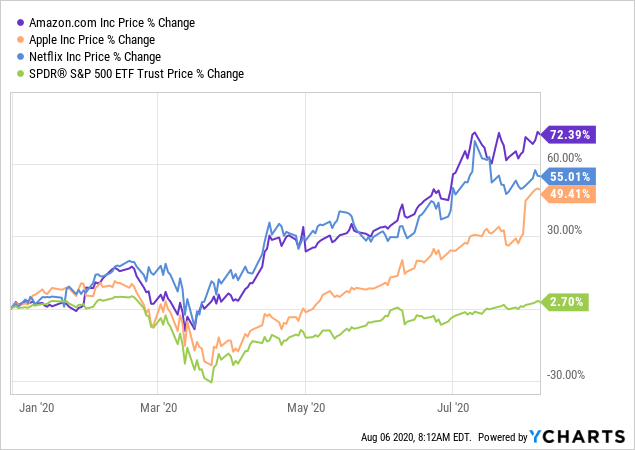 And on the other hand, you have income-driven sectors like REITs (VNQ) that trade at near 10-year low valuations even as interest rates have hit 0%.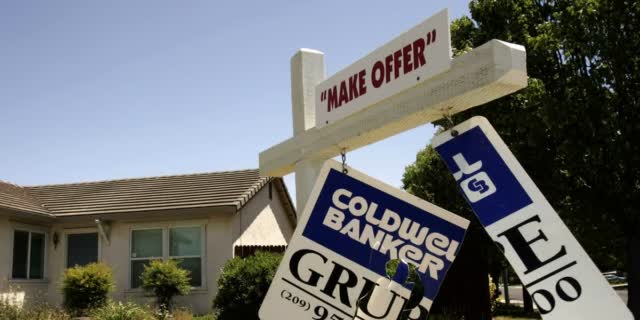 The middle ground has almost disappeared. The market is either very optimistic or overly pessimistic. In other words, it's greedy or fearful, but never perfectly rational.
We believe that this opens up highly-lucrative opportunities for long-term oriented, contrarian investors who can pick the right sector at the right time. And it may seem counter intuitive to you in the midst of a pandemic, but we believe that REITs will easily outperform the returns of Tech stocks (QQQ) in the coming decade.
Here are five reasons why:
Reason #1: Poor Long-Term Performance
Investors have a very short memory. Tech stocks have earned significant returns in the recent past, even as the rest of the market fell into a bear market.
Therefore, it may seem as if "nothing beats tech."
The reality is of course different. Any sector can outperform or underperform over a short time period, but over several decades, tech has done quite poorly.
As an example, if you had invested in tech 20 years ago, you would have significantly underperformed the rest of the market.
REITs earned 15% per year on average.
The S&P 500 earned 8%.
Tech earned only 7%.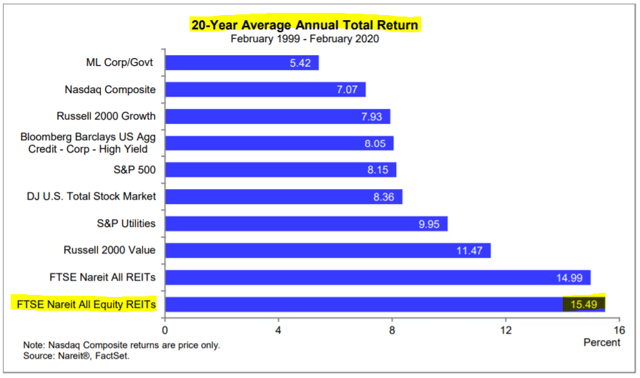 Many tech investors will contest these results by saying "just look at Amazon. It has created more millionaires than any other stock."
Sure, that's true, but Amazon is what we call an outlier. Unless you were able to pick Amazon and hold on to it for 20 years, this is irrelevant to you.
In the tech space, the discrepancies in performance are massive from one firm to another. For every winner, you have a lot of losers, and for this reason, the average performance has been quite disappointing.
Another reason why tech did so poorly is its often-excessive valuation.
This brings us to our next topic…
Reason #2: Historic Valuation Disconnect
Tech is currently priced at ~50x earnings on average and valuation multiples have greatly expanded in the recent past.
As an example, Amazon currently trades today at 109x forward earnings, but it started the year at 80x. The 36% gain in P/E multiple is half that of its share price gain.
In comparison, REITs are valued at historically low valuations multiples. The average is just 12x FFO, and many smaller an lesser known REITs trade as low as 5x FFO:

As a result, tech is now priced at an enormous valuation premium relative to REITs and most other sectors. The disconnect in valuation multiples has rarely been so large and reminds many of the 1999-2000 tech bubble.
It sure does not speak favorably for future returns. Many Tech investors decide to ignore valuation, but as Warren Buffett famously said:
"For the investor, a too-high purchase price for the stock of an excellent company can undo the effects of a subsequent decade of favorable business developments."
Despite rapid growth, it's hard to justify paying these extreme valuation multiples in 2020. This is particularly true when you consider that future growth is unlikely to match that of the past 20 years.
Reason #3: Tech Growth Will Slow Down
Size is the biggest enemy of growth. The larger you are, the more difficult it becomes to grow. With that in mind, you need to consider that today:
Amazon has a $1.6 trillion market cap.
Alphabet has a $1 trillion market cap.
Facebook has a $722 billion market cap.
Netflix has a $200 billion market cap.
Nearly half of US households have an Amazon Prime account and nearly every household uses Amazon already.
Similarly, everyone already uses Google (GOOG) (GOOGL). Nearly everyone is familiar with Netflix. Everyone has a Facebook (FB) account, etc.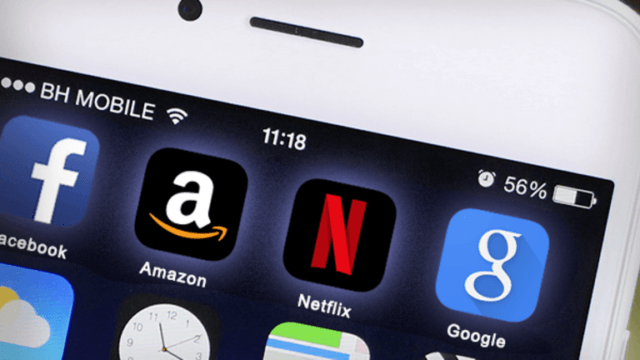 This does not mean that they have max out on growth. I have no doubt that these tech firms will keep on growing at rapid rates.
However, it will be much harder to growth in the coming 20 years than in the past 20 years. We are not starting from such a low point anymore as the entire world already is using tech in most daily activities.
Reason #4: Vaccine Benefits REITs, but Hurts Tech
Lately, tech firms have benefited from the pandemic as it forced consumers and businesses to change habits and use more technology for shopping, entertainment, and communication.
However, as a vaccine becomes available, the world will gradually return to normal. Suddenly, the virtual world will be faced with increasing competition from the real world as things gradually return to normal.
The vaccine will benefit all REITs, but it will hurt a lot of tech companies.
As an example, a lot of people probably won't keep their Netflix account once they are able to go out without having to worry about their health. Similarly, many Amazon purchases will return to malls once people feel comfortable going out again. In fact, Macerich (MAC) recently noted that a number of its malls are back to near normal traffic within weeks of reopening:
As such, we expect some reversion to the mean as the vaccine finally comes out. Tech stocks benefited from the lockdowns, but they also will suffer from a return to normal. It's a major tailwind for REITs, but a headwind for tech going forward.
Reason #5: Yield Starved Investors Will Push REITs to Record Highs
One indirect consequence of the pandemic is that interest rates have now dropped to 0%.
So far, REIT investors have ignored this important piece of information because they are still fearful. But as we get to the other side of this crisis, the 0% interest rates will serve as a major catalyst for REITs.
In a yieldless world, the next best alternative to bonds is real estate, and by extension, REITs. Investors simply have no other options to earn much-needed income.
Think about all the pension funds, retirees, insurance firms, etc., that will have to load up on real estate (and REITs) in the aftermath of this crisis. Brookfield (BAM) expects allocations to real estate investments to rise from 25% to up to 60% over the coming decade: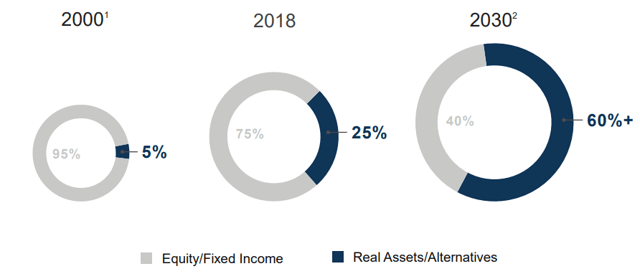 In dollar terms, this translates into a $45 trillion increase:
As all this capital hits the real estate (and REIT) market, what's going to happen?
It does take a genius to understand that this will lead to a bidding up of prices and further yield compression.
Right now, REITs are offered at the highest yield spread over the 10-year Treasury in its entire history, with the only exception being the 2008-2009 period: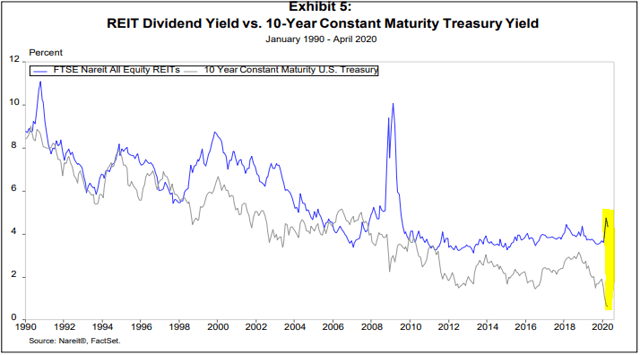 Historically, REITs have traded at a ~200 basis point spread over the 10-year Treasury. Right now, this spread is 2x higher at ~400 basis points. It speaks very highly for the future returns of REITs.
NAREIT finds that yield spreads are very good predictors of future results. As yield spreads return to normal, REITs will outperform the rest of the market: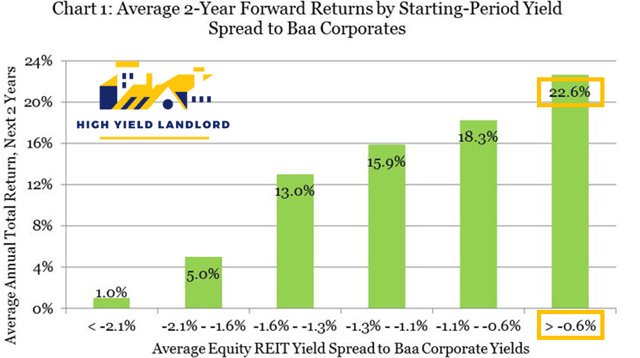 Tech stocks also benefit from lower interest rates, but since they are not income vehicles, they won't enjoy the same tailwind.
Bottom Line
Don't make the mistake of blindly investing in tech just because share prices have been going up lately.
The reality is not nearly as rosy.
Tech has underperformed in the long run.
Tech is now valued at extreme valuations compared to REITs.
Tech growth is going to slow down over time.
The vaccine benefits REITs much more than tech.
Yield-starved investors will rush to REITs, not tech.
Most individual investors make the mistake of thinking that the best time to invest in a sector is when everything is sunshine and rainbows. They suffer recency bias and think that the recent results will continue far into the future.
In reality, the opposite is true. The best time to invest in a sector is when it's hated, valuations are low, and opportunities are abundant. This is the case of REITs today.
We believe that it is the best time in 10 years to load up on REITs as they trade at historically low valuations even as interest rates have hit 0%.
Buying real estate at a deep discount to fair value has always richly rewarded investors in the long run. At High Yield Landlord, we are very selective and only invest into the most discounted REIT opportunities of the market. We expect our Core Portfolio to easily beat Tech stocks in the coming 10 years.