For all of you following my Apple (NASDAQ:AAPL) articles over the past few weeks, today you get to bask in your glory. Apple reached the $600 mark today, and had not pulled back to the $500 mark first as I had predicted. Many of the readers have commented on how nuts I was to think so, so I guess it is time to be declared insane!
Definition of "Eating Crow": meaning humiliation by admitting wrongness or having been proved wrong after taking a strong position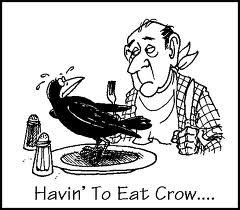 I first wrote about Apple pulling back a few weeks ago. At the time of my first article, the stock sat in the $520-$525 range and based on it's history (and also how many other stocks respond when on a run like Apple was) I expected a slight pullback to the $500 mark, and then expected all engines go to $600 and beyond.
Although there was a recent pullback between the March 5th high of $547 to its low of around $516 on the 6th (about 5%) it did not get to the $500 mark. I was out on a limb predicting this, and most of you understand that most of us when predicting an actual dollar amount ifind it is a very difficult thing to do correctly and of an exact nature. If it wasn't, we all would be doing this from and island somewhere and never would work a day in our lives.
BUT, although I was wrong, I did profit from a quick buying and selling of puts, expecting the slight pullback. Once I saw the way the buyers were trumping the sellers, though I held out hope of my prediction becoming 100% true, I saw there was no way it was not going to hit $500 with the way the positive news was flowing. I'd like to say I timed my trades perfectly, but I did not. I did however have a ROI of over 15% on a week or so long investment.
The market is based on the buying and selling, more specifically the supply and demand. The coverage on Apple and the pro remarks seemingly coming from everywhere has sent the stock on a historic ride. There simply was not enough folks thinking this stock was not a home run, and it drove the price to the moon.
So in closing, I will bow down to the "empire" previously called Apple, and say I was wrong on my prediction (though it coming back 5% did get me in the ballpark and made me some bucks) so I am crunching on my crow for dinner tonight. Being a believer in this stock long term I want to congratulate all who took advantage of the recent run, and hopefully you can continue to be prosperous long term on this monster!
Disclosure: I am long SIRI.