Most people have the will to win, few have the will to prepare to win.
- Bobby Knight
Part 2 (see part I here)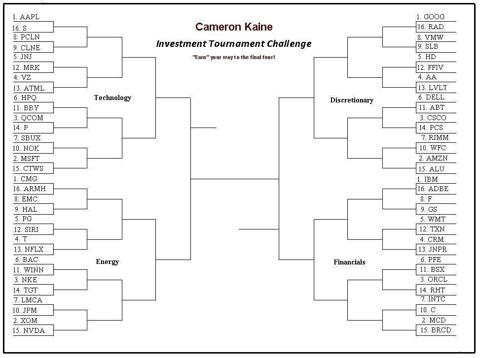 If you have not already done so from part 1, I invite you to print out your investment tournament bracket that we discussed in part one of this article where both Sirius XM (NASDAQ:SIRI) and Texas Instruments (NYSE:TXN) edged out upsets of dominant powers in Procter & Gamble (NYSE:PG) and Wal-Mart (NYSE:WMT), respectively, to advance to the round of 32. The 5-12 match-ups have always been tough to predict, while also providing a lot of drama. This one certainly did not disappoint. But does that mean it is time to bet long term on either company? That's the question investors are asking.
Match-up of the #1 seeds
| | | |
| --- | --- | --- |
| 1. Apple (NASDAQ:AAPL) | Vs. | 16. Sprint (NYSE:S) |
| 1. Chipotle Mexican Grill (NYSE:CMG) | Vs. | 16. ARM Holdings (NASDAQ:ARMH) |
Apple Vs. Sprint
As far as drama goes, there was little to be had as all four No. 1 seeds advance in blowout fashion over their less competitive 16th seeded foes. Apple, who will unveil on Friday its new iteration of its tablet called "the new iPad," dominated Sprint (S) from the start of the opening tip to final buzzer. It seemed as if Sprint was just honored to be on the same court as it barely made the tournament though finishing last in its division consisting of giants in Verizon (NYSE:VZ) and AT&T (NYSE:T).
To say that tech giant Apple has been on a tear would be the understatement of the tournament. The company started the year trading at $405 and as of this morning, it has reached $600 - essentially the company as almost added $200 to its share price in less than three months. It is widely assumed that Apple has an added incentive to want to pass rival Google (NASDAQ:GOOG) in its share price race and should pass the search giant with relative ease once its new iPad and possibly iTV hits the market.
The question everyone wants to know is where is it heading? According to several analysts, the targets are now $720 and possibly $960. Clearly the company remains the cheapest stock on the market and investors would be foolish to doubt that it can reach these marks. Some continue to suggest buying Apple right now is a great risk as there is the likelihood that it can retrace to $500. To me the bigger risk today is not owning the stock and watching potential gains from the sidelines. If this first round against an unprepared Sprint offered anything, it was that the tournament championship just might be Apple's to lose. Of course, you will just have to follow along with me and see.
Investors of Sprint should not be ashamed and should stay optimistic that the company's fortunes will soon improve. Its stock will not stay at such depressed levels of $2.79 forever. But the company just needs to figure out a way to leverage its loyal existing customer base and its ubiquitous network. The irony in this match-up is that Apple helped Sprint in a host of ways by partnering up with its iPhone last year. But in it was clear that Sprint was just too over-matched. Sprint will need to make some significant improvements in its network as well as its cloud presence in order to remain competitive. And I think the company realizes the urgency that exists for it to perform before it regains any level of trust on the market. Investors with a reasonable appetite for risk may want to consider making a play for Sprint here and hopes it pays off by next year's tournament.
Chipotle Mexican Grill Vs. ARM Holdings
I've received a lot of aggravation from readers who were upset that Chipotle received a No. 1 seed. Everyone wanted to know why? But it appears there are yet many who aren't paying well enough attention to this story. Pardon the pun, but the stock has been sizzling for quite some time and remarkably it may continue to do so much to the dismay of several bears.
In its latest report for Q4 and full year numbers, the company's revenues increased by 23.7% to $597 million while net income grew by 24% to $58 million. Diluted EPS for the quarter was $1.81. Analysts were expecting EPS of $1.83 in the quarter on revenues of $591 million. The fact that Chipotle beat estimates on the revenue front and missed on the EPS estimate was not much of a surprise at all. During the quarter, it was clear that the costs of food had an impact on the strong sales figures which came in at 32.2%, up 1.2 percentage points as a result of higher commodity costs. For the full year, food costs were up nearly 2 percentage points.
Restaurant operating margins came in at 26% - down a minor 70 basis points as higher food costs were somewhat mitigated by stronger restaurant sales. This was the result of a loyal customer base that the company is starting to build - one where it saw strong customer traffic as well as stronger sales volume. The company ended the year with 1,230 restaurants as it expanded by adding 150 new locations in 2011, including a news dining concept that it calls ShopHouse. For ARM Holdings, these were some pretty significant performances to have to deal with. It was clear that Chipotle was highly aggressive in its expansion strategy.
ARM Holdings is another name that got investors upset by being a 16th seed. But it was a tough decision to make. I couldn't see ranking it higher than Intel (NASDAQ:INTC), Qualcomm (NASDAQ:QCOM) nor Texas Instruments (TXN). The company however does have an advantage in that it will be the primary chip technology that it used with Microsoft's (NASDAQ:MSFT) release of Windows 8. This should certainly bode well for the its share price since demand for products utilizing its chips should likely see an increase.
Investors thinking about making a play for ARM should consider that as the use of mobile devices continues to surge, finding winners within the sector will prove more challenging than investors expect. One of the safest ways to play the growth will be to consider the parts suppliers such as ARM. I have to think that the company will yet prove to be one of the best bets going into 2013 and beyond. But in this match-up it was clear that Chipotle was better prepared and the dining darling plans to open between 155-165 new restaurants in 2012. So for now, it seems the company's growth will continue and its stock price is deserving of such high multiple.
Summary
These were two fairly easy match-ups to predict and I doubt any surprises should be expected from the top seeds - unless it's a positive. Apple easily advances to face off the winner of Priceline (NASDAQ:PCLN) and Clean Energy (NASDAQ:CLNE) while Chipotle awaits the winner between storage giant EMC (EMC) and energy giant Halliburton (NYSE:HAL). As the tournament continues, we will take a look at how Google and IBM fared as they both hope to advance to the round of 32.
Disclosure: I am long AAPL, MSFT, INTC.
Additional disclosure: Author is short SIRI