When someone thinks about technology companies, the FAANG stocks most often come to mind. But it's easy to overlook companies such as Corning Incorporated (NYSE:GLW), which produces products that serve as the communications backbone through which much of the world's data travel. Today, I evaluate what makes Corning an attractive company and the price level at which I believe the shares make an attractive buy, so let's get started!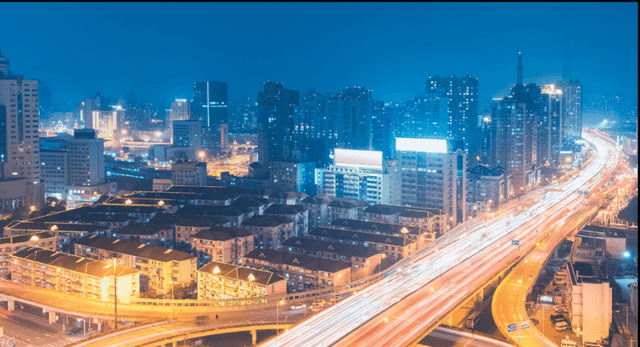 (Source: Company website)
A Look Into Corning
Corning Incorporated is a leading global company that specializes in glass and ceramics science, and optical physics. Its products have a wide range of uses, with applications in the technology, industrial, consumer, and scientific sectors. The company was founded 169 years ago and has 50,000 employees worldwide. Corning has a strong track record of innovative products, including its Gorilla Glass, which is used to protect smartphone and tablet screens. Its innovative products are also essential to the Life Sciences segment for ongoing research and development. This innovation is supported by its 10 global R&D centers across North America, Europe, and Asia.
What I like about Corning is its leadership position in optical communications, which serves as the backbone for telecommunications around the world. This is supported by the 12% quarter-over-quarter growth in sales in this segment. I'm also encouraged by the company's recent announcement that it's working with Qualcomm (QCOM) to deliver indoor networks that are 5G ready, affordable, and easy to install. I see big growth opportunities stemming from this partnership, with broad applications across the office, education, healthcare, and retail sectors.
Corning's business has also been helped by the recent surge in demand due to increased work- and stay-at-home practices, as noted in the latest conference call (emphasis added by author):
"Bandwidth demand has accelerated during the pandemic consuming network headroom capacity. Evidence of that demand includes AT&T's (T) report that Wi-Fi calling increased 100%, Verizon's (VZ) report that VPN connections were up 72% over pre-COVID levels and Zoom (ZM) surpassing 300 million users from 10 million in December."
Longer term, I see continued strong demand for Corning's products, as many companies, especially those in technology, have shifted to permanent work-from-home models. In addition, I see the 5G upgrade cycle as being another tailwind for the company. That's because 5G is potentially 20 times faster than 4G LTE, thereby requiring additional optical resources to carry and transmit the data. As seen below, according to Ericsson (ERIC), 5G is expected to ramp up quickly over the next three years, with the number of 5G mobile connections expected to surpass 1 billion in 2023.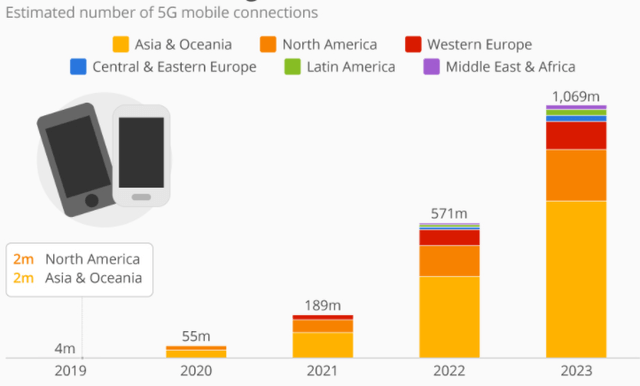 (Source: Statista)
While the optical communications segment shows a lot of promise, Corning doesn't come without risks. The auto segment has been deeply impacted by the pandemic, and this was evident in 31% YoY decline in sales that the company saw in this segment during the latest quarter. This also negatively impacted the company's margins, as manufacturing comes with fixed costs, which cannot be readily dialed down with a drop-off in demand. As such, the automotive segment of Corning is worth paying attention to, as it is sensitive to economic cycles.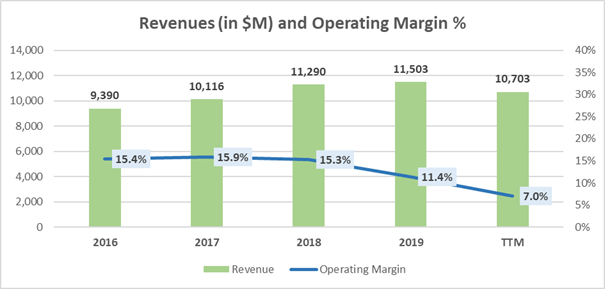 (Source: Created by author based on company financials)
On the bright side, Corning does appear to be well-equipped to handle difficulties. Currently, its debt-to-EBITDA ratio based on bonds maturing in 20 years or less, which comprises 80% of its bonds, is at just 1.2x. In addition, the company has $2.16 billion of cash on the balance sheet, which was supported by the $285M in free cash flow that it generated in the last quarter. Corning therefore appears to be in a strong financial position to not only weather this crisis, but to also continue making essential investments in R&D to position itself for the future.
Turning to valuation, it appears that shares have gotten rather pricey after the recent run-up. At the current share price of $32.47, shares are trading at a blended P/E of 23, which is substantially above its normal P/E of 17.4 over the past five years.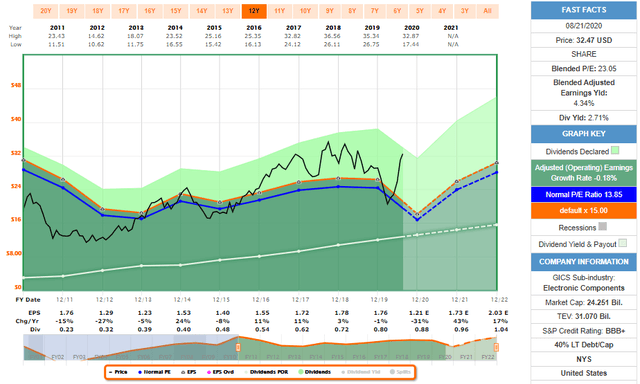 (Source: F.A.S.T. Graphs)
Looking at analyst estimates, the average price target is $30.55, which sits below where shares are trading at today. In addition, the average EPS estimate for next year is $1.71. If we were to multiply the normal five-year P/E ratio of 17.4 with the 1.71 EPS estimate for next year, we arrive at a price of $29.75 per share. As such, I have a Hold rating on Corning based on valuation and recommend buying below $30, which I believe represents a fair value for the company.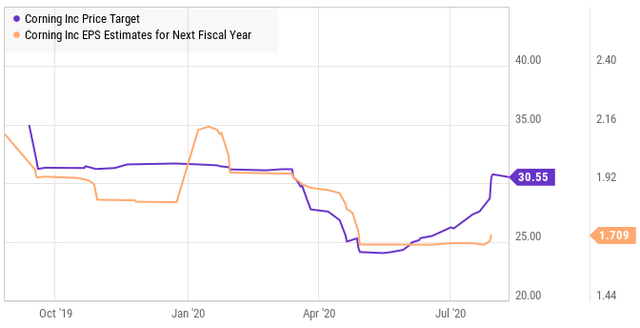 (Source: YCharts)
Investor Takeaway
Corning Incorporated is a leading global company that specializes in glass and ceramics science, and optical physics. It has a strong track record of innovation and is poised to benefit from increased investments due to stay-at-home trends and the 5G upgrade cycle. It does have headwinds, however, in the automotive sector, which is economically sensitive and has been negatively impacted by the pandemic. Looking at valuation, it appears that shares are currently trading at above fair value. Based on evaluating the normal P/E and analyst EPS estimates for the next fiscal year, I arrive at a fair value of $29.75 per share. As such, I have a Hold rating on shares and would recommend buying below the $30 level.