There is no doubt that gasoline prices started hurting American households. The average retail gasoline prices have increased by more than three-fold in the last 10 years. A gallon of gasoline used to cost only $1.18 in 2002. Right now, Americans pay an average of $4 for the same amount of retail gasoline.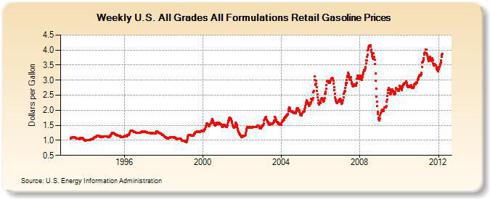 (Click to enlarge)
As we are experiencing some sort of global recovery, the demand for oil is on the rise. Since its dip of $53 in 2009, the crude oil prices spiked by 100%. The demand for oil in emerging markets is expected to keep its upward trend, which might result in even higher prices. While the U.S. is among the largest oil producers in the world, it still imports almost half of its petroleum from foreign countries. According to the U.S. Energy Information Administration 50% of imported oil comes from OPEC Countries. OPEC is known as the largest cartel in the world, which was formed to control the worldwide oil production and prices. Most OPEC countries are located in the fragile Middle East region. These countries are notorious for the use of oil card in international politics. Therefore, there is no doubt that the U.S. dependency on foreign oil should be minimized and alternative energy sources should be considered.
While nuclear, solar, or wind-powered energy sources are great, they cannot replace oil in near term. A significant portion of crude oil is converted into gasoline, which is used as the primary fuel in the vehicles. Therefore, what we need immediately is a replacement for the traditional gasoline use. Liquid natural gas could be a perfect substitute for the traditional gasoline. While the demand for natural gas is pretty stable in the U.S., the worldwide use of natural gas is on the rise: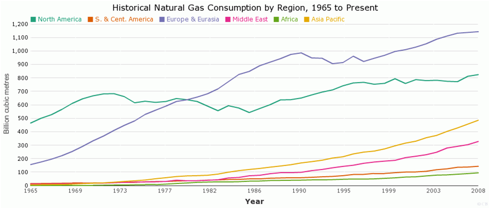 (Click to enlarge)
T. Boone Pickens also bullish on the future of natural gas, as he states:
We should continue to pursue the promise of electric or hydrogen powered vehicles, but America needs to address transportation fuel today. Fortunately, we are blessed with an abundance of clean, cheap, domestic natural gas.
Natural gas is cleaner, cheaper, and domestically available. While vehicles running on liquid natural gas are uncommon in the U.S., almost every gas station in Europe offers liquid natural gas as an alternative energy supply to automobile users. Europe itself does not have many resources. In fact, a dominant portion of gas is imported from Russia. On the contrary, U.S. has an abundance of natural gas reserves, but they are significantly under-utilized. Only a small fraction of vehicles in the U.S. run on natural gas. Most of these vehicles are partially subsidized by local state institutions.
Initiatives by Vehicle Manufacturers
According to NGV America, while there are millions of natural gas vehicles around the world, there are only 112,000 natural gas vehicles on U.S. roads. I expect this number to increase exponentially over the next few years. There are already initiatives from well-known European automobile makers to bring in vehicles running on natural gas. Mercedes-Benz and Fiat (which owns a majority stake in Chrysler) explained their interest on this subject. Chrysler will begin natural gas truck sales by this year and Mercedes is keeping an eye on the U.S. to see whether market welcomes natural-gas powered vehicles.
General Electric (NYSE:GE) - Chesapeake (NYSE:CHK) Partnership
Realizing the opportunities in this market, General Electric recently made a bold move into the natural gas business. In cooperation with Chesapeake Energy, the company will engage in establishment of several modular compression stations. It is expected that 250 modular stations will be provided by the second half of 2012. As natural gas is currently trading at an almost 50% discount to retail gasoline, the collaboration could be highly lucrative for both companies. Chesapeake is the second largest U.S. natural gas producer. The stock returned 9% in this year, but it is still trading well below its fair value. The sharp sell-off in the natural gas prices had its toll on Chesapeake as the company is trading 32% below its 52-week high.
Clean Energy Fuels Corporation (NASDAQ:CLNE)
Clean Energy is another major player in this field. Although, it is a loss-maker, the company recently passed the $1 billion market cap. CLNE operates as a retail natural gas service provider to vehicle fleets. The company serves around 250 natural gas fueling stations across U.S. and Canada. Incorporated in 2001, the Seal Beach, California-headquartered CLNE also develops biomethane energy sources from landfills and organic waste facilities.
The stock has been a huge outperformer as it returned almost 60% since January. Apparently investors are getting bullish on their stock. T. Boone Pickens is a major shareholder. While the stock looks like a bit scary after the recent bull run, it is one stock to buy after the pullback.
GP Strategies (NYSE:GPX)
Founded in 1959, the Elkridge, Maryland-headquartered GPX is a 50-year old consulting company. GPX specializes in consulting, engineering, and technical services, globally. The company took my attention after an SA reader suggested that GPX is also stepping into the natural gas arena. Recently, GPX completed the construction of Encana's (NYSE:ECA) natural gas fueling station in Louisiana. As Michael Mackey from GPX suggests
This station is significant because it is the first LNG fueling station in the region intended for public use. This station signals a growing trend for stations to be located outside the traditional California market.
GPX was able to boost its earnings by 38% in the last year. It has a clean balance sheet with zero debt and trading 13.7 times the forward P/E. With a market cap of only $310 million, I think this company has a lot of room for growth.
United States Natural Gas ETF (NYSEARCA:UNG)
UNG is probably the riskiest way to play natural gas recovery. Due to the imbalanced supply/demand relationship, the price of natural gas collapsed. UNG lost almost 60% in the last 12 months. Unlike several other ETFs that operate in this sector, UNG invests in the near-month future contracts. As each month draws to a close, new contracts roll-over to the next period. The futures market is highly liquid and might offer a leveraged return. This ETF has an expense ratio of 0.85%. While there are inherent risks in futures markets, I think UNG could offer significant returns on natural gas price recovery.
Disclosure: I have no positions in any stocks mentioned, and no plans to initiate any positions within the next 72 hours.