After a tsunami caused an accident at a nuclear plant in Fukishima, Japan last year, there was a lot of discussion regarding the future of nuclear power in the world.
Germany, for example, planned a shutdown of all its reactors by 2022. (Whether this was a ploy by the Merkel government to garner populist support, we will never know, but in a time of austerity, mothballing 17% of your energy source is a pretty expensive). Germany accounts for only around 5% of total global nuclear generation, meaning that even if it goes through with its plans, it will not have much effect on the nuclear power industry.
Nevertheless, the anti-nuclear talk brought a lot of discussion regarding the future of nuclear power in the world, and a sharp drop in share prices for uranium mining companies.
One year after Fukushima, not much has changed in the global nuclear industry. We can see the minor effect the accident actually had on the existing, planned and proposed nuclear reactors around the world (see tables below).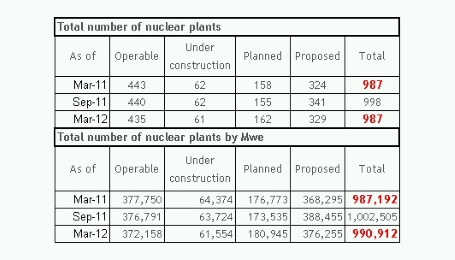 The number of total reactors in operations and in the development chain has not changed; 987 before the incident and 987 presently. This means that the long term demand for uranium has not diminished since last year, although short-term demand may have been affected by the minor decrease in reactors currently operating. Despite supply questions, the price of spot uranium has decreased by approximately 20 per cent since the Fukushima accident (see chart 1).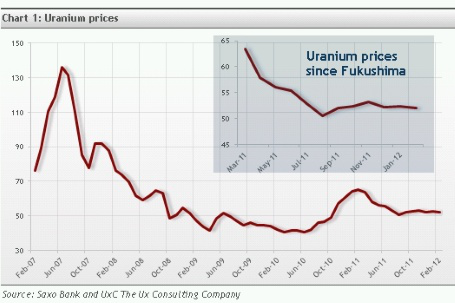 And since mid-December, where uranium mining companies appeared to hit bottom, the shares have earned incredible returns, with our basket gaining more than 35%. Uranium One (NYSEMKT:UUU) and Laramide Resources (LAM), accounted for gains of 53% and 69% respectively (see chart 2).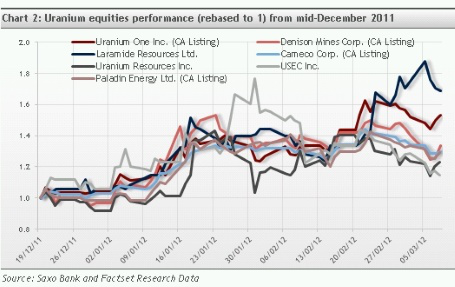 So is there still a play in uranium companies? Well, our portfolio of uranium companies - Uranium One, Laramide Resources, Uranium Resources (URRE), Paladin Energy (NYSEARCA:PDN), Denison Mines (DML), Cameco Corp. (NYSE:CCJ) and USEC (USU) - is still down 50% since March 2011, highlighting just how poorly these companies have performed since Fukushima.
It appears that the long-term fundamentals of the uranium sector - the demand from existing and future reactors have remained intact - while equity valuations have been crushed which can only blamed on investors' sentiment. Investing in nuclear power may be unfashionable, but it could also be a great opportunity now.
Disclosure: I have no positions in any stocks mentioned, and no plans to initiate any positions within the next 72 hours.