Market Recap: The market continued its uptrend as strong data as well as important threshold levels were achieved in the market. The S&P 500 broke over the key 1400 level, and the Nasdaq held over the 3,000 level. The data were the catalyst, though, to break the S&P level with initial jobless claims beating estimates and dropping to 351K. Further, the Empire Manufacturing Index increased past expectations as well to just under 21. Additionally, Apple (NASDAQ:AAPL) finally came back to Earth as it dropped before the iPad 3 release date as well as a Deutsche Bank removal from its Buy List.
The market has some news out tomorrow as well that can definitely continue this trend higher or give the market downside with the market getting CPI, Industrial Production, and the Michigan Consumer Sentiment Index tomorrow. Those reports are important, so we need to watch carefully. Here are two stocks that have upside right now:

Finish Line (NASDAQ:FINL) and Avis Budget (NASDAQ:CAR). We like both these companies for upside, and we added positions in both to our portfolios today. For FINL, we like them as an earnings play and believe they have upside into their report on March 30th. The company has done very well in the past few years, and we really like them headed into this report. They are slated to have around 10% growth in revenue as well as another 0.15 added onto TTM EPS. The company with that addition to EPS with 16.5 PE is worth around $26. Avis looks solid after a recent golden cross, and the stock's drop from earnings has been a buying opportunity. The stock has regained nearly all of its losses from that report, and it is breaking out right now. The company is growing at a solid rate, and the weakness it got from trying recent buyout attempts is gone now.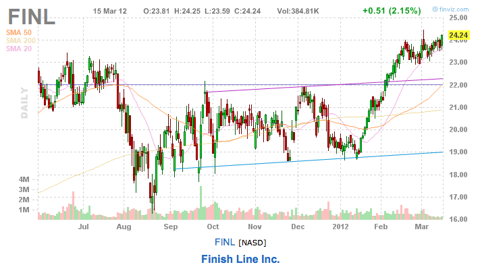 Tomorrow's Outlook
The market seems fairly content with rising right now, which is definitely a bit scary. When the market is comfortable, it creates the ability to be shocked and have large sell-offs. We are expecting a decent reaction to tomorrow's data, so we do have potential in either direction. Taking into account that we took the 1400 level in the S&P 500, it is definitely another catalyst to an uptrend. We may see some profit-taking into the weekend as well, but we are fairly bullish right now and will stay that way until something in this market changes.
Analyst Action
Analysts were busy today. Here were some of the upgrades and downgrades we found most interesting. Deutsche Bank was the first to jump off the Apple bandwagon when they removed the company from its short-term buy list. We just added Apple to our Buy List as we initiated coverage on them yesterday with $780 target and Buy rating. Union Pacific (NYSE:UNP) got a tick up from Barclays to Overweight. The transports are cheap, and this upgrade makes sense. Joy Global (NYSE:JOY) got a drop from UBS to Neutral as the company still seems to be in a funk since its last earnings report.
Commodity Talk
We did well shorting oil yesterday with Ultrashort Proshares Crude (NYSEARCA:SCO), and we continue to believe oil is way too expensive right now. Oil should be around $100 right now, and we believe that it is still on its way down.
Oxen Group Moves
We had a solid day here as we exited four positions for gains. We had a winner in FedEx (NYSE:FDX) in our Earnings Portfolio as we took a 2% gain on that stock as it moves nicely into their earnings next week. We also got a 2% gain on our Goldman Sachs (NYSE:GS) position we bought yesterday on the op-ed weakness. We also got a solid gain in our Earnings Portfolio from Dollar General (NYSE:DG) for a 60% gain as we got 1.75 from that position. Finally, we had a very solid 10% gain in our McDonald's (NYSE:MCD) 77.50/75 bull put spread that expires tomorrow. We added a bull call spread in CF Industries (NYSE:CF) today as well as Finish Line in our Earnings Portfolio.
We have the following positions. In our Short-Term Equity Portfolio we are long CAR and Boston Beer (NYSE:SAM) and short Apollo Group (NASDAQ:APOL). In our Options Portfolio, we are long CF, Starbucks (NASDAQ:SBUX), Ralph Lauren (NYSE:RL), Panera Bread (NASDAQ:PNRA), Bed, Bath and Beyond (NASDAQ:BBBY), and Discover Financial (NYSE:DFS). We are short APOL. In our Earnings Portfolio, we are long Ulta (NASDAQ:ULTA), FedEx, Activision Blizzard (NASDAQ:ATVI), Monster Beverage (NASDAQ:MNST), FINL and GS.
Chart courtesy of finviz.com.
Disclosure: I am long CAR.