Atresmedia shares near multi year lows
Earlier this month I posted an article about ProSiebenSat.1 (OTCPK:PBSFF) in which I also included a review of some of the European peers in broadcasting. One finding in that article was that Atresmedia (OTC:AIOSF), the Spanish broadcaster, had the lowest PE ratio of the peer group on the day in July that I happened to take a snapshot of PE ratios. That seemed like a good reason to see what is up with this cheaply valued broadcaster. One thing to keep in mind is that the PE ratios of broadcasters have changed significantly in the last period because of dramatic earnings numbers in the Q2 reports that were published. The PE ratio goes up if earnings go down faster than the share price. Given the current volatility in earnings, it's not my intention to attach too much meaning to the PE ratio alone, but to also look at other characteristics of the business.
My review came up with some interesting and bullish finds about Atresmedia. These convinced me to hold on to my small position in the company. I may even add some shares in the near future. The position that I'm currently holding was bought in small chunks over the last one and a half years or so. Even if I include the dividend payouts that took place until 2019, I'm still somewhat under water with this position, but there are enough reasons for me to patiently wait for things to turn around. I'll go into these reasons in this article, but first it's important to mention that Spain in general has been hit very hard by the COVID 19 pandemic. This has also had its effect on many Spanish stocks, which often trade 20 to 30% lower now in comparison with the situation before the pandemic. This is illustrated in the chart by the decline of the iShares MSCI Spain ETF price.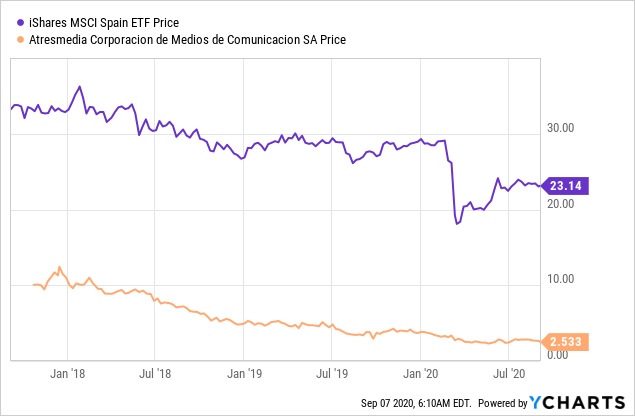 The chart also shows that things have not been friendly for Atresmedia shareholders. The stock is currently trading around a multi-year low and it has lost more than 75% of its value since the beginning of 2018. In 2020, the pandemic has hit advertising revenues hard in Spain. The Atresmedia Q2 2020 earnings report states that Spain has experienced a more than 30% drop of advertising spend. The end of these dismal circumstances is not yet in sight as a lockdown was recently put in place in parts of Spain for a second time.
The night is darkest just before the dawn, though, and this may very well be the case for Atresmedia shareholders as well. I can summarize my bullish case in six findings.
1. Low share price and cheap valuation
The current market capitalization of Atresmedia is only around 1.2 times the book value of the equity. According to the YE2019 report, the YE2019 book value of Atresmedia equity was 438M euro. The 225.7M common shares of Atresmedia had a market value of between 2.2 and 2.4 euro per share in the last weeks of august 2020, for a total of only ~500 to 540M euro.
As a comparison, according to my estimate, KKR must have taken their stake in ProSiebenSat.1 when the PB-ratio was just below 1.2 for that broadcaster, when the ProSiebenSat.1 shares traded around 6 euro/share. KKR considered ProSiebenSat.1 undervalued at that PB ratio. I think the same applies to Atresmedia because it's a similar company in a different region in Europe.
2. Recovery of advertising revenue
The Q2 earnings report has shown that revenue in H1 2020 declined around 30% in comparison with H1 2019, from 540M euro to 375M euro. This drop can be ascribed to an overall drop in advertising spend in Spain, which is over 30% YoY for TV and radio and just over 15% YoY for digital channels. This dramatic drop in revenue is not a structural drop. The economy is expected to grow again in Spain by well over 5% in 2021. The advertising spend is expected to turn around as a result of that as well. When the main source of revenue comes back, so will the higher valuation of the company.
3. Production of popular Spanish streaming content
Atresmedia has played a significant role in the popularity of Spanish streaming content for Spanish people and even non Spanish people. The series "La casa de papel" (Money Heist) and "El embarcadero" (The Pier) have been two major hits globally.
La casa de papel was the most popular streaming production globally in last April and was a major hit on the Netflix streaming platform. The demand for this Spanish content outranked famous other English series such as Games of Thrones and Stranger Things. El embarcadero was created in collaboration with Telefónica's (TEF) Movistar and was also a major hit on both Spain and Latin America and in non-Spanish geographies. Both series have had several consecutive seasons after the first productions, because of the popularity of the content.
Atresmedia has shown that it can create quality content with a global appeal. In a world where there's many companies with deep pockets engaged in a streaming war, this is a valuable skill. Atresmedia confirmed in a press statement in June 2020 that the creation of Buendía Estudios was approved by the European authorities. This joint venture with Telefónica is set up to further grow the content business and aims to release 12 projects/series per year. Detailed data on what that means for Atresmedia financials is hardly available. Online sources state that already 20% of Atresmedia EBITDA can be ascribed to the content business and that Telefónica and Atresmedia have invested 1.3bn US dollar in 2019 alone in new programming. In comparison with Buendía Studios ambitions for the future, the current content production is only in its nacent state. There's a considerable potential for future growth.
4. Pent up revenue from postponed cinema releases
Atresmedia has reported in the Q2 earnings report that no movies were released in Q2 2020. It has shifted releases to later in the year. The movie "Hasta que la boda nos separe" or "The wedding unplanner" is one of the Atresmedia movies that is released in Q3 of this year. As things get better later in the year the revenue from movies will also gradually come back. When things return to normal in 2021 Atresmedia should be able to release new movies and kickstart production of temporarily halted movies as well.
Atresmedia doesn't report a detailed split of revenue per content type. It did state in its YE2019 report that content production and distribution revenues grew from 58.1M euro to 96.4M euro in 2019 in comparison with 2018. The cinema revenues were a part of this revenue growth. In my opinion, it's fair to assume that a normalised cinema production and release cycle would add back tens of millions of euro to the top line on an annualised basis.
5. Return of dividends
Atresmedia has returned between 0.30 and 0.70 euro dividend per share yearly from 2015 until 2019. It has temporarily halted the dividend payments and I wouldn't expect the company to start paying this level of dividend immediately after the pandemic has receded. I would expect Atresmedia to resume paying dividends as revenues start to recover again. A healthy OCF, similar to pre-pandemic levels, of around 200M euro will allow them to do this. The main stakeholders, RTL Group (~19%) and Planeta DeAgostini (~42%), would expect this as well. As an indication, if Atresmedia pays an annual dividend of 0.50 euro it's just over half of the OCF in normal circumstances (2019 OCF: 211.6M euro and 2018 OCF: 190.4M euro). At current shareprice levels an annual 0.50 euro dividend would be a more than 20% yield, so that is unlikely, but I would expect them to start paying at least 0.10 euro yearly once the business returns to normal.
6. Strong balance sheet with low debt
Per year end 2019, Atresmedia reported net debt/EBITDA of 1,01. The net debt amounted to 177M euro. Atresmedia had 173M euro cash available and 547M euro credit facility of which 36% was not used. This means there's no chance that Atresmedia will end up in a distressed situation as it can pay off the debt at any moment in time. Next to the good debt situation, even in the current business environment the business remains profitable.
Risk
The key risk for Atresmedia is that it takes longer than anticipated for the effects of the COVID-19 pandemic to recede. Advertising revenues, the return of revenue from movie releases and production of new series will all be negatively affected in that case and it will take longer for things to turn around. According to my assessment, even if it takes more time to get the pandemic under control, there's currently no apparent reason why Atresmedia wouldn't be able to get through this. Things can turn around fast once vaccines and/or medicine become available.
Summary
Atresmedia is a good pick as a turnaround play at the current valuation. The recovery of advertising revenue, the promising future of spanish quality content, the pent up revenue from movie releases and the return of a healthy dividend in combination with the strong balance sheet are the key bullish arguments. I would expect the share price to show a strong recovery to well over 3 euro/share by the end of 2021.
Editor's Note: This article discusses one or more securities that do not trade on a major U.S. exchange. Please be aware of the risks associated with these stocks.