In our follow-up article focusing on BlackRock Multi-Sector Income Trust (NYSE:BIT), we would like to update our readers on what has been going on in the housing and mortgage markets since the beginning of the COVID-19 pandemic in late February 2020. This CEF has managed to recover all of the losses in market price and NAV after reaching a bottom in late March 2020, primarily supported by the sharp rally in both equities and fixed income securities. Other important contributors have been so far robust housing and mortgage markets, as they have managed to recover due to increased numbers of remote workers looking for bigger homes or moving out of key metropolitan areas. Surprisingly, A monthly distribution payment of $0.1237 per share has remained steady so far in 2020, even though net investment income was only $20.3 million in the first-half fiscal 2020 compared to the $44.4 million in full-year fiscal 2019. Nevertheless, we anticipate that net investment income should return to pre-pandemic levels in the second half fiscal 2020, in case there will be no additional shutdowns or lockdowns throughout the U.S. In our view, the key bullish catalyst is the continued growth of the housing and mortgage markets as this CEF has significant exposure to the Federal National Mortgage association compared to other holdings to achieve greater alpha.
About the Fund

(Source: Blackrock)
The fund offers a distribution rate of 9.19% as of 09/08/202, while Yield to Worst comes at 5.27%. Later is almost half the value of 11.33%, when we covered this fund in our previous article here. The portfolio management team has also decided to reduce leverage from 42.75% to 35.4% between April - July 2020 as the result of the COVID-19 pandemic. We would prefer to see leverage even lower at 25% for our risk tolerance, given that we are still concerned about uncertainties surrounding the rebound of the real economy and a potential re-emergence of the second or third wave of coronavirus infections throughout the next couple of months. In general, the fund has maintained a similar portfolio construction mix in terms of sector, geographics, and industry exposure compared to March 31, 2020.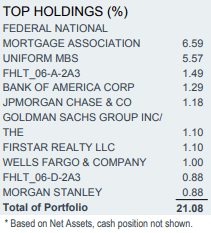 (Source: FactSheet)
The top 2 holdings of this fund (as of 06/30/2020) consist of more than 10% of the total portfolio, which makes up a significant exposure to the mortgage market. The fund is also invested in major banking and financial fixed income securities including Goldman Sachs (GS), JP Morgan Chase(JPM), with a weight of around 1% - 1.3% per individual holding. In general, major investment banks have reported better than expected Q2 FY'20 earnings, primarily driven by higher investment banking and trading revenue as a result of increased volatility in the financial markets. However, losses from consumer loans are yet to come.
Mortgage and Housing Markets during the COVID-19 pandemic
During the period of strict stay-at-home orders and other restrictive measures in March-April 2020, the housing market had completely stalled as plenty of Americans were uncertain over their future employment given that non-essential businesses were shut down. In addition, only virtual tours of properties were allowed which makes it difficult to buy a home, without seeing it beforehand. The FED and the U.S. treasury were forced to intervene by announcing a paycheck protection program to keep SMBs afloat as well as to give $600 per week to jobless workers.
Otherwise, we would most likely have a catastrophic crisis in the housing market, as plenty of jobless workers would be forced to default on their rent or mortgage payments. We believe that they wouldn't have enough savings to weather the storm over a longer period of time. Even bigger companies like United Airlines (UAL) without a significant source of income have enough cash on their balance to survive only for a month or maybe two.
"With just $1.1 billion from equity offering and a failed $2.25 billion of debt issue, United Airlines is likely to face a liquidity crunch with just $6.3 billion of cash on hand."

(Source: Forbes)
That is one of the reasons why the FED decided to protect the mortgage market by announcing CARES Act Mortgage Forbearance, to help consumers to defer their mortgage payments and repay them later once their personal finances recover.
Nevertheless, after reopening the U.S. economy in May 2020, consumers were forced to change their attitude towards what kind of home they really need for their family. Workers are also not tied anymore to locations where their company has an office or HQ, as they can work remotely. That might trigger an increased number of white-collar workers to flee away from key metropolitan cities to other remote areas or even countries.
"A recent survey from Blind, an anonymous work-focused social network, produced similar findings. Blind surveyed 4,400 workers - about 2,800 of whom live in the Bay Area - about working remotely and how it might affect where they decide to live. Two-thirds of the respondents said they would leave the region if asked to work from home permanently. "

(Source: Business Insider)
For instance, a family in San Francisco who has the capabilities to work and study remotely might decide to move away from the Bay Area and find a bigger home in suburban areas. It makes it way easier to take care of your kids with a bigger space in the backyard, establish an own home office, and a space to work out at home as well for a similar or even lower rent compared to the expensive Bay Area.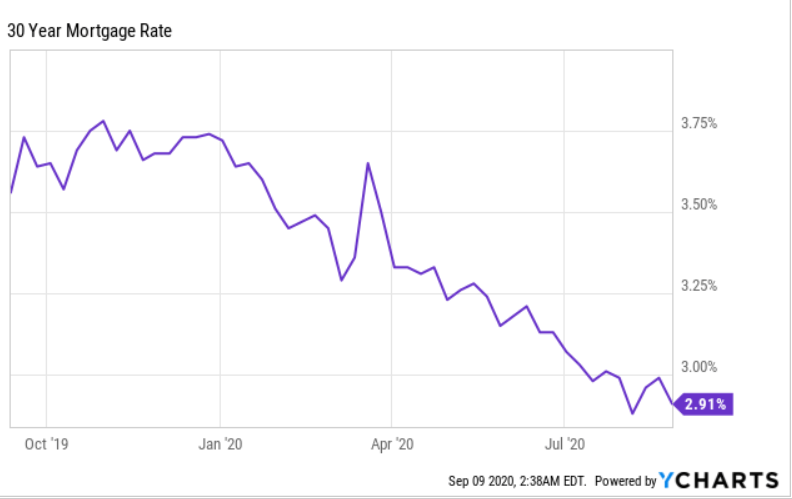 The FED has also decided to cut interest rates to 0 because of the emergence of the coronavirus crisis in March 2020, which has triggered a significant drop in the 30-year mortgage rate after the reopening of the US economy. According to the figure above, the 30-year mortgage rate has spiked at approximately 3.65% in mid-March and has fallen below 3% in late July 2020.
"There are pools of loans being sold right now with average rates of 2.625%, meaning some people are getting rates at 2.375-2.5%," said Matthew Graham, chief operating officer at Mortgage News Daily. "While those likely involve some closing costs, that's still nuts."

(Source: CNBC)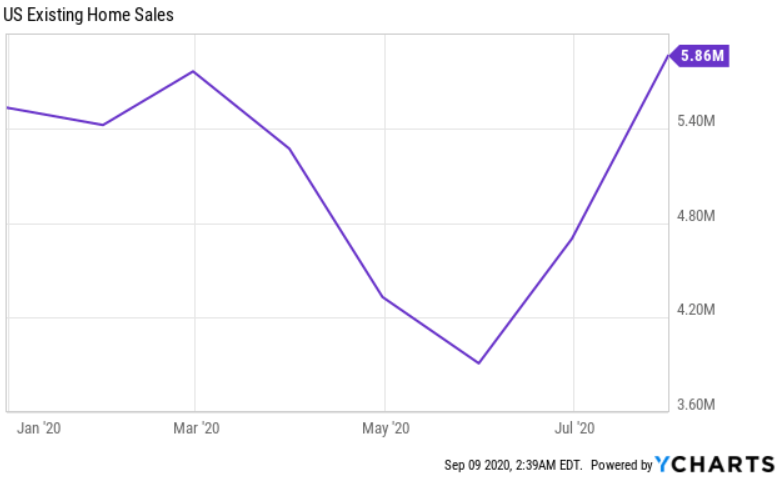 In addition, the low-interest-rate environment has created a spike in demand for home sales, as existing home sales of 5.86 million in July 2020 have exceeded the pre-pandemic level of approximately 5.5 million earlier this year. We believe that a major catalyst is a fact that customers have a better buying power because of more affordable mortgages or loans and have even changed their saving habits. In our view, they would rather prefer to save more money for a bigger home in a suburban area, than to waste it on non-essential things like dining outside or to spend evenings with the family in amusement facilities and risk a potential coronavirus infection.
Millennials are such an important group that will most likely shift away from their preference over experiential things and renting properties in expensive cities to consider buying their own home once in the near future. Nevertheless, the COVID-19 pandemic has still a negative impact on our daily lives as the unemployment rate remains at quite a high level of 8.4% in August 2020. Therefore President Trump has placed an executive order to maintain unemployment benefits at $400 per week in August 2020, given that the previous unemployment benefits aid was set to expire in July 2020.
Last week, the CDC has even placed an effective order that landlords are not allowed to evict renters to prevent the further spread of COVID-19. Eligible renters should meet the following criteria: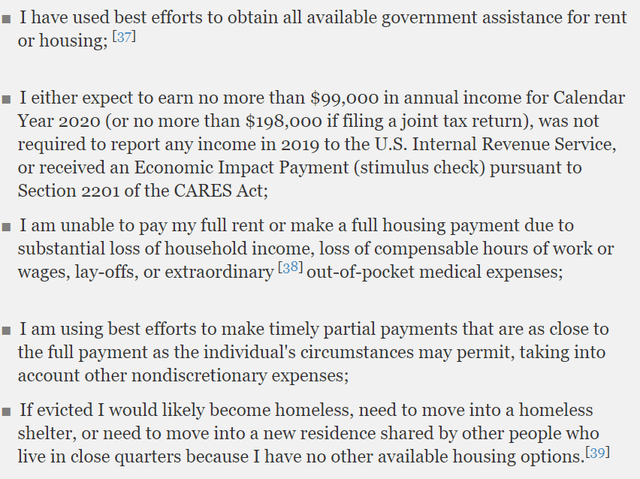 (Source: Federal Register)
In addition, the governor of California Mr. Newson has announced legislation in California to protect millions of tenants from evictions till the end of January 2021.
"COVID-19 has impacted everyone in California - but some bear much more of the burden than others, especially tenants struggling to stitch together the monthly rent, and they deserve protection from eviction," said Governor Newsom. "This new law protects tenants from eviction for non-payment of rent and helps keep homeowners out of foreclosure as a result of economic hardship caused by this terrible pandemic."

(Source: Office of Governor Gavin Newsom)
In our view, it is a clear interference in the free-market economy, which can have long-lasting consequences on the supply dynamics of the housing market. For instance, homeowners who have a mortgage on their property might be unwilling to rent their properties as they fear a longer period of no-rent payments. Logically, one might think that should lead to higher rents as there will be a limited number of available properties for rent on the market.
However, homeowners who have been already renting their department might be forced to default on their mortgage, as they cannot receive rent over the coming months because of the coronavirus crisis. In the worst-case scenario, if they fail to pay 1-2 months of mortgage payments banks could foreclose their properties and sell them at market price. This can have an aggregated negative simultaneous effect on housing prices, in the case of a higher number of mortgage defaults. Consequently, minor mortgage lenders or regional banks who would own particular mortgages could face liquidity issues or even bankruptcies because of all of the associated losses.
Afterward, our government might decide to protect the housing market and buy those homes, which will enable the government to regulate the supply of the housing market, thus leading to very strong pricing power. For instance, the government has several options: either it can leave those homes empty, rent to the unemployed, or just simply wait for a recovery in the housing market. We are concerned that a newly established market dynamics of a huge interference of the government in the housing market might end up as devastating for investors in mortgage-backed securities, as the free-market will not be able to determine a rent or housing price anymore. We see it as a kind of pegged currency, which can experience double-digit percentage moves overnight if the government decides to cut or expand its supply.
To sum it up, these are some of the issues our readers should be aware of as market dynamics of the housing market are of crucial importance for both our real economy and financial system. We could experience a devastating impact of financial engineering in the housing market back in 2007 when our financial system ended up on a brick of collapse.
Performance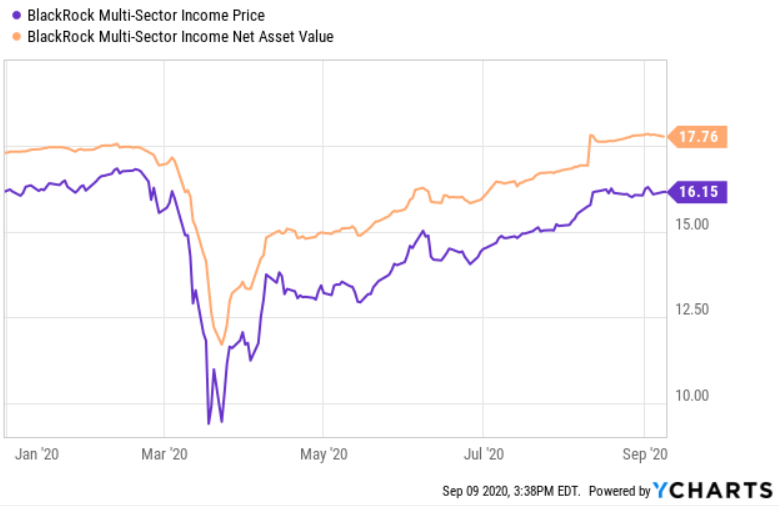 According to the figure above, market price and NAV have been negatively impacted by the outbreak of the COVID-19 pandemic. In fact, market price and NAV have achieved a major dropdown of -43.4% and -32.8%, respectively, between February 20 - March 23, 2020. Afterward, this CEF has been able to capture the unexpected rally in the global financial markets. In fact, both market price and NAV have returned back to pre-pandemic levels of $16 - $18 per share in September 2020.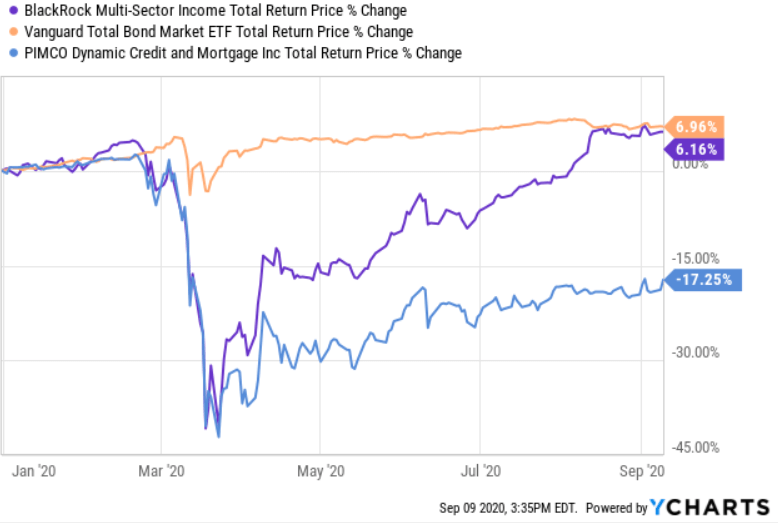 This chart indicates that the fund has generated a 70 bps points lower total return year to date compared to the largest fixed income ETF on the market - Vanguard Total Bond (BND). However, an interesting gap between both funds occurs in March 2020, as BND was almost immune to the global turmoil of financial markets, while BIT was devastated at the same time. On the other hand, BIT has significantly outperformed its largest peer on the market - PIMCO Dynamic Credit and Mortgage (PCI), by a wide margin of 23.41% year to date.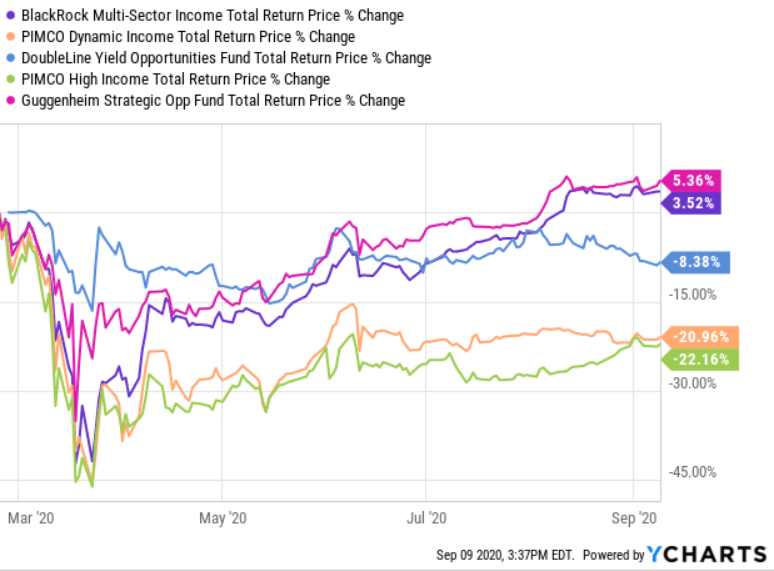 Now if we expand the selection to the top 5 largest CEFs in the multi-sector fixed income universe, we can easily identify that other CEFs including PIMCO High Income Fund (PHK), PIMCO Dynamic Income Fund (PDI), and Doubleline Yield Opportunities Fund(DLY) have achieved a deep negative total return since the beginning of the COVID-19 pandemic in late February. On the other hand, Guggenheim Strategic Opp. Fund (GOF) and BIT have been able to generate a positive return during the same time period.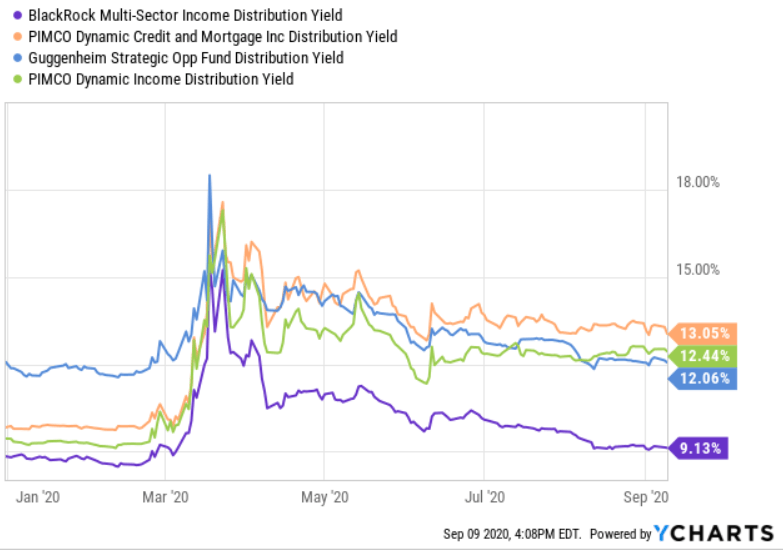 When it comes down to distributions, BIT offers roughly more than 300 bps lower distribution rate as of 09/08/2020 compared to its peers. Interestingly, all of the funds had offered a very high distribution rate of more than 15% during the height of the coronavirus crisis in late March 2020.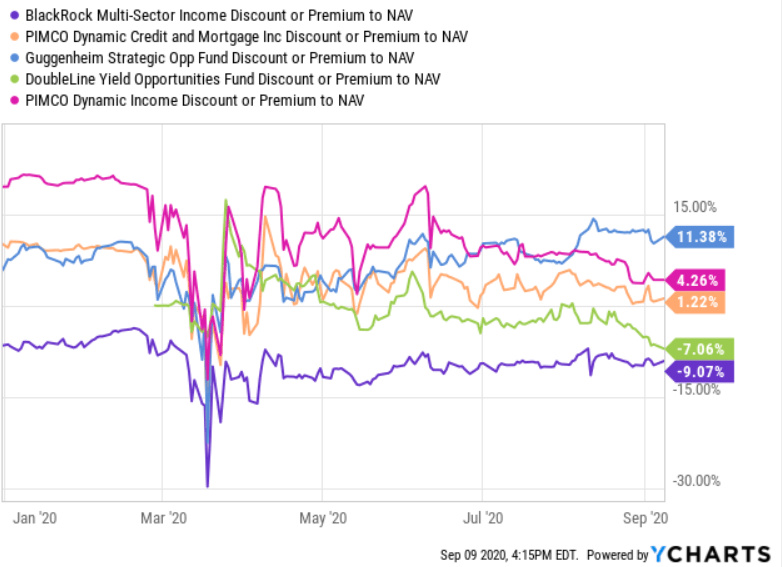 In addition, investors had a great opportunity to buy BIT and its peers at a discount/NAV multiple of more than -20% in late March 2020. However, it was almost impossible to predict a market bottom and a sharp rebound in the global financial markets at that point in time. Now BIT trades at a discount to NAV of -9.07%, which makes it in our view a better investment opportunity compared to some other CEFs which offer a higher distribution rate. For instance, GOF offers approximately 300bps higher distribution rate compared to BIT while a difference in premium/discount to NAV is approximately 20%. That is why we believe that now BIT should be a better investment compared to GOF, given that both funds are most likely to reach a discount to NAV of 0% over the long run, while the gap between distribution rates will most likely fluctuate.
Financial Highlights

(Source: Seeking Alpha)
BIT has returned its shareholders a steady monthly distribution of $0.1237 per share so far in 2020. That makes up a market price distribution rate of roughly 9.19% as of 09/08/2020. Now we should definitely check whether this distribution rate is sustainable over the next couple of months, given the coronavirus crisis.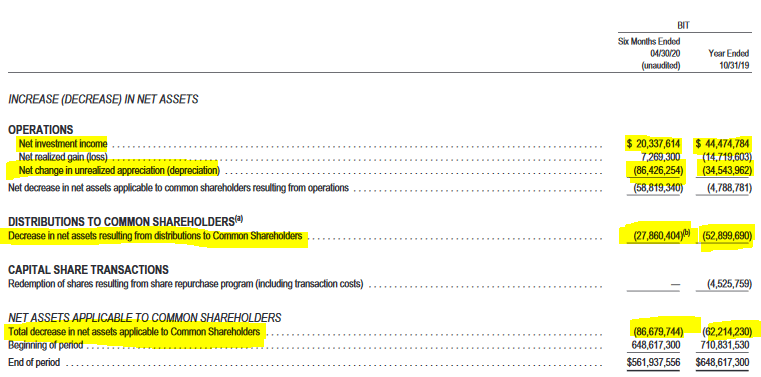 (Source: Semi-Annual Report)
According to the figure above, the fund reported a net investment income of $20.34 million in H1 FY'20, while the distributions to shareholders were higher at $27.88 million. Interestingly, the portfolio management team has decided to maintain the distributions of more than $25 million for the first 6 months ended, even though the fund was negatively impacted by the turmoil of financial markets as a result of the strict measures to contain the spread of COVID-19 infections in mid-march 2020. Our readers should keep in mind that the fiscal half-year of this fund starts on 1 November and ends on 30th April. Therefore the COVID-19 pandemic had only impacted the fund for the last 2 months of the first half of the fiscal year 2020, that is why we anticipate a higher net investment income in the second half of fiscal 2020.
For instance, it has faced a wide loss in net assets, as the net change in unrealized appreciation (depreciation) came out at staggering -$86.4 million. In fact, that makes up a loss of approximately 13.3% of its total net assets in H1 FY' 20. In addition, we are highly concerned that a worse-than-expected spread of the COVID-19 infections over the coming months might trigger an even wider loss in the NAV and net investment income at the end of this fiscal year.
On the positive side, we anticipate that this fund has been able to capture the sharp rebound of fixed income securities starting from early April 2020. A rally was primarily supported by the aggressive monetary policy of FED and the fiscal stimulus of the U.S. Treasury to support the credit and fixed income market. As we have stated in our previous article on BIT here, the FED has decided earlier this year to protect so-called 'fallen angels' - companies that have lost their investment-grade rating because of the coronavirus crisis.
Nevertheless, we anticipate the fund might face difficulties to stick to the monthly distribution plan in the near future because our daily lives and general business activities cannot return back to normal before there is an available vaccine on the market. One option for this fund to maintain distribution payments compared to previous years is to increase its return of capital. However, that is not something that investors would embrace given the high uncertainties and challenges surrounding the COVID-19 pandemic. We believe that it might not be suitable for our readers to receive back 10% or 20% of our initial investment as a return of capital at the end of the year, while they risk a double-digit loss of the market value of our investment because of the coronavirus crisis. For instance, we are concerned that once Trump's administration actions to protect the most vulnerable labor market expire, our economy might face a depression-like number of personal bankruptcies, mortgage foreclosures, and loan defaults. Such an adverse economic and business environment would negatively impact the performance and distribution safety of CEFs like BIT, which are primarily invested in the MBS or fixed income securities.
Conclusion
We like the portfolio construction mix of this fund, by having a significant exposure to financial and mortgage-related securities. However, we find it as a very risky investment play at this point in time, solely because of the uncertainties surrounding the COVID-19 pandemic. We are highly concerned that additional shutdowns or lockdowns of global economies will be necessary, as some European countries and states in the U.S. have been reporting a record number of infections over the last couple of weeks. In addition, we believe that the current monthly distribution of $0.1237 might become under pressure over the next couple of months if the net investment income number of the second half fiscal 2020 comes out way below the pre-pandemic level. That would definitely put pressure on the number of distributions paid to shareholders, as the fund manager will be forced to increase the return of capital. Therefore we will maintain our NEUTRAL outlook at this point in time. However, our readers who anticipate that the COVID-19 pandemic will end sooner-than-expected should definitely consider buying this CEF, if it fits their risk tolerance and long-term investment objectives.