Advantage Oil & Gas (OTCPK:AAVVF) is a Canadian company (listed on the Toronto Exchange - Symbol AAV:TSX) that wholly owns the accompanying midstream system for the upstream business. There are so many companies in the United States that I follow that have a presence in their midstream operations with beneficial results to the parent company.
I previously noted that Epsilon Energy (EPSN) had that income from the midstream joint venture to help that debt free company have a minimal cash flow at a time of extremely low commodity pricing. Antero Resources (AR) had a history of periodically selling shares owned of Antero Midstream (AM) to raise some cash. These companies and more benefited in multiple ways from some exposure to midstream operations.
Typically midstream operations have long term contracts with minimum take or pay safety values that assure a reasonable cash flow during times of weak pricing or industry downturns. Even if those contracts are absent, midstream capacity is still used at all times to get production to market. The costs and return on investment of those assets typically serves to at least (somewhat) lessen earnings volatility.
The problem with asset stories is that Mr. Market receives dozens of asset stories that just do not work out. Therefore many times an asset story in and of itself is an insufficient investment thesis. The latest deal to not work is California Resources (OTCPK:CRCQQ) which had all kinds of assets that could not prevent a reorganization. I have followed so many of these to their ignominious end.
There needs to be evidence that the assets can be converted to cash when needed, some kind of catalyst, or a history of assets being converted to cash as part of the ongoing business. Otherwise Mr. Market has heard far too many asset stories to really value a story much.
The Asset Strategy
Advantage management announced that a transaction closed resulting in a 12.5% of the Glacier plant being sold for C$100 million. This reduced debt significantly at the beginning of the third quarter.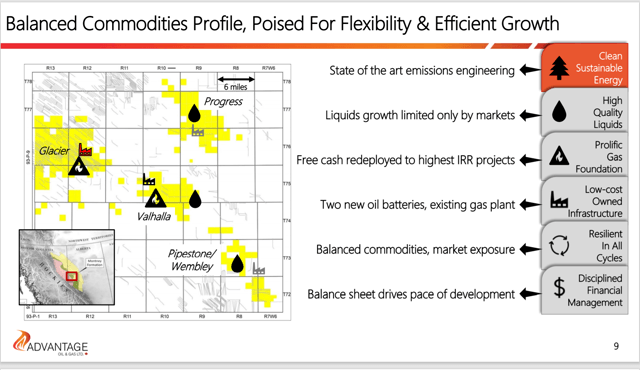 Source: Advantage Oil & Gas July 2020, Investor Presentation.
As can be seen above, this sale provides a glimpse into the potential asset value of a company that owns both the upstream and the midstream. The immediate effect of the transaction was to reduce long term debt to roughly C$250 million. The cost of the transaction appears to be an annual cost increase of about C$5 million per year. Note the buyer of that interest receives the usual profits plus the noted extra costs to Advantage for a greater total annual return.
This transaction allows for the possibility that management could sell similar sized interests to easily eliminate long term debt and still own a significant amount of midstream assets as well as the total upstream business. That places the debt amount in a different light during this period of subpar results. One transaction all by itself may not change the market attitude about the value of the company. But such a transaction will get the attention of the lenders. This is especially true of a management that executes a transaction like this before lenders pressure management to reduce the debt.
The Discovery Strategy
Basically the dry gas Canadian industry has "discovered" light oil in a new zone. Unconventional discovery means something very different from a conventional discovery. The predictability that the oil is there is very high as the unconventional business generally has no dry wells.
Instead there are known intervals with oil that just were not economically feasible to develop. This announcement means that the company has found a way to develop an interval that was previously uneconomic. Development of this discovery may proceed slowly at first as the company optimizes completion techniques and other operating strategies for this interval.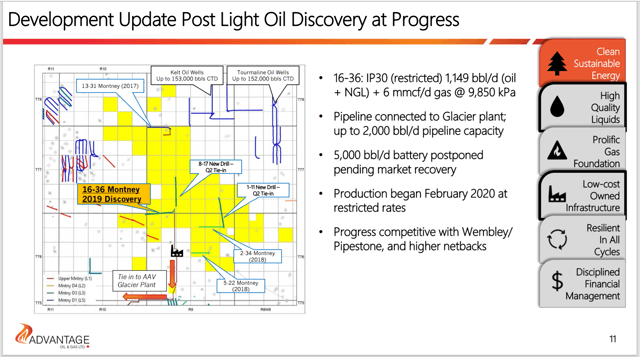 Source: Advantage Oil & Gas July 2020, Investor Presentation
Right now the market is not exactly rewarding a liquids or rich gas strategy. Therefore management will proceed at a deliberate pace until more normal, historical relationships are restored along with the greater profitability this discovery once promised.
This also points up the weakness of the Tier analysis where Tier 1 is assumed to be the best acreage. Generally that analysis only applies to the current intervals developed and the current technology in use. In a case like this, the dry gas intervals may or may not be Tier 1. But that will have no bearing on the quality of this oily interval. Any company can therefore own leases with intervals of different profitability and quality.
Additional Liquids Rich Strategy
In the meantime, most operators have found if they move "left or right; north or south" they can often change the amount of more valuable products in the natural gas stream. Like many competitors, Advantage management has chosen to pursue a value added strategy in the "known" intervals to enhance future profitability.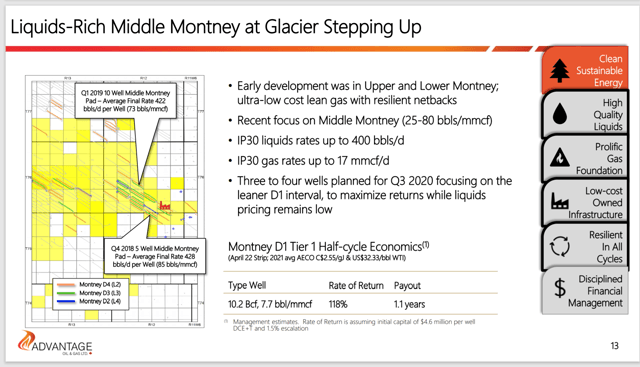 Source: Advantage Oil & Gas July 2020, Investor Presentation
It should be apparent that the rapid technology changes are now being applied in a variety of ways to open up profit possibilities that did not exist a decade ago (or even a few years back). Canada, like the United States has more unconventional reserves than it has conventional. Not only that but fields that have produced for ages are now experiencing a production revival thanks to modern completion techniques. This allows for far greater oil recovery than is possible. In the United States the best example of this revival has to be the Austin Chalk interval in Texas.
The Future
Advantage Oil & Gas is a dry gas producer that will be making a transition to a more balanced production of various liquids in addition to natural gas. This will allow the company to direct production to the most profitable leases in the future with considerably greater flexibility than in the past.
This company can now look forward to a far more profitable future as a producer of all the petroleum products. In the past, Advantage strictly produced dry gas and did so with some of the lowest costs in the industry.
Currently the market has completely discounted the effect of the sales of any liquids in the future at all. The result is that the enterprise value of this company is very low compared to the cash flow in the last fiscal year.
(Canadian Dollars Unless Otherwise Stated)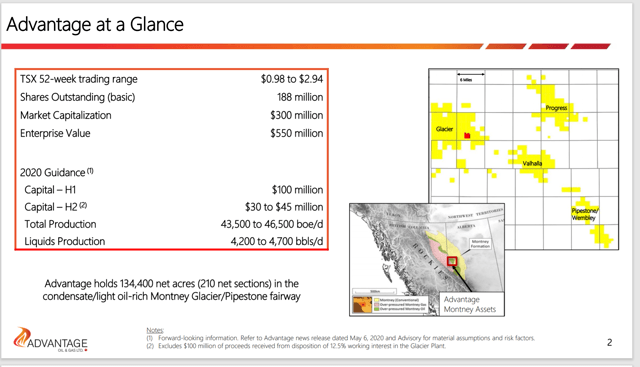 Source: Advantage Oil & Gas July 2020, Investor Presentation
For the enterprise value shown above, an investor has a front seat on a company transition to more oil production in the near future.
(Canadian Dollars Unless Otherwise Stated)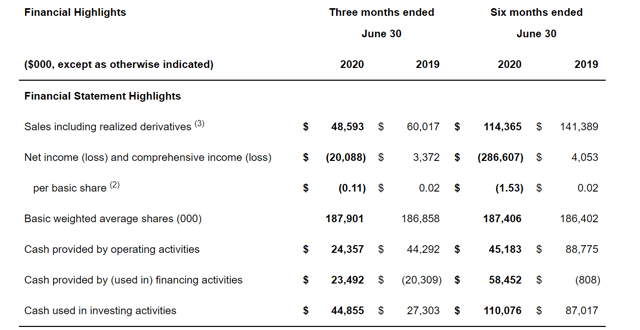 Source: Advantage Oil & Gas Second Quarter 2020 Earnings Press Release
Second quarter is probably the low point for this fiscal year and certainly an exception to anything approaching normal. Typically, this company has an annual cash flow of at least C$150 million. That would make the enterprise value at more than 3 times typical cash flow. The transition to more oil and liquids production will rapidly raise that cash flow. That future makes this stock an unusual bargain because the market is clearly not expecting significantly more cash flow in the future.
Editor's Note: This article discusses one or more securities that do not trade on a major U.S. exchange. Please be aware of the risks associated with these stocks.