The S&P 500 may have broken out above its February highs back in late August and still remains above February's highs after Monday's advance, but performance in the high yield market hasn't been quite as strong.
The chart below shows the B of A High Yield Master Index on a total return basis over the last 12 months. The index saw its peak back on 2/20 just a day after the S&P 500's first-half high. Those gains quickly turned into a decline of nearly 20% before the markets started to recover. On September 2nd, just as the S&P 500 was getting off to a strong September start, the total return of the High Yield Master Index came just shy of topping its 2/20 high, but as markets started to swoon, the high yield market also suffered and prices pulled back.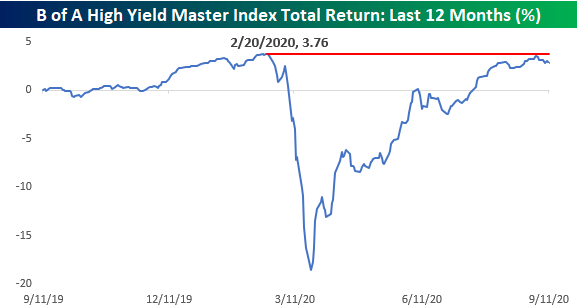 While total return levels in the high yield market are important to track, spreads in high yield debt relative to treasuries provide a more useful barometer. In this respect, the high yield market has still come up short. The chart below compares spreads in the high yield market relative to treasuries over the last year. Remember, high yield spreads tend to move in the opposite direction as equities. When stocks rise, spreads tend to fall and vice versa.
Back in January, high yield spreads bottomed out at 339 basis points (bps) nearly a full month before the S&P 500 peaked. They subsequently widened out to 1,087 bps on 3/23 which was the same day the S&P 500 bottomed. Since then, spreads have been more than cut in half to the current level of 521 bps. That's an impressive move, but spreads are still nowhere near their prior lows.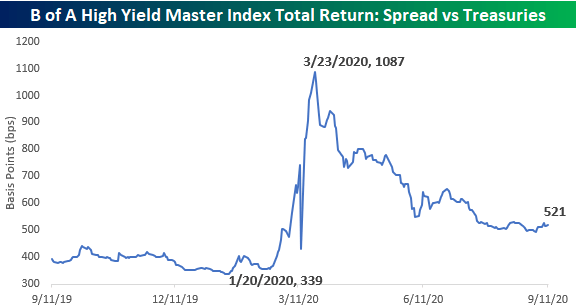 Editor's Note: The summary bullets for this article were chosen by Seeking Alpha editors.