Amdocs (NASDAQ:DOX) is primarily a provider of billing and customer-care software to wireless companies, cable service providers, and media businesses. The stock has been a severe laggard in the IT sector over the past year and has underperformed the iShares Expanded Tech-Software ETF (IGV) by ~50%. DOX even trails the S&P 500 by ~25%: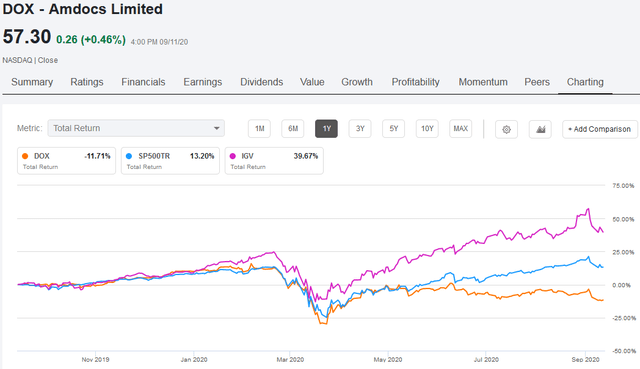 Source: Seeking Alpha Charting Tool
By those statistics alone, investors might conclude that Amdocs is not performing very well. Let's take a look at DOX's financial performance and see if it reflects the weak stock price.
Earnings
Amdocs released its Q3 EPS report (for the calendar Q2 period) on August 5th. Highlights include: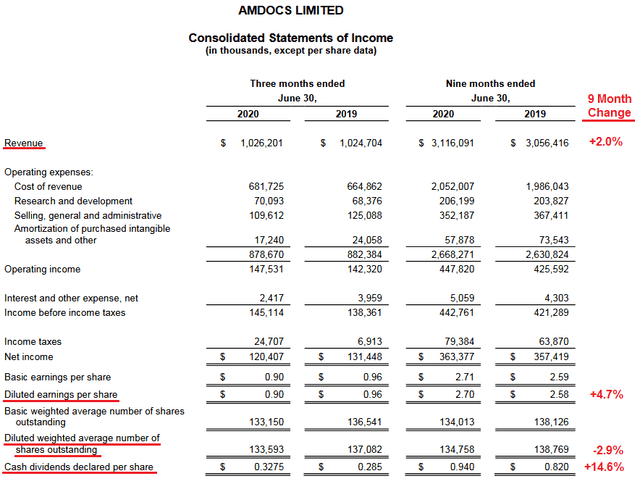 Source: Q3 EPS Report
As can be seen from the graphic above, DOX's last-nine-months revenue rose only 2% as compared to the year earlier period. Yet with a good handle on expenses and an outstanding share count that shrunk almost 3%, nine-month EPS was up 4.7% and the Q3 quarterly dividend ($0.3275/share) was up 14.9% yoy. But note that FCF/share (see below) was $1.08/share in the quarter - over 3x the current quarterly dividend.
Quarterly highlights included:
Revenue exceeded the midpoint of guidance even after adjusting for a positive FX adjustment.
Managed services revenue (59% of total revenue) was a record $604 million - up 4.6% yoy.
GAAP and non-GAAP EPS was above the midpoint of guidance.
Operating margin was 14.4%.
Quarterly free-cash-flow ("FCF") was $146 million ($1.08/share).
Cash and cash equivalents were $1.19 billion at the end of the quarter (an estimated $8.83/share).
The 12-month backlog was $3.48 billion - up $20 million sequentially and up 2.4% as compared to Q3FY19.
Repurchased $60 million of common shares during the quarter.
Shuky Sheffer, president and CEO of Amdocs said:
Our fiscal Q3 was our first full quarter operating under the global conditions of the COVID-19 pandemic ... Revenue exceeded the midpoint of our guidance and included healthy year-over-year growth in North America and another record quarter in managed services. Our operating execution was especially noteworthy this quarter as we delivered a significant number of live deployments, maintained stable profitability and generated robust free cash flow. Additionally, the pace of deal signings accelerated during Q3 and included an agreement to support Bell Canada's cloud-native strategy, an enterprise digital transformation project in the Philippines and our first-ever modernization award at Three UK.
Going Forward
Less than a week after the Q3 results were released, DOX closed the Openet acquisition. Openet is a leading provider of 5G charging, policy and cloud technologies and has several of the world's top 10 largest service providers as customers. In the Q3 EPS release, Sheffer said:
... Openet's technologies naturally complement our own portfolio of 5G solutions, the combination of which will greatly strengthen our leading technology position in the market. Moreover, we are excited by the opportunity to bring Openet to our global customer base of more than 350 service providers, helping them to further succeed in the wave of 5G advancements around cloud, edge compute, IoT and new customer experiences.
The Openet deal cost ~$180 million in cash. Openet had been generating ~$70 million in annual revenue over the past two years. However, the acquisition is expected to be neutral to DOX's non-GAAP diluted earnings in the full fiscal years 2020 and 2021, and accretive thereafter.
Another development since the Q3 EPS report was the announcement of a deal with Telefônica Vivo of Brazil for a Multi-Year Managed Services Agreement. In addition, Telefônica Vivo selected a next generation data management solution based on Amdocs DataONE to support Vivo's digital engagement with customers. Vivo is the leading telecommunications company in Brazil and the largest operator in Latin America, serving nearly 100 million customers.
The recent merger of Sprint and T-Mobile (TMUS), which closed on April 1, 2020, could be a very positive catalyst for DOX moving forward due to the close relationship the company had with T-Mobile prior to the merger.
AT&T (T) is a major customer and in November of last-year DOX signed a 5-year deal to expand their strategic alliance that appeared to lay the groundwork for future 5G and cloud computing services. Andre Fuetsch, EVP & CTO of AT&T said:
5G and the cloud will lead to new business and consumer applications we haven't even imagined yet, and developers and creators will look to us to help make those visions a reality. As the ecosystem continues to expand, we need to provide a solid foundation to build on. Amdocs has been a strong collaborator for years, and we value their agility, technical expertise, and customer-centric approach."
As can be seen by the graphic below, DOX has a well-established global footprint that includes some of the largest wireless and media companies on the planet: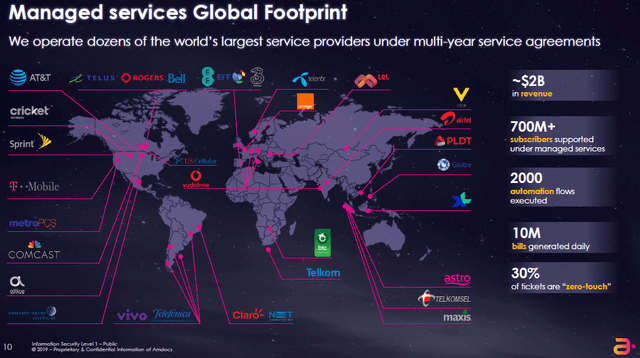 Source: NASDAQ Investor Conference London
With the advent of 5G and the internet-of-things - or IoT - virtually all of these companies will be impacted and will be trying to grow their businesses. That is a big opportunity for a company like DOX to gain more billing and customer-service revenue.
55% of 2019 total revenue was recurring revenue. I would expect that percentage to increase over the coming years as DOX continues to adopt the SaaS model for its managed services segment. This model began in the US and the company is now demonstrating it in the EU and rest-of-world.
Guidance
The Q3 report also included full-year 2020 guidance that implies:
Revenue growth of 1.1%-2.1% (not including Openet).
GAAP diluted earnings per share growth of roughly 5.0%-7.5% yoy.
Expects FCF of ~$420 million as compared with $400 million previously disclosed.
As can be seen from the guidance, DOX is not an exciting growth company. That said, steady 17-17.5% operating margins and $420 million in FCF (an estimated $3.11/share) bode well for steady 6-10% shareholder returns for years to come.
Risks
Risks are weak contract re-signing, COVID-19 impacts on DOX's customer spending, and weaker than expected returns on the Openet acquisition and/or poor integration.
Valuation
The company should earn ~$4.40/share this year and $4.70/share next year. The current P/E=16.0. Based on Friday's close at $57.30, and next year's expected earnings, that equates to a forward P/E=12.2. The stock currently pays a $0.3275/share quarterly dividend - or $1.31/share on an annual basis. That equates to a 2.3% yield.
Summary & Conclusion
Amdocs' stock has been left behind by the high-flying software sector and even by the S&P 500 index. But with an estimated $8.83/share in cash (that can be used to buy back more shares), a strong backlog, a large and growing recurring revenue base, 17.5% operating margins, strong FCF generation, recent large contract announcements, and the relatively fast closure of the Openet deal, DOX looks very attractive here. I recommend investors begin accumulating shares. Even with a modest P/E=15 on next year's earnings, it's a $70 stock. Add a 2.3% yield, and that's a 25% annual return over the next 12-months. Not to mention DOX was trading at $76 back in February. Lastly, the current quarterly dividend is only ~1/3 of quarterly FCF. That is an indicator that implies excellent future dividend growth.