AUD/USD: Currency Might Hit A Ceiling At This Point
Summary
The AUD/USD has continued rising throughout 2019.
Even with Brexit and a second wave of COVID-19 in Europe, I anticipate that the Aussie dollar could start meeting resistance from here.
Negative inflation and a drop in Chinese investment in Australia could contribute to AUD weakness going forward.
The Aussie dollar has been a top performer in the currency markets this year, much of this attributed to the fact that Australia has seen less incidences of COVID-19 compared with the rest of the world.
Since July, we have seen the AUD/USD continue to rise strongly against its major counterparts.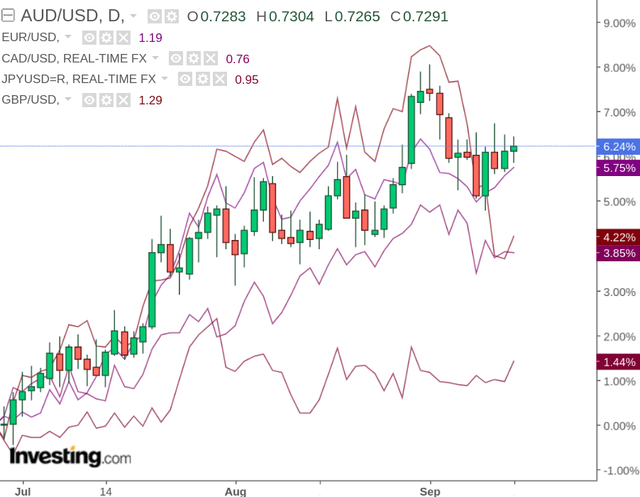 Source: investing.com
The greenback continues to see downward pressure as a result of continued growth in COVID-19. Aside from clear signs of a second wave emerging in Europe, Brexit is firmly back on the agenda and placing downward pressure on the GBP/USD, due to the fact that Britain's proposed Internal Market Bill reportedly violates international law.
Moreover, the EUR/USD has struggled to make it past the 1.20 mark, with the ECB hinting that further appreciation in the currency would make monetary policy planning more difficult.
Even with these pressures on other currencies, the AUD/USD could sit meet some resistance as we head towards Q4.
Regarding developments down under, Australia is by no means out of the woods in terms of the economic impact of COVID-19. While Australia has fared better than most economies in terms of resilience, GDP still showed a drop of 7% which officially puts the country into a recession.
Moreover, with Chinese investments into Australia falling for a third straight year, there is growing concern that Australian exports to China could continue to come under pressure. In fact, this is particularly likely to be the case if the currency continues to rise - putting aside the political tensions.
In this regard, it remains to be seen as to whether the Reserve Bank of Australia will start taking active steps to weaken the currency going forward.
For instance, with inflation coming in at -0.3%, it would not be surprising if the RBA decided to lower interest rates to deal with the deflation risk, despite having made the decision last month to hold rates where they are.
Furthermore, even if a lowering of the cash rate does not come to pass, the central bank has signaled that the cash rate will not increase until such time that inflation rebounds to near a 2 - 3 percent target range.
Granted, many major economies around the world are in the same position and thus we are unlikely to see a broad policy of rate rises for the foreseeable future.
However, should inflation remain negative over the medium term, then quantitative easing may prove insufficient and the RBA may have to step in with a rate cut to bolster prices once again.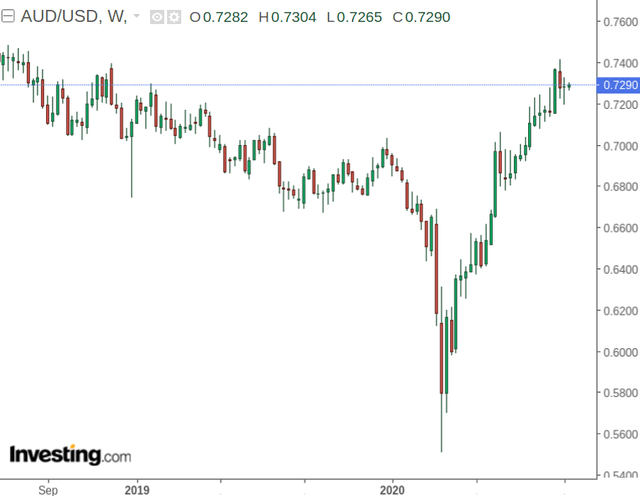 Source: investing.com
When looking at the weekly chart, we see that the currency has bounced back to pre-2019 levels. My view is that even with a second wave apparently growing in Europe, there is a limit to the extent that the AUD/USD can continue to rise given the economic pressures Australia also faces as a result of COVID-19. I anticipate that the currency could start meeting resistance from here.
Disclosure: I/we have no positions in any stocks mentioned, and no plans to initiate any positions within the next 72 hours. I wrote this article myself, and it expresses my own opinions. I am not receiving compensation for it (other than from Seeking Alpha). I have no business relationship with any company whose stock is mentioned in this article.