Etsy (NASDAQ:ETSY) has seen some incredible growth attributable to the pandemic, but its niche position in the e-commerce sector opens up the door for long-term success. While the previous quarter is likely going to be one of the strongest quarters that Etsy will show in a while (aside from a potentially strong holiday season), it's only a matter of time until it starts posting consecutive quarters of this size and higher. As shares are down about 20% since the high, it could be a great time to buy the pullback ahead of further growth.
2Q growth was stellar as Etsy capitalized on the shift to e-commerce shopping, but also in part to the product mix that was emerging on the site. GMS soared to $2.7 billion, whereas it was barely more than $1 billion last year. Revenues are approaching the half-billion mark, and should eclipse that level on a strong Q4, but that could happen possibly as early as this current Q3.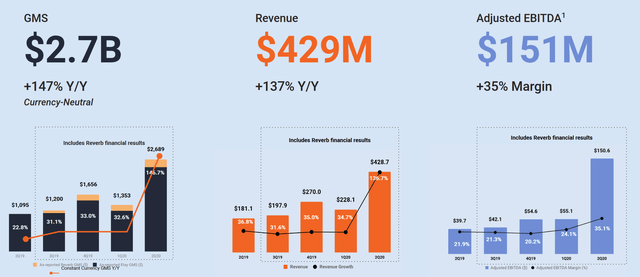 Source: Etsy Investor Presentation
Etsy's growth in GMS and revenue was driven by an "influx of 18.7 million new buyers and reactivated buyers -those who haven't purchased in a year or more" during the quarter. Yet while that amount of customers could be a quarterly high, Etsy is still seeing "encouraging data points in customer retention, frequency, and growth in lifetime value" that suggest that long-term customer growth will remain in play.
Etsy is taking targeted steps to ensure that that is the case. After witnessing that tremendous growth, Etsy is using personalized ads and recommendation feeds to work on "increasing the 30 day repeat purchase rate for new buyers by targeting buyers on and off site." This does come at a cost, and higher ad spending will offset revenue gains to a degree, but as Etsy has been and still is profitable, that's not really something to worry about.
Advertising is still important, as Etsy's marketplace offers such a broad variety of items and categories. The traditional top categories include homewares & furnishings, jewelry & accessories, craft supplies, apparel, paper & party supplies, and beauty & personal care. These six categories makeup 75% of the total GMS on the site, and grew 92% overall YoY, driven largely by triple-digit growth in homewares & furnishings and craft supplies. The remaining 25% of GMS comes from non-traditional categories, which saw tremendous 376% YoY growth. Masks and Covid-19 healthy/safety/care items did provide a large amount of growth alone, and could continue to do so as the pandemic has not yet cleared, but growth excluding that is still strong.
This growth-fueled profits - "gross profit for the second quarter of 2020 was $317.4 million, up 159.1% year-over-year, and gross margin was 74.0%, up640 basis points compared with 67.6% in the second quarter of 2019." Margin expansion and higher gross profits led net income to grow over 500% to just slightly $100 million, whereas it was just $18.2 million a year ago.
Future growth in profitability will stem from growth in GMS and strengths in margins arising from lower total costs, and as the seller network isn't as large (3.1 million for 2Q), it will start to stem down to buyers. And Etsy is seeing just that. A huge positive for Etsy is that it has not only more buyers (60 million), but more repeat and habitual buyers - these customers are growing at fast rates. Habitual buyers, while only numbering 4 million, have grown 64% YoY, while repeat customers are up 51% YoY to 26 million.
Yet the main risk to Etsy at this point is growth deceleration. The large shift to e-commerce happened with physical store closures, and reopening could threaten the niche e-commerce segment, as seen in France. After reopening began in early May, GMS slumped, and never really recovered to a lockdown high; in Texas, GMS had more volatility and was marginally lower after reopening than it had been during April.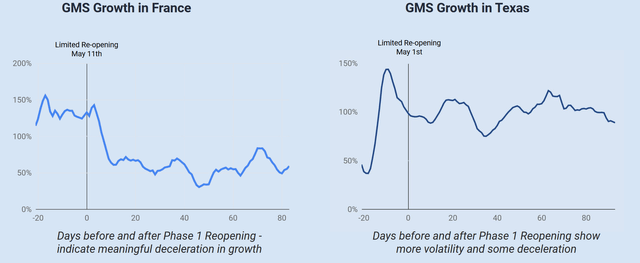 Source: Etsy Investor Presentation
Growth deceleration would take away from the stellar quarter that Etsy just posted, even as it heads into its two seasonally strongest quarters. YoY growth is not a question, that will be there - the sequential growth is likely where Etsy will struggle to show improvement on. And that's totally fine, until the next 2Q where YoY growth will be a key metric to look at. Etsy is still guiding 80% to 110% GMS growth for Q3, so the company is expecting strength to continue.
As such, it seems that the previous quarter isn't just going to be a one-time event of growth for Etsy, or even a pull-forward effect. With the guidance, growth in customers and repeat/habitual ones, it looks like Etsy has established itself a new base of growth starting at $2 billion in GMS. With that in mind, $4 billion in quarterly GMS should be possible by late next year or early 2022, and Etsy could see up to a quarter billion in quarterly net income, a 150% increase to Q2.
Etsy still has a lot of room to grow ahead, with it having just 5% of its defined $100 billion TAM in the 'special' e-commerce space. Weakness arising from GMS deceleration due to reopening procedures could be in play, but Etsy's wide range of listings and categories allows it to capture a broad market. Growth in the top categories was significantly strong and is expected to continue to be strong in the next two quarters due to seasonal trends.
Rising amounts of buyers, from new to repeat and habitual, will continue to boost GMS as more buyers should equal more purchases. Etsy could be on its way to post $4 billion in GMS and up to $250 million in net incomes as early as 2022 if it can continue to capitalize on the growth trends that it saw during the previous quarter and use that as a new baseline for growth.