Summary
After a rip-roaring rally in July and August, gold and silver have lost momentum and flatlined.
Ironically, now is the best time to buy gold and silver, when the dust from their mid-year rallies has settled.
A catalyst could be the US central bank meeting this week. Expect the Fed to step in to calm fragile nerves with promises of low interest rates and more liquidity.
Amidst the sharp equity sell-off of late, the precious metals market has quietened down, not able to raise media and investor interest like it once managed to in July and early August. This was certainly not a long time back, but it is an age in the financial markets.
As they say, the market has a short-term memory, and it is easy to have one's attention drawn to something that is moving (i.e. the meltdown in equities) and lose sight of something that was once glittering but has now flatlined. Now however, is an opportune time to buy into gold and silver.
Since mid-August, gold (GLD) and silver (SLV) have been stuck in very boring trading ranges that have been getting increasingly narrow.
Look at the chart of gold below, and notice its increasingly confined trading range. Swing highs are increasingly lower and swing lows are increasingly higher. Volume has been steadily declining too after gold hit record highs.
Daily Chart: XAU/USD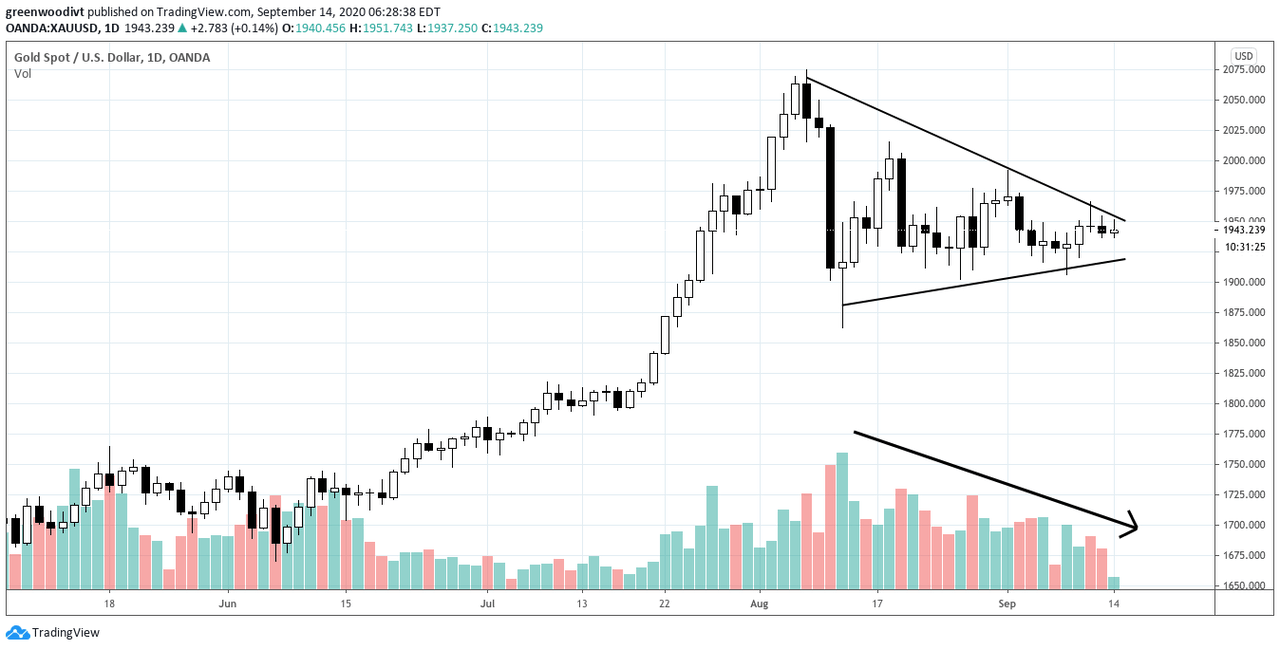 The story is the same for silver. In the chart below, you may observe the same contraction in trading range and volume.
Daily Chart: XAG/USD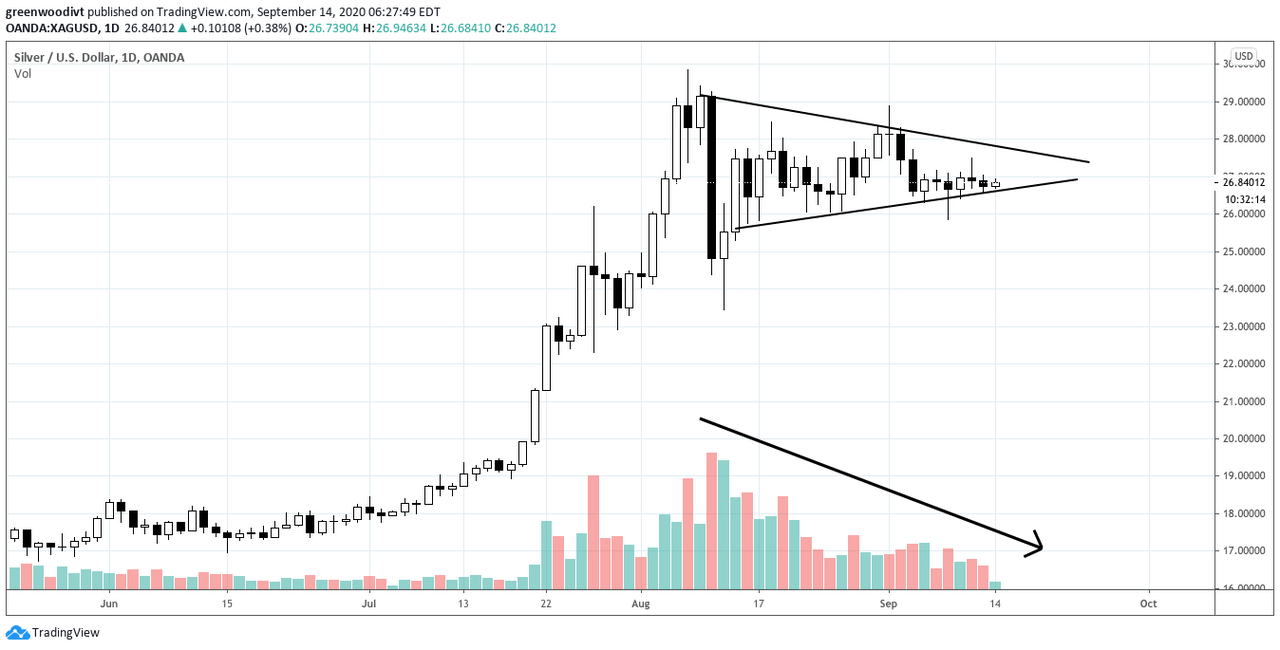 Well, if no one is interested in gold and silver anymore, we should just abandon trading it, right? Ironically, this is the best time to venture into these markets and build long positions.
For starters, we must establish if gold and silver are on uptrends, or not. If not, we should definitely not be looking to build long positions in these markets.
There are two levels of interest that I have drawn in the chart below. First, gold rallied out of its 2013-2019 base in the middle of last year, and this breakout places it on an uptrend. Second, gold is now stalling and consolidating at its previous all-time high. It is normal to see this level exhibiting a high degree of stickiness, but once the market is done consolidating, it will be ready to continue its uptrend.
Weekly Chart: XAU/USD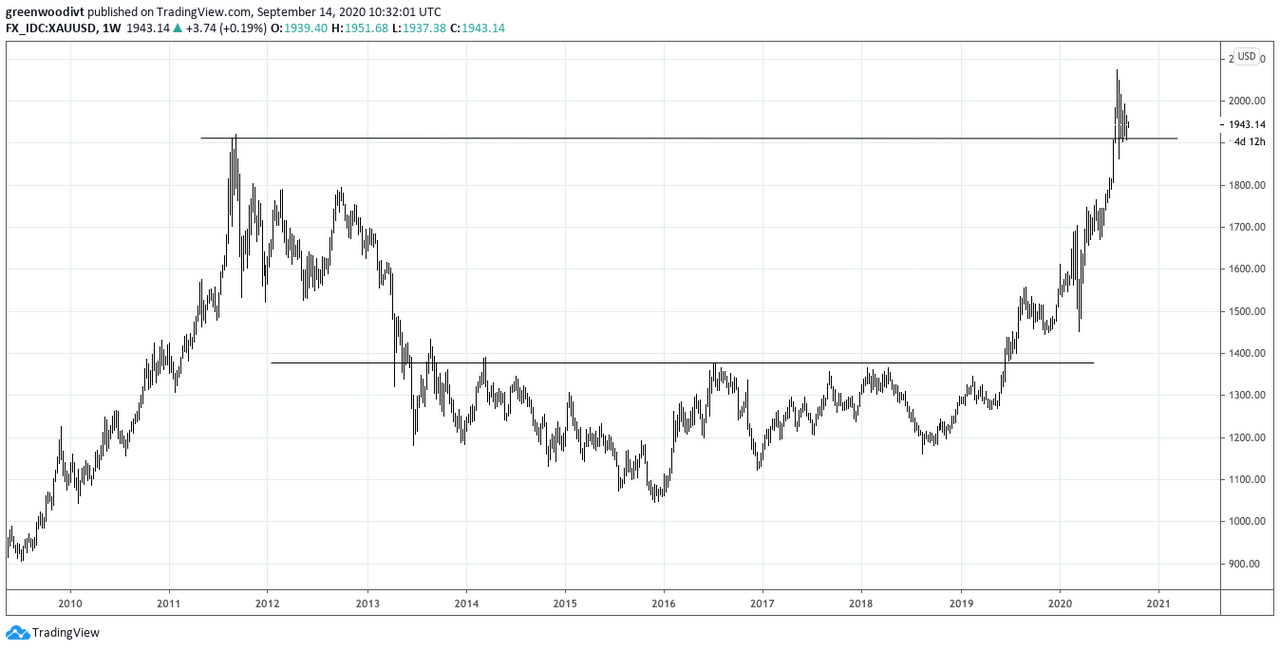 More of a laggard, silver broke out of its base only this year, and is on an uptrend. Prices are taking a breather after a sharp run up this year, which is fully normal. What makes silver more exciting than gold is that if the precious metal rally continues, it has far more ground to eat up on its way to its record high in 2011.
Weekly Chart: XAG/USD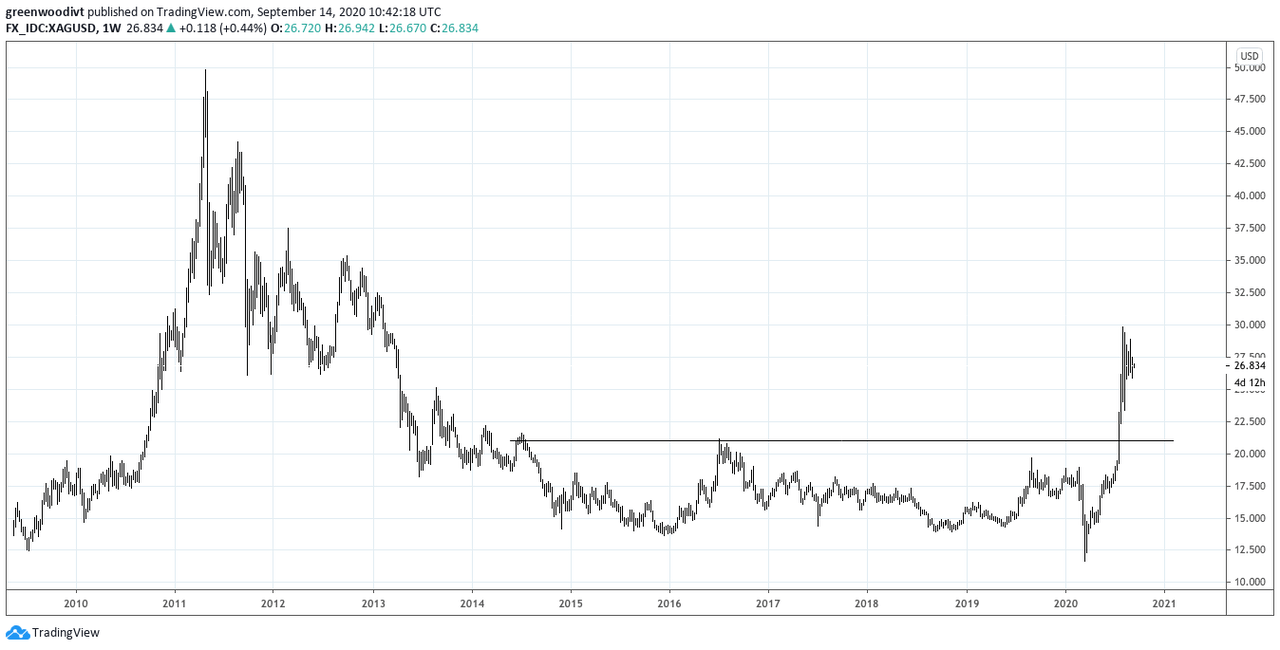 For traders who missed the rallies in gold and silver, the period of consolidation both are going through now is a gift. This presents an opportunity to build or add to long positions to potentially catch the next leg up in the uptrend.
Uptrends can fail of course, but now is a more opportune time to take on risk as a period of consolidation allows us to more effectively size up the risk-reward dynamic. You know you should exit the position if gold or silver breaks out lower from the trading range drawn in the charts above. Hence, you do not have to pay a lot to find out you are wrong. On the flip-side, if you go long amidst a rip-roaring rally, where can you reasonably place your stop loss to protect your capital?
An upcoming catalyst is the US central bank meeting this week. The Federal Reserve has pulled all stops to assure the financial markets that interest rates will remain low for the foreseeable future, and we can expect more of the same this week. Consider also that sentiment in equity markets has been fragile of late; it is probably not in the best interest of the Fed to sound overly hawkish now.
Since the Great Financial Crisis, low interest rates (Fed Funds Effective Rate in blue) has generally provided a supportive backdrop for gold and silver prices (in orange and pink respectively). You may observe how precious metals prices respond to a period where interest rates fall dramatically (shaded in green), and in periods where interest rates rise dramatically (shaded in red).
Fed Funds Effective Rate (in blue), gold (in orange), silver (in pink)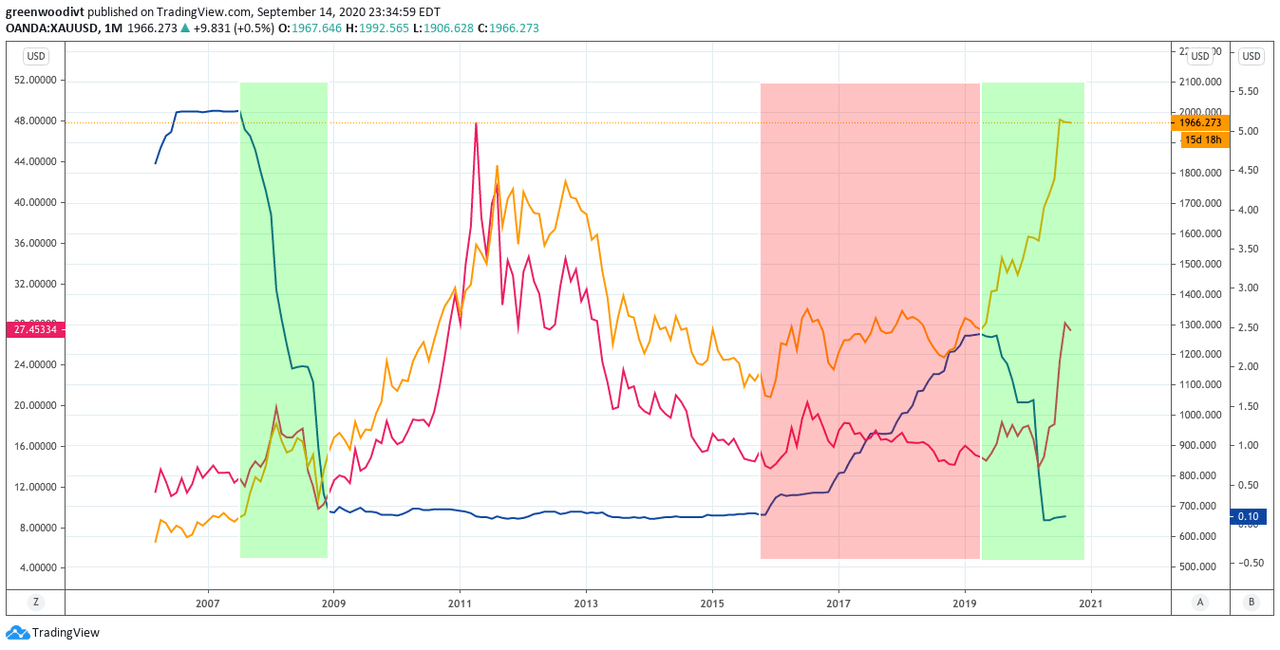 Going back to the 1970s, you may also observe below that low interest rates (Fed Funds Effective Rate in blue) have been a dampener on the US Dollar (Dollar Index in orange). Periods where interest rates fell dramatically are shaded in red, which coincided with a weak Greenback.
Fed Funds Effective Rate (in blue), Dollar Index (in orange)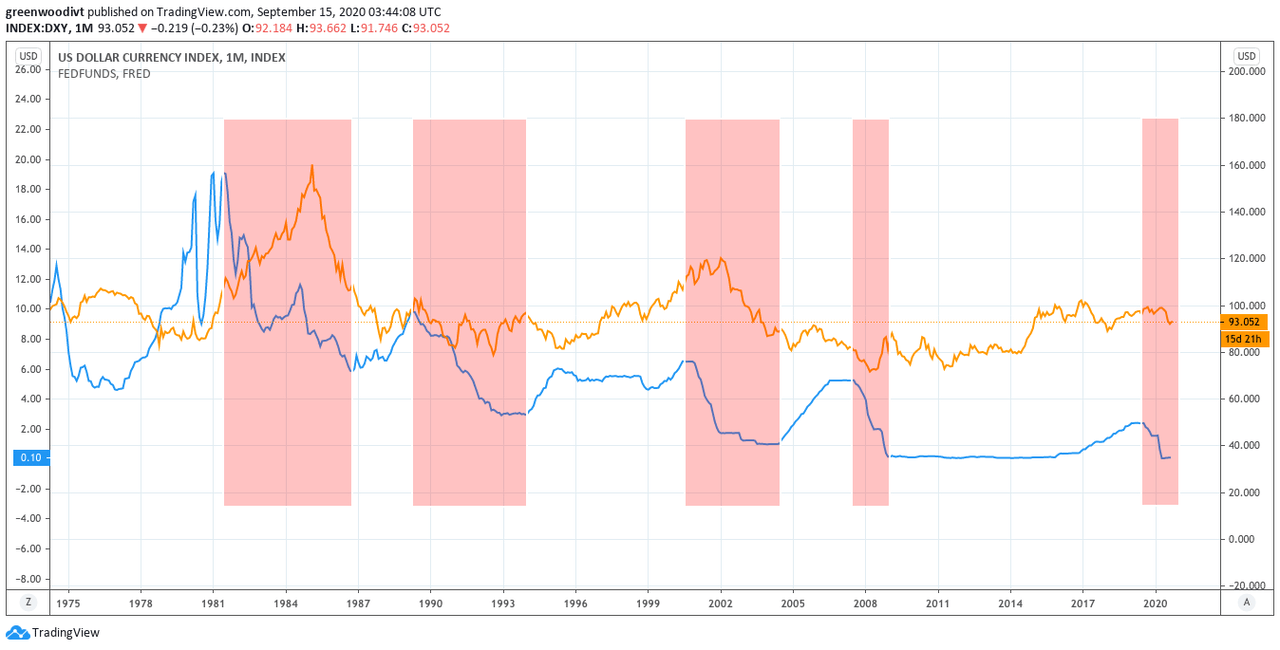 In summary, gold and silver have been in consolidation phase after enjoying immense rallies in July and August. The timing is ripe to enter or add to long gold and silver positions, and the Fed meeting this week could supply the catalyst for gold and silver prices to restart their engines.
More of the same will be expected by the Fed (i.e. keeping interest rates low for a prolonged period of time), which committee will be careful not to roil an already-fragile equity market. Promises of low interest rates in the foreseeable future could be calming balm for equities and rocket fuel for precious metals.
Since launching on 1 June 2019, my technical analysis service has banked an absolute return of +184.3% with 70 trade recommendations as of 10 September 2020 with an average holding period of 4.99 weeks per trade. Do check out my Marketplace Service at The Naked Charts!
Disclosure: I am/we are long SLV. I wrote this article myself, and it expresses my own opinions. I am not receiving compensation for it (other than from Seeking Alpha). I have no business relationship with any company whose stock is mentioned in this article.