Loonie Could See Significant Fall In Event Of U.S. Dollar Recovery
Includes:
FXC
by: Discount Fountain
Summary
The Canadian dollar has shown some growth against the greenback, but comparatively less than that of other majors.
Inflation remains very low in Canada, in large part due to weaker energy demand.
Should we see a recovery in the greenback, I anticipate that the loonie will take a disproportionately larger hit than other majors.
Although the Canadian dollar has made gains against the greenback this year, growth in the currency has been comparatively less than that of other majors: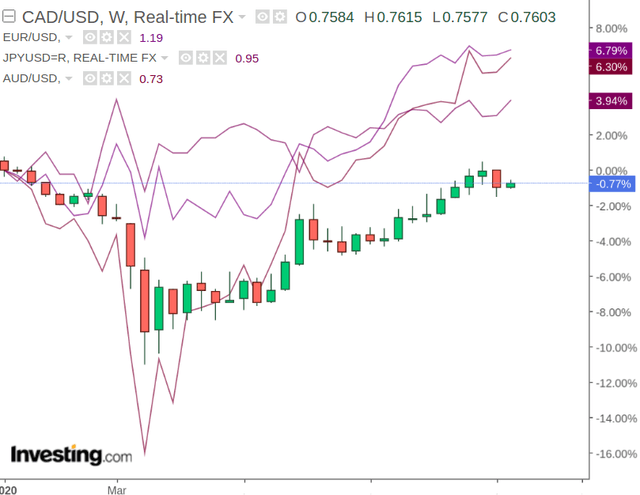 Source: investing.com
Oil prices have seen a strong decline as a result of COVID-19, largely due to weaker demand, which has hurt Canadian oil exporters. Consequently, the loonie has seen weakness as a result of lower demand.
We can see that while Brent crude oil prices have made somewhat of a recovery since March, price still remains well below 2019 levels: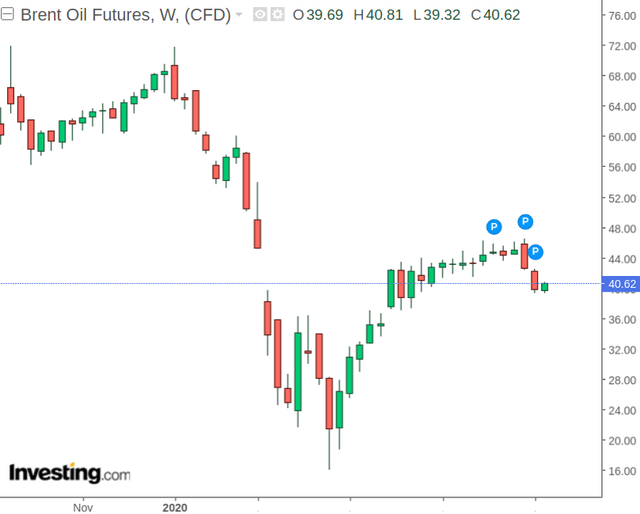 Source: investing.com
Concerning monetary policy in Canada, the Bank of Canada has chosen to continue its path of quantitative easing even though a decision has been made to keep the overnight rate at a lower bound of 0.25 percent.
Going forward, the Bank of Canada expects to hold inflation at the lower bound until inflation reaches near the 2 percent target once again.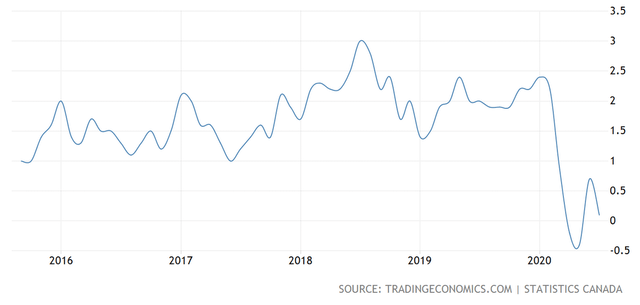 Source: tradingeconomics.com
With inflation currently near 0 percent, it will likely take some time before we see significant price growth. Even with the central bank reporting that household spending had rebounded sharply over the summer, downward pressure from energy prices and travel services continues to place downward pressure on overall price growth.
In many ways, monetary policy is limited in the extent to which price growth can be reignited once again - as much of this depends on the future trajectory of COVID-19 and whether we can expect to see a strong rebound in the airline industry in the coming year - the IEA is forecasting that oil demand will continue to remain significantly below pre-pandemic levels, owing to continued weakness in the aviation industry.
Moreover, while the CAD/USD has been seeing growth since March, this has largely been due to dollar weakness rather than loonie strength. The United States currently has the highest number of deaths from COVID-19 and accounts for just over a quarter of the world's total. I anticipate that the dollar will continue to see weakness as long as this remains the case.
That said, with a "second wave" of the virus becoming apparent in Europe along with potentially increased volatility in the greenback as a result of the upcoming U.S. Presidential Elections in November, we could start to see the dollar bottom out going forward.
In this regard, the loonie could see further depreciation from here. Inflation still remains very low, as is the case with Europe - but we have seen the EUR/USD rise to above 1.20 due in large part to lower COVID-19 cases during the summer.
That said, daily cases in Canada have started to spike up again, as with many other parts of the world: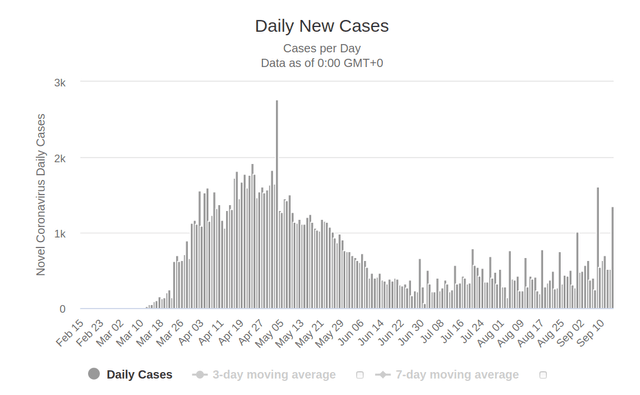 Source: worldometers.info
Taking low energy demand and rising cases into account, I fail to see any bullish case for the loonie at this point in time. The currency might see some further growth against the U.S. dollar should cases continue to grow disproportionately in the United States. However, I expect that given signs of a recovery in the dollar going forward, the loonie stands to take a larger hit than other major currencies.
Disclosure: I/we have no positions in any stocks mentioned, and no plans to initiate any positions within the next 72 hours. I wrote this article myself, and it expresses my own opinions. I am not receiving compensation for it (other than from Seeking Alpha). I have no business relationship with any company whose stock is mentioned in this article.