The Treasury's $12 billion reopening of CUSIP 912828ZZ6, creating a 9-year, 10-month Treasury Inflation-Protected Security, auctioned Thursday with a real yield to maturity of -0.966%, the lowest yield for any auction of this term.
Continuing a recent trend in TIPS auctions, the real yield ticked a bit higher than expected, possibly indicating weakish demand from investors. At 11 a.m., two hours before the auction's close, this TIPS was trading on the secondary market with a real yield of -1.00%, and even at 12:41 p.m., it was trading at -0.98%. So investors managed to snag a higher return albeit only slightly higher.
A TIPS is an investment that pays a coupon rate well below that of other Treasury investments of the same term. But with a TIPS, the principal balance adjusts each month (usually up, but sometimes down) to match the current U.S. inflation rate. So, the "real yield to maturity" of a TIPS indicates how much an investor will earn above (or below) inflation.
In this case, CUSIP 912828ZZ6 already carries a coupon rate of 0.125%, based on the originating auction on July 23, which set the previous all-time low-yield for this term, at -0.93%. Investors at today's auction had to pay a huge premium for that 0.125% coupon rate, with the adjusted auction price coming in at about $112.39 for about $101.40 of principal, after accrued inflation is added in.
A "negative real yield" does not mean that investors will get a negative return. It means that investors at today's auction are willing to accept a return that will lag official U.S. inflation by 0.966% over the next 10 years. That negative real yield reflects the reality of nominal Treasury yields - the 10-year Treasury note is yielding 0.68%, also likely to lag future inflation.
Real yields have declined sharply since the beginning of 2020, primarily caused by the Federal Reserve's bond-buying quantitative easing program, which was launched in mid-March amid market turmoil. The Fed has said it will hold short-term interest rates near zero, possibly through 2023, and has demonstrated willingness to hold nominal 10-year Treasury yields in a range around 0.70%. A negative real yield may or may not stimulate the U.S. economy, but it definitely supports stock prices, because low yields drive investors out of safe investments.
Here is the year-to-date trend in the 10-year real yield, showing the brief spike in mid-March amid turmoil in the stock and bond markets. The Fed began its bond-buying program on March 23, immediately driving real yields lower:
Inflation break-even rate
With a nominal 10-year Treasury note trading at 0.68% at 1 p.m., this TIPS gets an inflation break-even rate of 1.65%, a reasonable number. Inflation over the last 10 years, ending in August, has averaged 1.8%. This number means that if inflation averages more than 1.65% over the next 10 years, this TIPS will outperform a nominal Treasury of the same term.
Remember, the Federal Reserve has a stated policy to drive inflation higher than 2.0%, possibly much higher, and let it continue there without any monetary tightening. If the Fed is successful, this TIPS could be a stellar investment, even with a real yield deeply negative to inflation. But quantitative easing has failed to spur inflation over the last 10 years.
Here is the year-to-date trend in the 10-year inflation break-even rate, with the deep dive in March probably more related to market turmoil than to actual inflation expectations:

It is significant, though, that the inflation breakeven rate didn't continue to expand higher with this auction. At the originating auction, on July 23, it came in at 1.52%, and had dipped as low as 0.43% in a tumultuous 10-year TIPS reopening on March 19. Is it possible that inflation break-evens are beginning to stabilize? If that is true, TIPS should begin tracking more closely with nominal Treasurys.
Reaction to the auction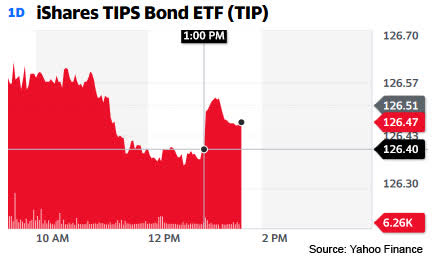 Although the real yield rose slightly higher than expectations, the auction's bid-to-cover ratio was 2.65, which is considered a sign of a positive auction. At the July 23 originating auction, the bid-to-cover ratio was much lower, at 2.24.
The TIP ETF, which holds the full range of TIPS maturities, had been trading slightly lower all morning (indicating slightly higher yields) and it took a slight pop higher right after the auction's close at 1 p.m. It looks like this auction met expectations.
At this point, as bad as TIPS real yields look, they appear to be realistically in line with nominal yields and future inflation expectations.
CUSIP 912828ZZ6 will have one more reopening auction, on November 19, the last 10-year TIPS auction of 2020. Here are the results of 9- to 10-year TIPS auctions over the last two years, showing that since January 2019, 10-year real yields have fallen a remarkable 189 basis points: