Planet 13 Holdings Inc. (OTCQX:PLNHF) is a vertically integrated cannabis company. In my view, the company offers investors compelling exposure to the growing cannabis market through several angles. Moreover, I'd say it's fair to consider PLNHF a growth company, as it's expanding aggressively throughout Nevada and plans to grow nationwide eventually. Hence, PLNHF undoubtedly gives investors a great investment opportunity in the sector.
This is why I believe the underlying business is an excellent long-term hold, as it's likely it'll do well over time. However, the stock is currently pricing in several years of future growth, making it relatively expensive. Finally, my valuation model suggests that the company is, at best, fairly valued at these levels. And since my model's inputs are quite optimistic, I conclude it's prudent to wait for lower prices. In particular, I think $2 to $2.25 per share would be attractive from an investment perspective.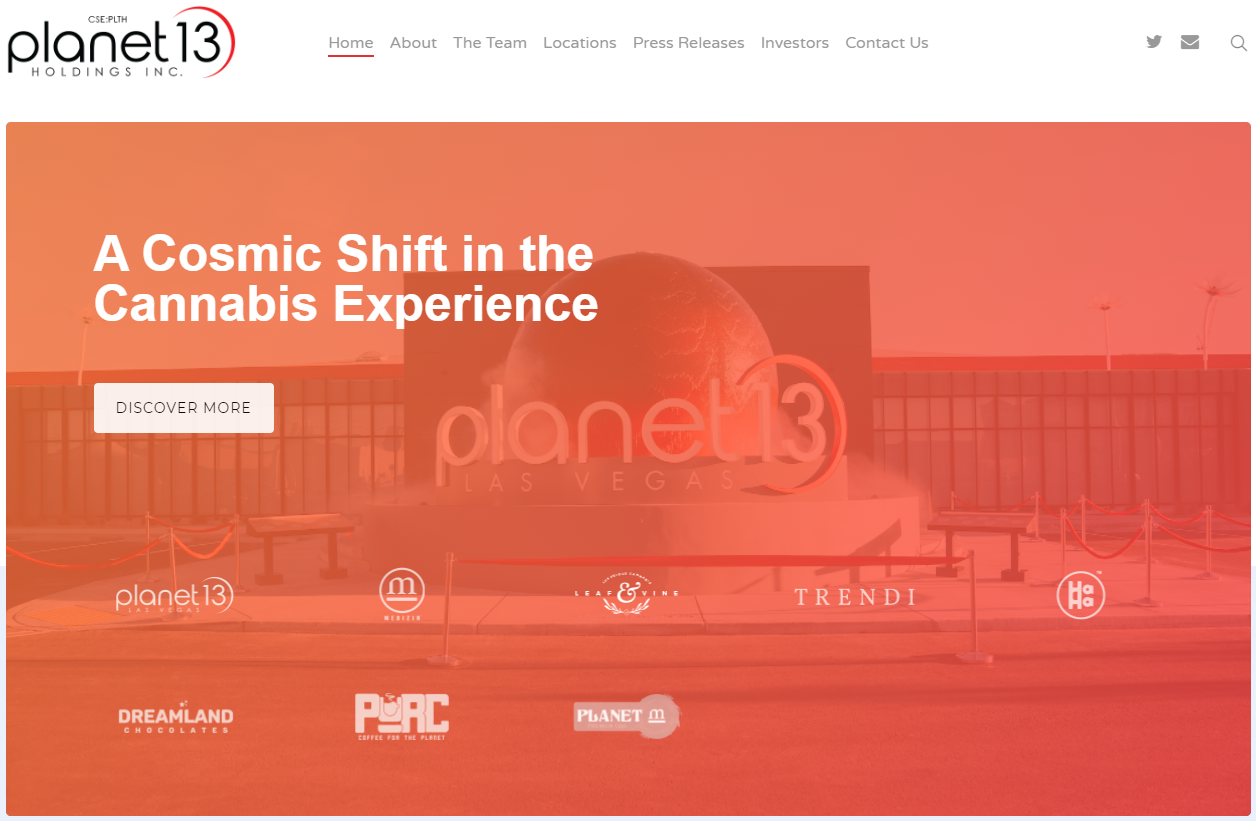 Source: Company website
Overview
One of the most compelling arguments in favor of PLNHF is that it's vertically integrated. Its operations go from cultivating cannabis to branding innovative product variations and selling them through their retail stores. Moreover, PLNHF's stores themselves are quite differentiated from other regular dispensaries. And this is where PLNHF's stock truly shines.
You see, management is intently focused on delivering a differentiated customer experience for cannabis. This is why PLNHF is quite an individual stock in this sector. It reaps profits through every instance of its chain of production, adding value along each step. In turn, this allows PLNHF to reap the benefits of differentiation and a compelling value proposition through top line growth and healthy margins.
Source: Planet 13 often has overall positive reviews.
Growth potential
This is why it's not surprising that the company is quickly gaining market share in its primary market: Nevada. Currently, the company has roughly 9% of Nevada's cannabis market share. However, given the company's success, it's entirely possible to see that figure trend higher over time. Furthermore, the company has several potential expansion opportunities. Generally speaking, management has stated that any city that's affluent enough to support a major sports team is fair game for a new premium cannabis store. Since PLNHF is mostly a Nevada operation right now, this means its expansion plans are just starting.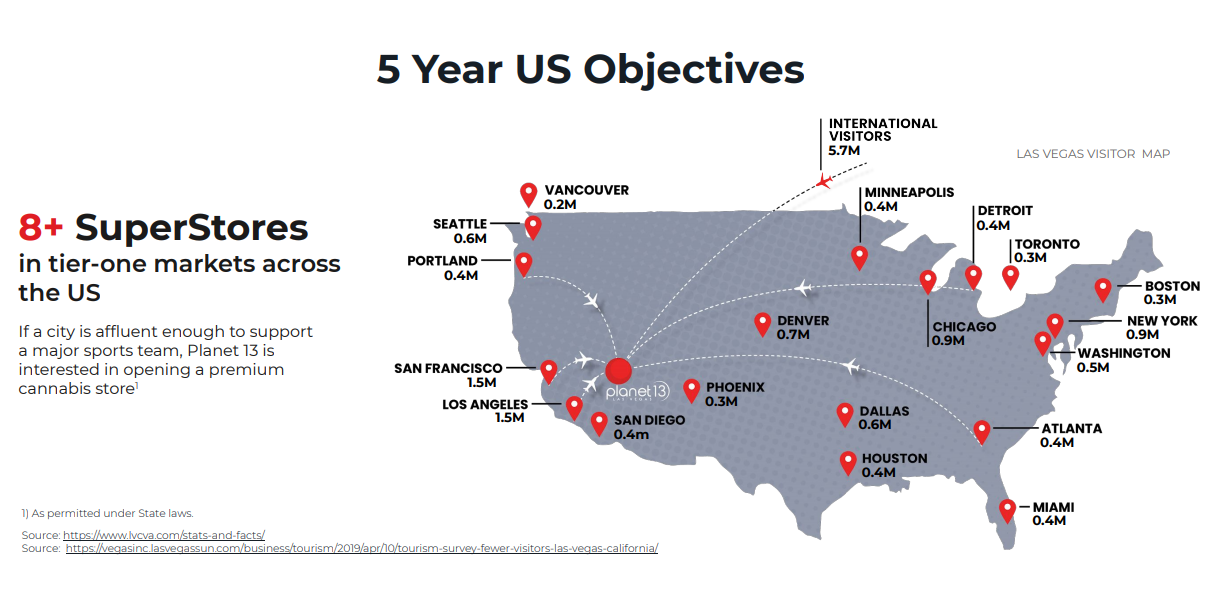 Source: PLNHF's investor presentation
This is quite exciting, as investing today in PLNHF offers investors the opportunity to ride a promising company's initial growth stages. In my experience, it's at this stage that stocks tend to perform better because revenues can snowball as companies merely replicate their business formula over other territories.
As it stands, PLNHF's next target is California. I believe this is going to be another successful expansion for the company. After all, California is well known for its cannabis-friendly policies and population. Also, it presents an enormous market opportunity for PLNHF, as it's roughly 14.3% of the total US economy. In my view, this market alone can potentially fuel the company's explosive growth for many years (maybe even decades) as it's practically 18.1 times larger than Nevada's economy!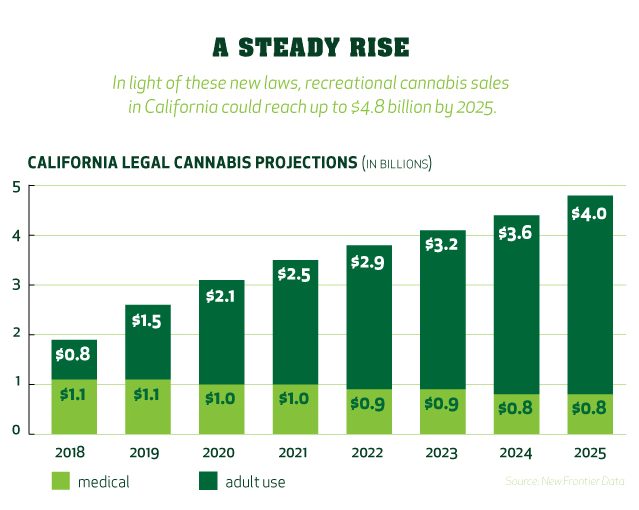 Source: Visual Capitalist
Ready for nationwide expansion
It's also worth noting that PLNHF's balance sheet is relatively healthy. After its recent offering, PLNHF's cash reserves now sit at $22.72 million (Q2 2020), with little to no debt. However, PLNHF does have roughly $0.8 million in notes due this year. Plus, PLNHF's long-term leases stand at approximately $15 million. So, while it's fair to say that the company probably has enough liquidity to fund its immediate growth projects, it's also true that there's little margin for error.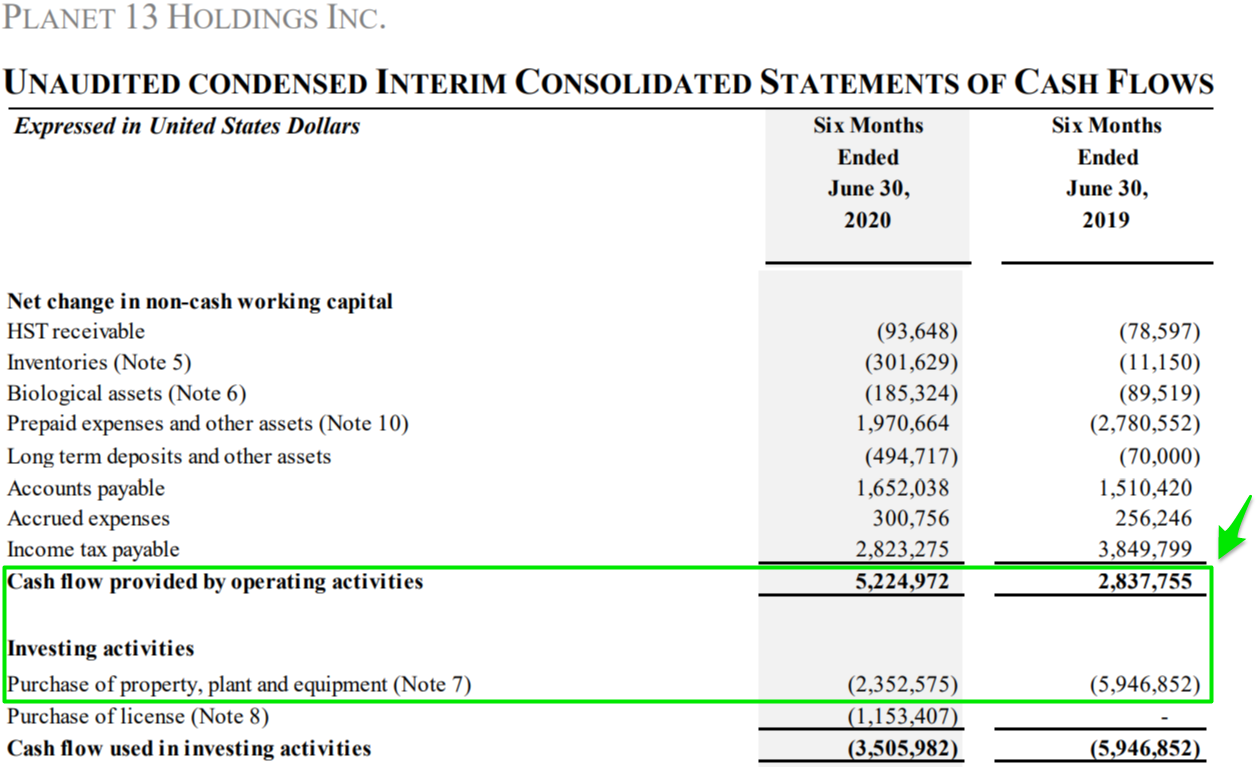 Source: PLNHF's Q2 financials
Fortunately, PLNHF's cash from operations minus CAPEX for 1H 2020 remained positive throughout the Covid-19 pandemic, which shows how resilient the company's business can be. The company's response to the recent economic shutdown shows that it can be financially quite nimble. This is impressive because, despite being a retailer, PLNHF managed to have a decent Q2. All while the pandemic sent several other retailers into bankruptcies! Therefore, PLNHF's internal FCF should be capable of helping fund expansion efforts. Consequently, I believe PLNHF is in a suitable position to deliver on its expansion promises.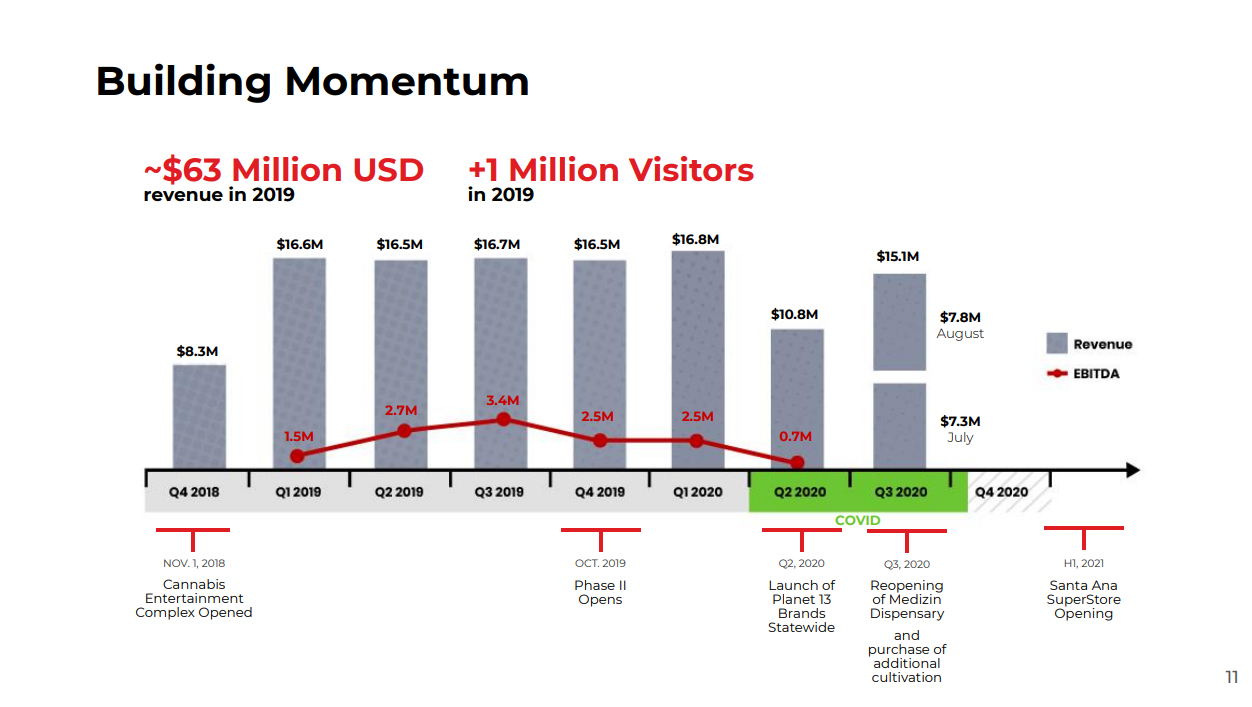 Source: PLNHF's investor presentation
Indeed, it's impressive to see a company with such active expansion plans during an economic recession. Naturally, management is betting on a swift US economic recovery. In my view, while this strategy is not without its risks, it is likely to succeed due to the Fed's unprecedented monetary stimulus. Accordingly, if all goes as planned, PLNHF will have another superstore by 1H 2021, plus additional production capacity.
Consequently, this will also put PLNHF well on its way to achieve its 5-year plan of building a whopping eight superstores nationwide. And if management succeeds at this ambitious goal, it could quickly multiply many times its revenue potential. After all, PLNHF currently mostly operates one superstore in Nevada. Thus, if future superstores are as profitable as Nevada's, then PLNHF will grow as much as eight times over the next five years. Naturally, I don't expect this will necessarily be the case, as Nevada is quite a unique location. And it's not prudent to make such bold assumptions from an investment standpoint. Nevertheless, the company unquestionably has outstanding growth potential.
Valuation
As for the company's valuation, I decided to look at its FCF potential. For my model, I tried to capture PLNHF's growth potential through an overly optimistic 2025 estimate and a relatively reasonable 2021. Then I used the company's current FCF margins and forecasted them into my projected revenue values.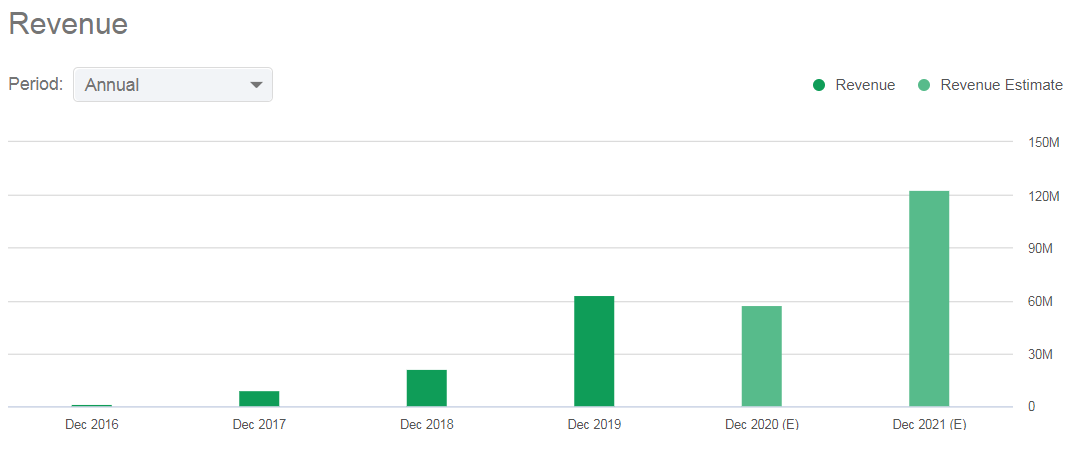 Source: Seeking Alpha
As you can see, my valuation model suggests that the company is reasonably valued. However, I must once again stress the fact that I used astonishingly aggressive inputs. For example, my model's discount rate is relatively low at just 5.85%. This is a technically fair discount rate, according to the CAPM. However, it's likely going to be too low for investors who expect returns higher than 10% over the long term.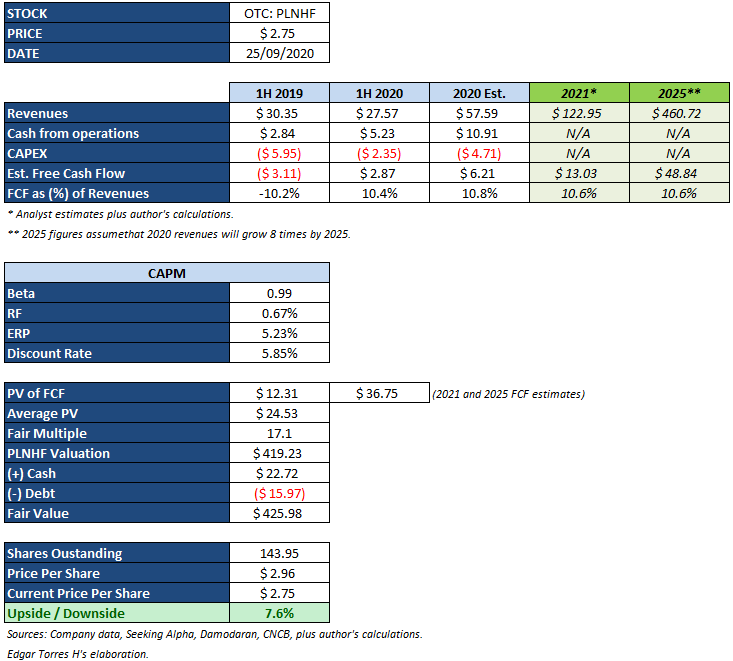 Furthermore, while the company does have tremendous growth potential, they also have considerable execution risks. First, we're in the middle of a pandemic and an economic recession, which is a challenge by itself. Similarly, penetrating new markets might not be as easy as management anticipates, and its future superstores could significantly underperform expectations. Lastly, new competitors will likely emerge and try to replicate PLNHF's success formula, which could pressure margins.
Conclusion
Overall, I think the company has a promising future. It's undeniable that its products and innovative value proposition through unique experiences is resonating with consumers. And given that the company has all the necessary resources to pull off its expansion plans, it's likely that PLNHF will grow into a cash machine over the long term.
Nevertheless, note that my valuation model might be too lenient. And even under such optimistic assumptions, the stock is at best fairly valued. In my opinion, this means the shares are entirely ignoring any unforeseen events that could set back PLNHF. Therefore, I consider the prudent approach is to wait for a pullback down to $2-$2.25 per share before initiating a position. Until then, PLNHF is undoubtedly worth keeping on a watchlist.
Thank you for reading and good luck.