Written by Nick Ackerman, co-produced by Stanford Chemist
KKR Income Opportunities Fund (NYSE:KIO) is a fund that invests primarily in leveraged loans and high-yield securities, both of which generally carry a junk rating. Specifically, over 27% of the portfolio is listed as being CCC+. This is only a couple of notches above D-rated bonds or those that are already in default. With that large exposure to this lowly-rated debt, I couldn't get behind this fund unless it was a more speculative play - at best.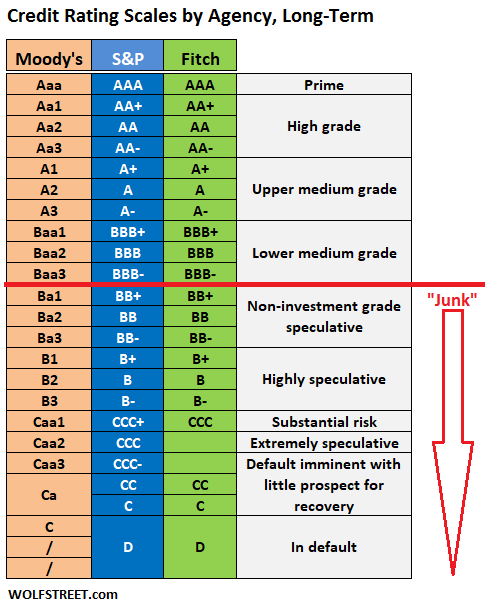 (Source - wolfstreet)
The fund defines KIO as offering investors "potential for attractive levels of current income through monthly distributions, a targeted portfolio investing primarily in bank loans and high yield securities and KKR Credit's consistent approach and strong credit investment process that seeks to adapt credit strategies to market conditions."
More about the advisor: "KKR Credit Advisors (US) LLC (the "Advisor") serves as the Fund's investment advisor. Launched in 2004, the Advisor is a subsidiary of KKR & Co. Inc. (together with the Advisor and its other affiliates, "KKR"), a leading global investment firm with more than a 44-year history of leadership, innovation and investment. The Advisor's investment teams, which are organized by industry, invest across the capital structure with the goal of protecting capital and achieving attractive risk-adjusted returns."
Though the advisor and firm have been around for 44 years, KIO is still relatively newer as only being launched in 2013. This last black swan event earlier in 2020 (and that we are still living through) was the first true test on the fund. To be on the higher end of the risk spectrum, they have performed rather well I would say. This was helped as senior loans and high yield has actually performed a rather remarkable recovery after the crash. Interestingly, this does seem to be helped by the Fed as they put a floor in most of the riskiest areas of the market. The real question is if the Fed will continue to provide this floor going forward. We aren't out of the pandemic yet, and there are sectors of the economy that are still hurting tremendously.
The fund is a fairly sized one at $410 million in total managed assets. The fund does utilize leverage, this also increases risks to the downside - but can assist in the upside as well. Currently, the fund utilizes about 32% leverage. The fund did seem like they had to delever through the sell-off. This could have permanently damaged their NAV as they sold assets off at rock-bottom prices.
I believe this to be the case as they reported on April 30th, 2019 that they had borrowings of $147,855,377. For their latest Semi-Annual Report ending April 30th, 2020, they put average borrowings at $106,427,550. However, they have released a Fact Sheet for the period ending June 30th, 2020 - where leverage outstanding was $132,314,315 - as they add leverage back to their portfolio.
The last reported expense ratio was 3.9%. Though that doesn't include the interest expenses, which they don't provide. On CEFConnect they show that as of 10/31/2019, their expenses were 3.38%, with 1.34% in interest expenses. Either way, it is a relatively higher expense ratio than what we see for other funds. Most of their assets are in level 2 securities though, that don't trade on a public exchange. This can increase costs and can explain at least some of the higher expenses that we see with this fund.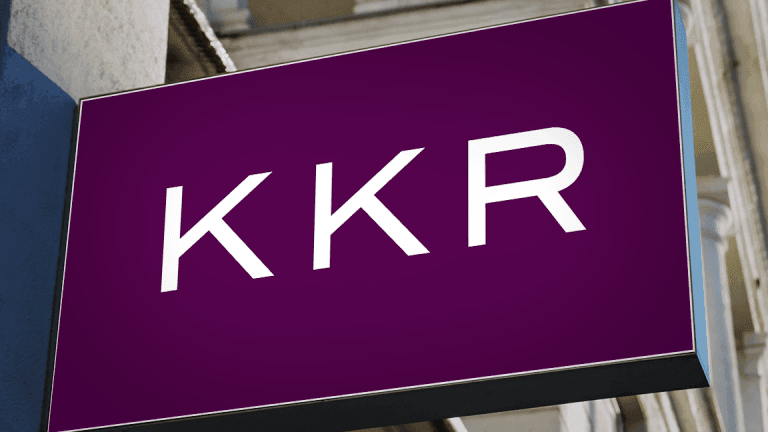 (Source)
Performance - Relatively Unscathed So Far, Helped By Fed Support
As previously mentioned, the Fed put a floor in most of the credit out on the market. The Fed pushed the target for interest rates back to 0% too, this could have had a positive effect as investors search for yield. Then finally, the investment-grade portion of their portfolio could have benefited as investors sought safety during this tumultuous year. Regardless, this fund has performed rather well - especially as they are in some of the hardest-hit industries. They also don't have a large focus on tech or anything, that has performed remarkably well this year too.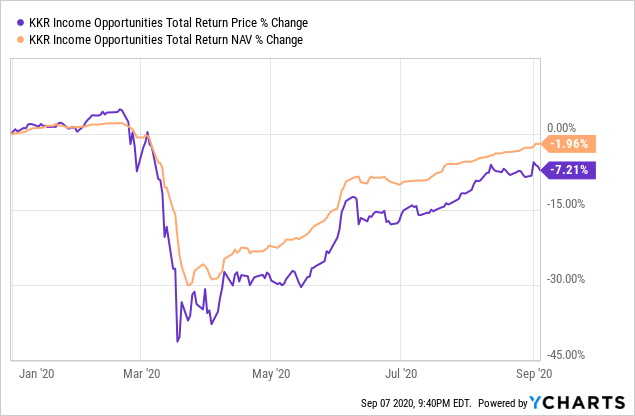 On a total NAV return basis, the fund is only down a couple of percentages. The largest factor for being intrigued by the fund is the widening discount. The fund was previously flirting with premium levels before the collapse. Upon further inspection though, the fund isn't trading at anything too spectacular.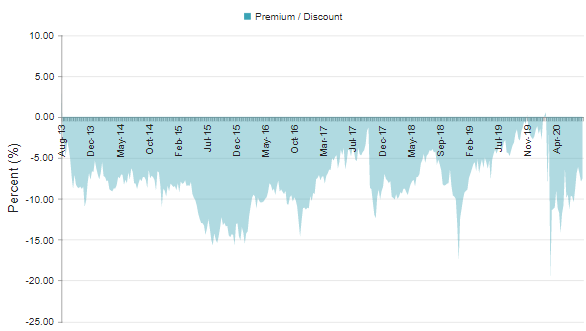 (Source - CEFConnect)
The fund is currently trading at a discount of 6.67%, based on the 1-year average discount of 5.80%; this is giving us a slightly negative z-score of 0.20. However, over the longer-term 5-year mark, we see the average discount is 7.69%. We can also see that as the fund was flirting with premium levels, it was rather briefly at the end of 2019. The good news though, is that since the fund is trading at this current level - it is about average. Meaning that if an investor wanted to pick up the type of exposure that KIO can offer, now wouldn't be a terrible time. Though another correction like we got in March would mean an investor can pick the fund up at significantly steeper discounts from here.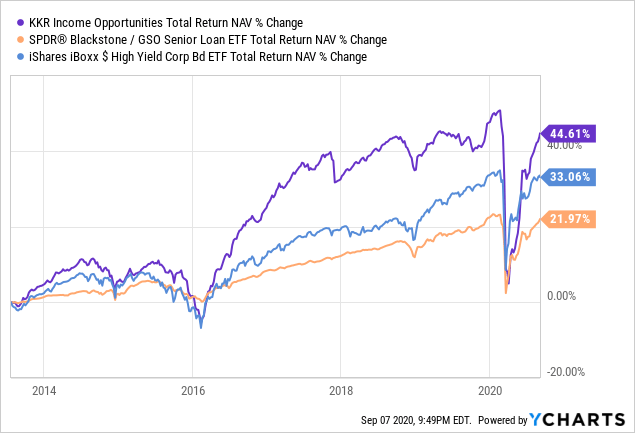 Over the longer term, KIO has been able to easily beat their passive ETF counterparts. The SPDR Blackstone/GSO Senior Loan (SRLN) and the iShares IBoxx $ High Yield Corp Bond (HYG) are passively managed and unleveraged. In that regard, KIO would have been a fine investment if you can handle the volatility that leverage and an actively managed portfolio can bring.
Distribution - Double-Digit Yield But Coverage Slips
KIO is an attractive income investment for investors as they seek higher yields. The fund currently pays a monthly rate of $0.125. This works out to a current distribution yield of 11.05%, a 10.31% distribution yield on the NAV as well. This has also been the same rate the fund has paid since inception. They have even been able to pay special year-end distributions in some years.

(Source - CEFConnect)
The caveat here is that in the latest report, NII coverage slipped. We can take a look at the per-share NII and compare it to the total distributions for the year. This can provide us coverage. We will annualize the last reported amount since it was in their Semi-Annual Report - meaning it was for a 6-month period.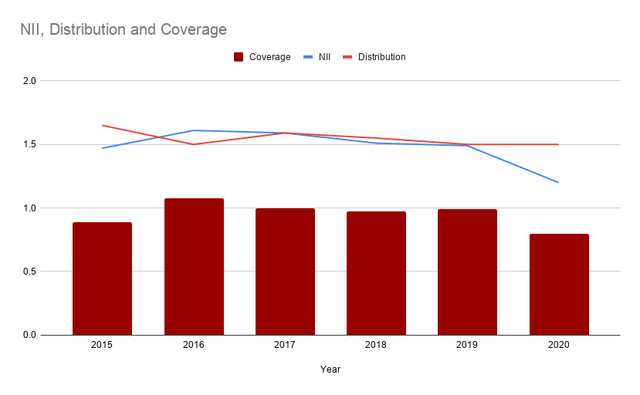 (Source - Financial Highlights, Author Graphed)
As we can see, NII coverage will come at the lowest in the last five years. This is for two reasons. First, the fact that the fund's leverage was reduced. This reduced the number of assets paying income. Secondly, as the Fed cut rates to 0%, this caused the senior loans that are floating rate to lower their coupon payments.
This wasn't offset by the benefits of reduced costs on leverage for the fund. Also, their expenses seemed to rise in lockstep. So, investors weren't able to take advantage of increasing interest rates from 2016 to 2018 either. The expense ratio in 2015 was 2.46%, and this grew to 3.9% for the annualized period ending April 30th.
That being the case, KIO could be on the chopping block for needing an adjustment in their distribution. As a fixed-income fund, they can't reliably expect capital appreciation to be a source for their distribution like equity funds can typically count on.
Stanford Chemist mentioned this in his previous coverage on KIO:
However, looking at the earnings numbers when the 4/31 Semi-Annual Report comes out will be critical, as this would cover the period after the crisis started. This report should be due later this month (last year's was posted on June 24) and investors who hold KIO should be on the lookout for it. If the earnings do not show too great a decline, this would bode well for the distribution safety going forward.
Well, now we have the numbers and he was right to be fairly cautious about this fund's coverage. It is now up to a holder of this position to decide if the drop was significant enough for them to want to exit. At ~87% coverage, it isn't a massive drop, but that also only reflects March and April for that period. Before that, we still had higher interest rates and limited chances for defaults due to economic uncertainty.
Holdings - Heavy Speculation In This Environment
The most interesting thing I first noticed when I looked at this fund was the amount of debt labeled as CCC+. CCC debt is rather risky as it is only a notch or two above bonds that are actually in default at this time - i.e. those that have missed payments. That is some of the riskiest debt out there.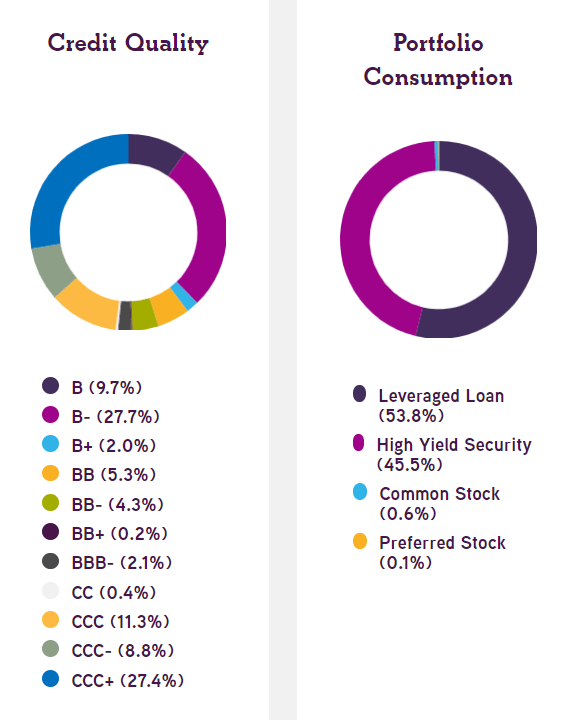 (Source - Fund Website)
Although, the leveraged loans (also called senior loans) that the portfolio holds can act as a balance too. That is because the fund states that these are "first- and second lien secured loans." That means they are some of the first in line to receive funds in the event of a bankruptcy. What we can keep in mind is that high-yield debt hasn't been as fortunate as senior loan offerings. With recovery rates much lower than that of first-lien loans - as mentioned above.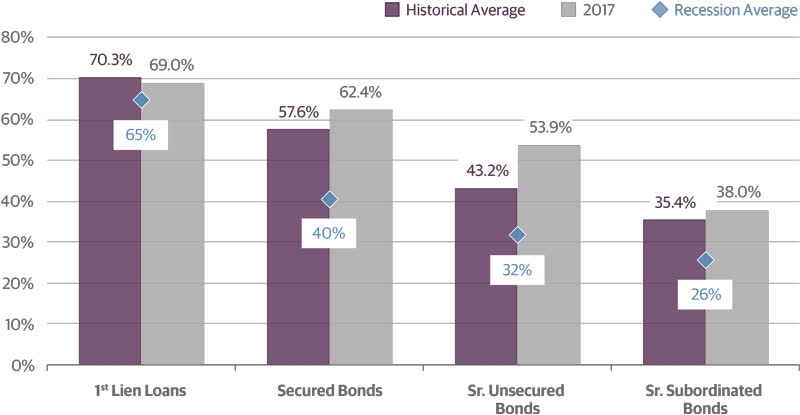 (Source - Guggenheim)
After getting a bit of a shock noticing all the CCC-rated debt, I then moved on. I stumbled across my next shock shortly after noticing that 16.4% of the portfolio is in the industry of "hotels, restaurants & leisure."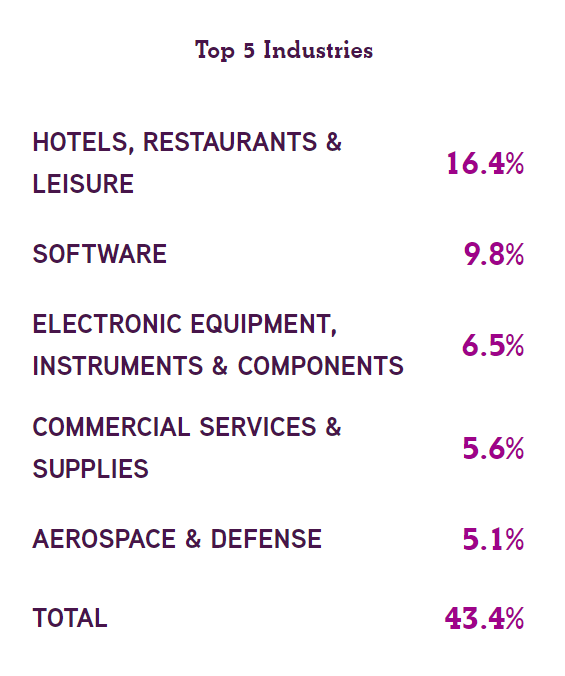 (Source - Fund Website)
That means there is still the majority of the portfolio in other industries. The top 5 make up around 43.4% as well; meaning that the bulk is spread out more broadly. However, that is still a large portion in one of the hardest and most vulnerable areas of the market currently. I do believe that we aren't necessarily completely in the clear with that area of the market. Though I know it will recover one day, it is a question of how much damage will be inflicted along the way.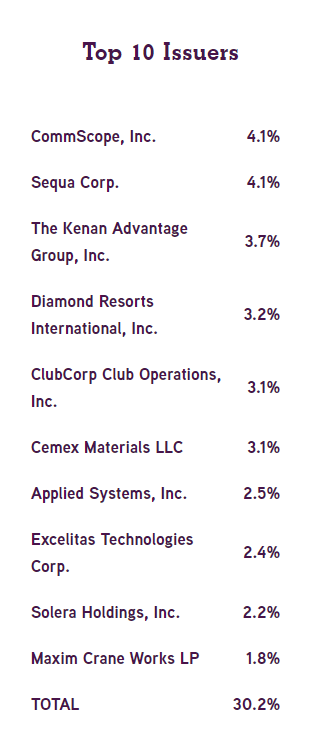 (Source - Fund Website)
They reported having 182 positions. However, their top 10 issuers are relatively concentrated at 30.2% of the overall portfolio. Another stat that KIO provides for their overall portfolio is that duration is 2.47 years. Duration is the measure of how sensitive the underlying portfolio is to changes in interest rates. The lower duration can mean that the underlying portfolio is less volatile. This is helped by a low maturity in the portfolio. The average life to maturity for the portfolio is 6.47 years. Which isn't excessive for a bond fund.
The largest position Commscope Holding Company Inc. (COMM) is through 3 high-yield debt offerings. COMM provides "infrastructure solutions for communications and entertainment networks worldwide." This is surprising as it would seem anything that even seemingly touches tech wouldn't be in rough shape in this environment. However, they have seemingly saddled themselves with large amounts of debt. Though their last quarter earnings saw them beat on both EPS and revenue, for revenue it was a decrease of over 18% in revenue year over year.
Conclusion
I feel that KIO is a rather risky fund at this time. I would personally like a deeper discount before getting too excited. The fund's coverage has dropped this year - thanks to several factors including higher expenses, deleveraging and interest rates going to 0%. Unfortunately, they weren't able to capitalize on the effects of lower interest rates that the Fed brought. Though KIO certainly felt their underlying leveraged loans reduced payments.
However, if an investor is going in with the right mindset, then perhaps an 11% yield and a longer-term average discount are enough to entice them. After all, their distribution coverage had been rather remarkable for years before this latest pandemic hit the economy. The real question is that the damage they reported for a drop in distribution coverage is fairly substantial. That ultimately only reflects two months' worth of 0% interest rates and a recession that started in March. Then, this still has to be weighed against the Fed ultimately putting a floor under these lower-quality junk bond investments.