Uber's (NYSE:UBER) $2.65 billion stock acquisition of Postmates is expected to close sometime in Q1 2021, and with Q4 upcoming, Uber has released a snippet of Postmates' expected contributions to revenue and EBITDA. Yet, food delivery isn't a strong driver of profitability for Uber and likely won't be, given the lack of capitalization on a surge in Eats and slim contribution from Postmates. Uber's long-term growth towards profitability on both its EBITDA forecast and to out-and-out consistent net incomes isn't likely to find much benefit from food delivery.
The acquisition came at a high expense - $2.65 billion in equity dilution, as Uber plans to issue 84 million shares of common stock for 100% of Postmates' diluted equity.
But Postmates isn't offering much for that hefty price tag, as Uber's numbers in its recent filing show.

Source: SA/SEC
Postmates recorded revenues of $267.6 million for 1H 2020, with soaring growth in Q2 - 60% of that $267.6 million came from Q2. Growth did spike across the board for food delivery services as restaurants shifted operations to off-premise, take-out, and delivery due to restrictions.
While Postmates' revenues jumped over 100% YoY, net loss widened 56% YoY to $105 million - it's not going to be a contributor for net income for another couple years, as growth numbers don't point to solid pretax profitability until 2023.
2H 2020 could see Postmates' revenues around $350 million, based on trends in revenues in Q2 and continuing strength in food delivery volume. That puts fiscal year revenue around $610 million, meaning that 2021's estimates are pointing to just under 50% YoY growth - for Postmates, that seems a stretch, given its relatively small market share.
Even with ~$200 million growth estimated for 2022 and 2023, estimates for adjusted EBITDA - how Uber times expected profitability - are marginal. Even in the 'upside' case, adjusted EBITDA barely peaks above $100 million for 2023 - that's just 8% of revenues, while 2021 is not even 1% of segment ANR.
And Uber is now farther from previous forecasts of profitability, so any benefits (even extremely marginal ones) from Postmates will likely be overshadowed. Uber's forecast for profitability taken before the start of the current fiscal year had estimated positive adjusted EBITDA by 2021 - that's currently out of the window.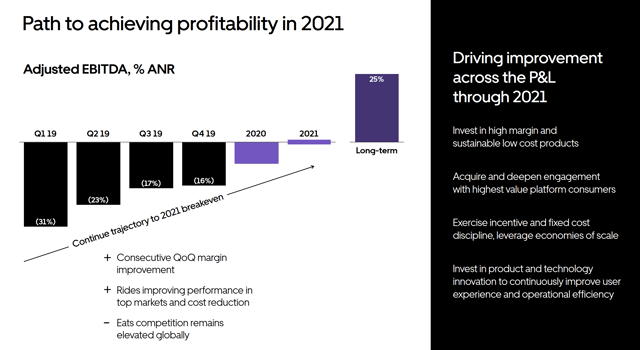 Source: Uber 2020 Investor Presentation
Compare the adjusted EBITDA as a % of adjusted net revenue (or ANR) to Uber's reported figures from Q2. EBITDA has fallen both sequentially and YoY, mainly due to a sharp decline in rides (Mobility segment) during the quarter. However, a surge in growth in Eats (Delivery segment) did nothing to offset this.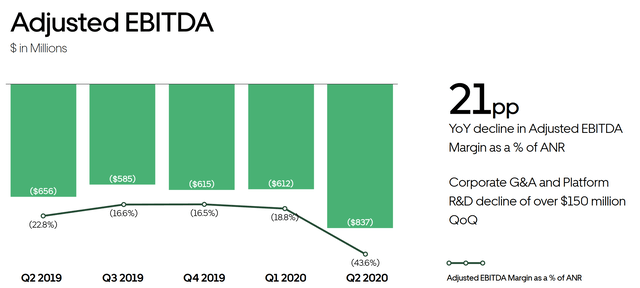 Source: Q2 Presentation
On a segment basis, Mobility provided just $50 million of EBITDA for Q2, 6.3% of ANR; that's a large drop compared to the low-20% range that Mobility typically provides. Delivery posted negative EBITDA of $232 million, (26.2%) of segment ANR, barely capitalizing on 122% growth in bookings.
It's normal to see a drop in EBITDA alongside a drop in ANR. But this acquisition of Postmates doesn't seem to have a strong benefit in terms of driving EBITDA/profitability as the whole Delivery segment (Eats) is not a driver.
Back in August, I revisited Uber's forecast for profitability and adjusted it based on travel trends and the lack of contribution from Delivery:
While much of the $181 million YoY decrease in adjusted EBITDA surfaced from a drastic decline in Mobility EBITDA, Delivery EBITDA did absolutely nothing to offset that decline. But it's not like adjusted EBITDA is better - it's down $225 million QoQ.

As current trends with travel could continue, Uber is still ultra-reliant on Eats to drive its gross bookings, taking nearly 70% for the quarter. But Eats is not contributing to adjusted EBITDA amid high growth, as the segment's adjusted EBITDA is still ($232 million).

[And a]s stated in my previous article in April, '[a]ny increases in revenue for Eats will not set Uber closer to profitability by ANR measures, since the incentivizing factor needed to get drivers to deliver for Eats (poor tipping, cheaper prices, and 25% going to Uber) will not be nearly enough to compensate for declines in passenger rides.'
And that's still the case, even with Postmates.
One main reason that Delivery will struggle to show meaningful benefits to adjusted EBITDA is the necessity of extra incentives to fuel revenues. Postmates is likely to be the same. For 2019, extra incentives for Delivers were 45% of revenues, compared to just 0.4% for Mobility; for 1H 2020, extra incentives have fallen to 30.4% of revenues, compared to 0.15% for Mobility.
Competition and customer overlap are why incentives are needed - I can't count how many $5 and $10 off or 20% discounts I've received from Uber for Eats despite never using that service - that, ultimately, dampens ANR.
Again, much of this was detailed in my article from August; the monthly sales are now updated for August, while the previous article shows charts from both February and June.
Source: Second Measure
As you can see, the sales growth has been tremendous, but market shares are relatively the same - the 1% gain for DoorDash was the 1% that Grubhub (GRUB) lost, while Uber Eats and Postmates were unchanged since June. Uber's ~32% market share is barely higher than Grubhub's 30% in February - market share shift can occur quite quickly. One significantly visible benefit is Uber now having Postmates' 36% share in the Los Angeles metro area.
But the key lies not within the share of the market that Postmates had - it lies within tendencies of customers to still order from competitors. While Uber had targeted its acquisition of Postmates to consolidate the market, gain market share, and aim to boost profitability, it doesn't matter - customers have chosen and still choose to order from those other competitors.

Source: Second Measure

DoorDash emerges as the winner of the customer overlap, with 4 in 10 customers who use competing platforms also ordering from DoorDash. UberEats barely gets 1 in 4 customers who order from Grubhub or DoorDash - a stark difference to DoorDash, and the reason why DoorDash is controlling nearly half of the market.

Uber Eats also took its highest share of customers from Postmates, and vice versa; now that the two will be merged, how much overlap will they be able to take from DoorDash and Grubhub? Postmates lagged far behind in customer overlap, barely getting 1 in 8 to its platform from Grubhub and DoorDash.

While Uber Eats is trying to consolidate the food delivery market into three - itself, DoorDash and Grubhub, customer overlap is not likely to change due to the overall nature of the sector. Uber Eats is also not likely to eclipse DoorDash for the top spot in market share due to DoorDash's dominance in customer overlap.

Uber's acquisition of Postmates is not likely to be a significant driver of market share, although it will provide a much needed boost; DoorDash controls nearly half the market already and is the winner in customer overlap, which Postmates was barely prominent in. The acquisition does not seem to be able to change the flow of customer overlap, as DoorDash has seen the highest uptick.
In addition, partnerships will hurt the profitability picture from the Delivery segment. Uber's and other delivery providers' "partners pay the delivery services lower fees, decreasing their take rates or even causing them to lose money. But the partners often have huge customer pools, many locations and impressive advertising reach, all of which have delivery services betting that joining forces will pay off in the long term." Simply put, partnerships offer far more customers, but leverage to those pools gives the partners the power to command fees - nothing really prevents those partners from in-house delivery. For me,
And subscriptions aren't necessarily the key to success either. Uber offers Eats Pass - one month free, $9.99 per month - which gives unlimited free delivery and 5% off orders over $15. Postmates has Postmates Unlimited, same monthly price (or $99.99/year) for practically an identical subscription. DoorDash offers DashPass, and linked up with Chase to offer credit card holders a free subscription (with caveats).
Uber claims that Postmates is "highly complementary to Uber Eats, with differentiated geographic focus areas and customer demographics, and Postmates' strong relationships with small- and medium-sized restaurants, particularly local favorites that draw customers to the Postmates brand." To a degree, that holds true - Postmates does bring benefits in certain geographies and restaurants, but in terms of overlap, it's not really bringing much strength to the table. Uber also stated that Postmates is an "early pioneer of 'delivery-as-a-service'" - well, it didn't capitalize on that, as market share dropped from 10% in February to 8% in August, as it has the lowest percentage of exclusive customers.
Uber's $2.65 billion equity acquisition of Postmates seems overzealous; growth in Postmates is expected to be just $1.5 billion in 2023, a fraction of what Eats is likely to generate. Postmates' quarterly performance in Q2 showed strong triple-digit revenue growth, but a widening net loss. As revenues are forecast to increase near/above 50% YoY in 2021 from a possible $600 million revenue in 2020, there are still possibilities that Postmates won't post positive adjusted EBITDA. Delivery (Eats) still struggled to capitalize on significant bookings growth, with adjusted EBITDA only marginally higher YoY on a dollar basis. Postmates isn't likely to change that picture, as exclusive customers are the lowest, overlap is far below the leaders, and market share shrunk over a six-month period where sales grew during the second half. Uber's 2021 profitability is likely to be pushed deeper into 2022, and Postmates won't be helping much with its thin expected EBITDA figures in an 'upside' case.