As most of my readers know quite well, I am a dividend growth stock investor for retirement. That is how I look at my own portfolio and that is what most of my major articles focus on.
I am a straight shooting "fundamentals" guy with a former flare for trading on technical analysis and market sentiment. I tried to keep it simple in my day trading days by using the Relative Strength Index (RSI) as my main starting point.
Right now we find ourselves in an amazing market. I have been waiting for a pullback or a correction for several months so that I can add to our core portfolio here, as well as my own portfolio (which is amazingly similar in stock selection as our "Team Alpha" portfolio here).
The fundamentals of the US market are sustaining us, so let's run down the key fundamentals in our economic "climate" as it pertains to continued market strength.
Key Economic Fundamentals In Place
As noted in this report in Reuters outlines:
Non farm payrolls rose by 227,000 in the latest report
The unemployment rate has dropped about 1% since August and has held steady since the last report
The need for Fed action (QE3) has been sharply reduced
The report also added,
The jobless rate held at a three-year low of 8.3 percent even as people flooded back into the labor force to hunt for work, and 61,000 more jobs were created in December and January than previously thought."
I suppose that this means that Americans are finding some jobs and have re entered the work force. It also means that there will be more income generated by the private sector, not just the public sector swamped with "monopoly money".
This Bloomberg report shows that consumer confidence is rising.
The Bloomberg Consumer Comfort Index (COMFCOMF) climbed to minus 33.7 in the period to March 11, the strongest since March 2008, from minus 36.7 the previous week. A buying-climate gauge reached the highest level since November 2007, and a measure of the state of the economy had its best showing since September 2008.
Along with the rise in consumer confidence, we have the following:
Consumer spending has surged in spite of higher gas prices (read here)
Retail spending has risen dramatically;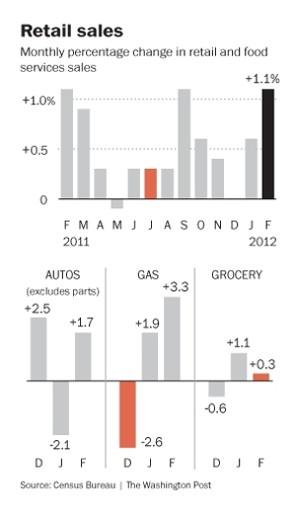 Discretionary spending has increased in just about all sectors
Corporate profits, with the help of Apple (NASDAQ:AAPL) is surging while without Apple it is moving in an upward fashion and is projected higher right through 2012 as this CNNMoney article reports
Savings rates are higher
Housing is slowly recovering
4th Quarter Corporate earnings reports came in healthy as noted in this report
Interest rates on fixed income products are at all time lows and money has been flowing out of those vehicles, into equities of all kinds
Dividends have been rising in many of our favorite stocks at a strong clip
Value stocks are seeing increased buying as the "risk on" investor is slowly coming back
I could go on but for now this is enough to get to my point here.
The Numbers Are the Proof
The Dow, the S&P, and the Nasdaq are all at multi year highs and the S&P specifically is back to pre-recession levels (read this). How can anyone stand in front of this speeding train?
Would anyone in their right mind step in front and actually defy the trend? Well, I believe that being prudent is the hallmark of any successful investor. I also believe that as an author for Seeking Alpha I have somewhat of a responsibility to let folks know how I feel and offer my suggestions for everyone to ponder and to potentially take action on.
What I Would Be Doing Now
We have our core portfolios and some of the stocks in each of ours has produced some significant gains. I am not talking about the core retirement portfolio we are tracking here, but in everyone's portfolio of stocks. Whether they are dividend and growth investors or value stock investors.
I am NOT a bull turned into a bear so let me be PERFECTLY CLEAR. I believe we are in a bull market, and we will be for quite some time to come. That is my forward looking view, and has been for almost 2 years now.
That being said, I will be taking some profits now. Even more than before when I began looking for a correction. My current cash position is at 15-20% right now and by taking some money off the table, I am shooting for a 30-40% cash position within the next week.
I will not be eliminating positions, but I will be reducing my overall exposure in each position, of stocks that have risen nicely, to re-deploy them when we have the inevitable pullback.
I will also be selecting stocks within my core portfolio to sell some puts in, at a correction reflected price where I would feel comfortable putting money back to work. If the options do not fill, well then my cash flow will continue and I will do the process over again until I either have a lot more cash, or shares at lower prices in stocks I want to own for the long term anyway.
If I am on the fence with any stock I am going to sell calls to exit the stock I feel uncomfortable with, also increasing my cash position OR income stream if the options expire.
What I hope to achieve here, is some of that elusive market timing by using some conservative strategies which allows me to be wrong, as well as right. I want to take profits now, and re-deploy later, but I will NOT sell this market short, or give up on it.
There are simply too many positive fundamentals to ignore and stand in front of.
I also do not want to be led to slaughter if the unthinkable happens, and we actually do have a bull market correction.
Yes, buying and holding is an obvious way to go, but I like making profits and actually keeping them! Selling a bit to achieve that is a pretty darn good strategy in my book.
Disclaimer: Please remember to do your own research prior to making any investment decisions. This article is not a recommendation to buy or sell any securities or stocks, and is the opinion of the author.
Disclosure: I have no positions in any stocks mentioned, and no plans to initiate any positions within the next 72 hours.
Additional disclosure: I have an open position in sold AAPL put options