If we look at the long-term chart of Ingredion (NYSE:INGR), we can see that price topped out at the very start of 2018. Shares up to that point had been in a solid bull run since its great recession bottom back in 2009. Prior to this, shares also enjoyed an impressive run-up from their lows in late 2000 to their highs in early 2008.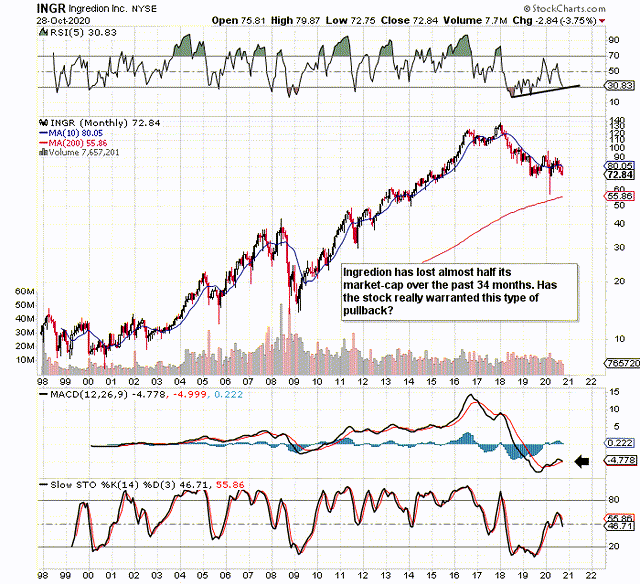 Although Ingredion has been deemed an essential business during this pandemic, earnings in its most recent second quarter came in at $1.12 which was a full $0.54 behind the same quarter of 12 months prior. Suffice it to say, Ingredion is not a recession-proof stock. However, this may indeed bring opportunity (due to its volatility) which we will get into.
For example, look at how oversold the stock's MACD indicator is at present. The key indicator is a potent technical indicator because it combines moving averages and momentum. The best long-term buy signals are when we have a moving average crossover (which shares are trying to do at present) and when we have steep oversold conditions (definitely what we have at present).
What investors need to be asking themselves here is whether the almost 50% decline we have seen in INGR over the past 34 months is warranted. The financial trends for example do not say so. For example, over the past three years, sales have actually increased by over 1% on average per year and net income has declined by just over 5% on average per year. Due to sustained buybacks, EPS has actually only dropped by 2.2% on average in this time frame. Do these trends warrant an almost 50% decline in the share price?
To give us some insights on whether this potential MACD buying signal has potential in playing itself out, we like to go to the dividend. The reason being is that dividend analysis invariably includes the analysis of the income statement, cash flow statement as well as the balance sheet. A strong sustainable dividend, for example, usually points to bullish fundamentals over the long term.
Ingredion's present dividend yield is 3.51% or $2.56 per share over a forward-looking basis. Despite the very poor performance in the share price over the past three years, the dividend has grown by almost 10% on average over the past three years. Growth is important to protect purchasing power and definitely fosters confidence among shareholders when the payout continues to grow despite a steep fall-off in the share price.
Despite the fall-off in earnings over the past three years, it is essentially cash which pays the dividend and not profits. In fact, free cash flow numbers have remained buoyant in recent times and come in at $374 million over the past four quarters. Dividend payments also over a trailing average come in at $174 million which means the payout ratio at present remains under 50% which is a healthy sign with respect to affordability.
The principal trend we look at on the income statement is how much of the firm's operating profit is presently being used to pay interest-bearing debt. Over the past four quarters, $83 million of interest expense was paid from the company's EBIT ($670 million). This gives us an interest coverage ratio of just over 8 which is slightly down from the 10.7 number we had at the start of fiscal 2018. While we have a negative trend here, we look for an interest coverage ratio of over 5 in our dividend plays which we have here.
Management strengthened the cash balance of the balance sheet recently with both short-term debt and long-term debt increasing as a result. The company's equity however ($2.64 billion) still is greater than the amount of interest-bearing debt ($2.61 billion) at the end of the second quarter. Suffice it to say, the balance sheet remains in good stead with equity remaining very stable over the past few years.
$1.45 and $1.51 are the bottom-line numbers for the next two quarters respectively. If INGR can meet these numbers, it will have done $5.66 in earnings for the year as a whole. Analysts then though foresee the company reporting double-digit bottom-line gains from 2021 thereafter. These are exactly the types of trends we like to see when evaluating the state of the dividend.
Therefore, to sum up, with shares of Ingredion trading for just 11.6 times forward earnings and 0.8 times its sales, we like the value proposition here at present. We state this because the dividend looks secure as there is ample cash flow to keep the payment going. We will make a decision here shortly.