Research In Motion (RIMM) has been an easy target to pick on over the past year. With competition from companies like Apple (NASDAQ:AAPL) and products that have widely been panned, it is easy to see why there has been so much negative coverage from the media and fallout from investors.
In fact some have already written RIMM off as a company. They speculate that it will imminently cease to exist or simply be acquired by one of its much larger competitors. While these are both possibilities, amid all of the negative attention, there is one beaming ray of hope. Aside from management changes, its Playbook tablet belatedly reaching competence, and subscriber numbers going significantly up, there is a much larger indicator to consider.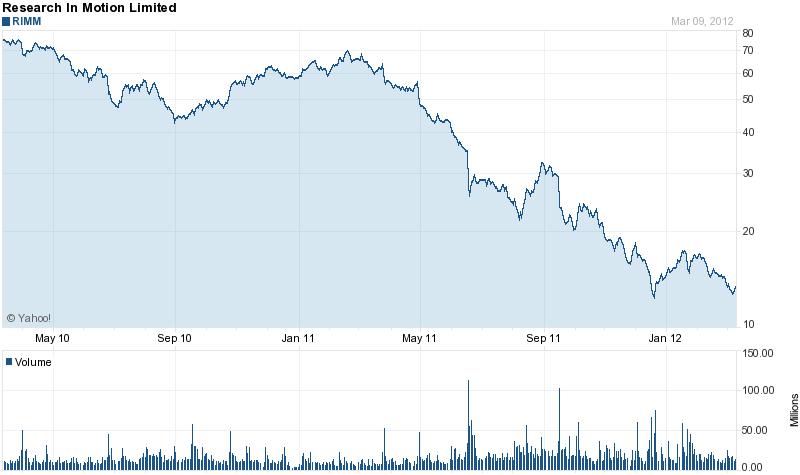 The research firm Gartner released their most recent numbers earlier last month. They stated, "Worldwide smartphone sales to end users soared to 149 million units in the fourth quarter of 2011, a 47.3 per cent increase from the fourth quarter of 2010. Total smartphone sales in 2011 reached 472 million units and accounted for 31 percent of all mobile devices sales, up 58 percent from 2010."
Why could this be good news for RIMM when they are losing market share? Well in the short term, it might not be. But looking forward it reemphasizes something that we already know; this market is growing fast and it is growing big. With over 7 billion people on Earth, this market is just getting started. It is not even close to being mature and nobody is even talking about the odds of it declining yet. Every day, someone somewhere is getting his or her first smartphone. Many have already made up their minds to go with one of the growing list of competitors like AAPL, Samsung, or Nokia (NYSE:NOK).
While that would be damning for RIMM in a mature market, the size of the growth in this industry is phenomenal. And it gives RIMM a lot more time than normal to recalibrate its direction and get back to doing what their name implies. While they may have lost the a big battle, they are still in the fight, at least for now. This is probably not reason to buy RIMM shares except for some very brave investors; only 1 out of 47 analysts currently recommends doing so. But with gloomy expectations for their looming earnings report scheduled for March 29, remembering that this market is growing phenomenally is a much-needed ray of hope for the former titan and now underdog of tech.
Worldwide Smartphone Sales to End Users by Operating System in 4Q11 (Thousands of Units)
Operating System

4Q11

Units

4Q11 Market Share (%)

4Q10

Units

4Q10 Market Share (%)

Android

75,906.1

50.9

30,801.2

30.5

iOS

35,456.0

23.8

16,011.1

15.8

Symbian

17,458.4

11.7

32,642.1

32.3

Research In Motion

13,184.5

8.8

14,762.0

14.6

Bada

3,111.3

2.1

2,026.8

2.0

Microsoft

2,759.0

1.9

3,419.3

3.4

Others

1,166.5

0.8

1,487.9

1.5

Total

149,041.8

100.0

101,150.3

100.0
Source: Gartner (February 2012)
Disclosure: I am short RIMM.