Chicago Bridge and Iron (NYSE:CBI) is $4.5 billion mid-cap world leader in engineering, procurement, and construction with solutions for customers of the energy and natural resource industries. It covers the following markets: upstream and downstream oil and gas, LNG, power, water and wastewater, and metals and mining.
CBI ended 2011 with its orders backlog up 30% over 2010. The company's total backlog stands at about $10 billion which includes large and small projects. It typically receives reoccurring contracts of $2 billion to $2.5 billion each year for small and medium sized projects.
Chicago Bridge and Iron should benefit from the low price of natural gas as companies increase demand for various NG infrastructure projects. In Papa New Guinea, CBI is building LNG storage tanks for ExxonMobil (NYSE:XOM). The company is constructing two LNG storage tanks on Barrow Island. Construction has begun on Dominion's (NYSE:D) gas processing plant in West Virginia, which will receive gas from the Marcellus and Utica Shale gas fields.
The company is seeing increased demand throughout the world for its technology specifically for gas processing and petrochemical related projects. China and Asia Pacific remain robust for the company. Increased activity is also evident in North America and Russia. North America has an increased need for natural gas processing. Opportunities in Russia exist for upgrading refineries and for petrochemicals.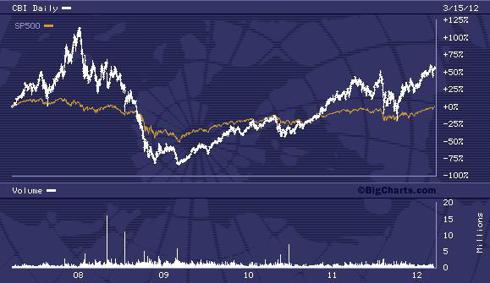 Chicago Bridge and Iron looks slightly undervalued with a PE ratio of 13.32, a PEG ratio of 0.90, and a price to book ratio of 3.81. If we look back five years ago the stock traded at about $30. The company has grown earnings at 12.93% annually since then. If we calculate 12.93% each year for five years, the stock price should be around $55. However, it is currently trading at only $46, so the stock price has some catching up to do.
The profit margin is 5.6% and the operating margin is 7.89%. CBI has operating cash flow of $413.15 million and free cash flow of $320.65 million. Total cash stands at $671.81 million compared to total debt of only $40 million.
CBI is expected to grow even more vigorously than the last five years. Earnings are expected to grow at 16.85% annually for the next five years. This is significantly higher than the expected annual earnings growth of the average S&P 500 company which is currently 10.59%. Therefore, CBI should outperform the market in the next five years. The current stock price of $46 should be around $100 in five years.
The company has exceeded earnings expectations in its last 3 quarters of 2011. It has 2 positive earnings revisions for 2012 and 7 positive earnings revisions for 2013.
CBI does pay a modest dividend of just 0.40%. However, the earnings growth should allow the stock appreciation to compensate for the lack of high dividends. This looks like a solid market outperforming investment for at least the next five years.
Disclosure: I have no positions in any stocks mentioned, and no plans to initiate any positions within the next 72 hours.