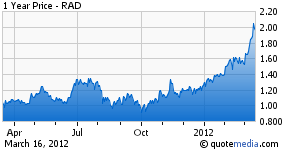 Rite Aid (NYSE:RAD) shares jumped sharply on Wednesday after a Credit Suisse analyst suggested that Walgreens (WAG) might pay $2-$4 per share to buy the company. The major justification for such a move would be achieving greater scale to increase negotiating leverage with pharmacy benefit managers. Walgreens has been hurt in recent months by its dispute with Express Scripts (NASDAQ:ESRX). Customers with health insurance that uses Express Scripts as benefit manager can no longer fill their prescriptions at Walgreens. Rite Aid, along with competitor CVS (NYSE:CVS), has been profiting from customers transferring prescriptions.
However, a Walgreens-Rite Aid deal seems highly unlikely. For one thing, a merger between two of the three largest pharmacy chains would attract substantial regulatory scrutiny. Together, they would have more than 12,500 stores in the U.S. While Kelly (the Credit Suisse analyst) argued that the combined company would only have to divest 3% of its combined store base to satisfy regulators, I am skeptical of that claim. The combined company would have nearly 50% market share in New York. As AT&T (NYSE:T) learned to its cost last year, the Justice Department frowns upon duopolies.
Moreover, Rite Aid has a terrible balance sheet. With $6.3 billion of debt, Rite Aid would drag down Walgreens' clean balance sheet (it has only $2.4 billion in debt). Assuming a purchase price of $3, Walgreens would increase its debt burden by a total of $9 billion in a deal for Rite Aid. At that cost, Walgreens would be better off caving in to Express Scripts on a new contract. It would take Walgreens years to pay for Rite-Aid, given free cash flow that consistently falls between $2 billion and $2.5 billion. For all this trouble, Kelly claims that Walgreens could see a modest 30-40 cent boost to EPS based on cost synergies.
If Walgreens decides it is willing to take on an additional $9 billion of debt, the company would be better served buying back its own shares. Unlike, Rite Aid, Walgreens is actually profitable. For $9 billion the company could repurchase 30% of its shares, which would increase EPS by about $1 (and would avoid integration costs). I don't think it would be prudent for Walgreens to follow this course of action either, but it would make more sense than bidding for a perpetually unprofitable competitor. In all likelihood, Walgreens will continue to invest in itself instead.
Rite-Aid has been consistently unprofitable, so there's no reason to own the stock on that basis either. While a Guggenheim Partners analyst recently argued that Rite-Aid is a buy based on standalone earnings potential, he overstates the earnings improvement Rite-Aid will see. While the company is clearly picking up some Express Scripts customers from Walgreens, a 3% improvement in same store sales isn't going to get Rite-Aid into the black.
If you are long Rite-Aid, I would strongly advise taking profits now. I think the company is also a good short candidate. Rite-Aid has been on life support for some time now; even a small misstep could put the company in bankruptcy.
Disclosure: I have no positions in any stocks mentioned, but may initiate a short position in RAD over the next 72 hours.