A basketball team is like the five fingers on your hand. If you can get them all together, you have a fist. That's how I want you to play.

- Mike Krzyzewski
Part 3 (see part 1 and part 2)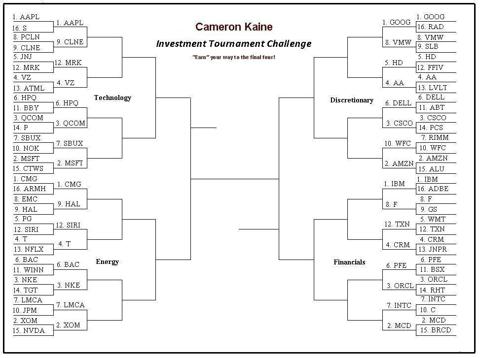 The quote above from legendary Duke University basketball coach Mike Krzyzewski is one of my favorites of all time. As great a fundamental message as that is from the standpoint of basketball, one can really apply it to anything in life.
As much fun as it is to break down these investment match-ups to simulate the level of competition that exists on the hardwood, there are also a lot of parallels to real-life investing. It's just like your investment portfolio where a careful collection of individual stocks strategically selected can have a prolonged impact on an investor's fortunes by offering different strengths and mitigating the inherent risks associated with investing in general. Essentially, your portfolio is a team in and of itself that competes daily against other teams on the market where the prevailing objective is always trying to be on the right side of the trade.
Round of 32
If you have been following along, we are now off to the round of 32. The first round brought some very exciting match-ups that went down to the wire, while there were also some "gimmies" as each of the four top seeds in Apple (NASDAQ:AAPL), Google (NASDAQ:GOOG), Chipotle (NYSE:CMG) and IBM (NYSE:IBM) advanced with relative ease against their over-matched opponents. Some of the other noteworthy results include Liberty Media (LMCA) who overcame a 10 point deficit in the last five minutes of the second half to beat JPMorgan Chase (NYSE:JPM) by 4 points. While its rival Bank of America (NYSE:BAC) dominated Winn-Dixie (NASDAQ:WINN) which was recently acquired by grocery giant Bi-Lo for $560 million. But let's now take a look at the results of our feature match-ups.
Nike Vs. Target
We did however have some extremely close nail-biters as athletic apparel giant Nike (NYSE:NKE) just "squeaked" by retail giant Target (NYSE:TGT) in overtime. Nike was aided by an upgrade from Citigroup which now sets a price target on the stock to $123 while citing that Nike's recently-announced deal with the National Football League for the move. Beginning in April, Nike will usurp Reebok as the official football jersey and apparel maker for the NFL. The new target suggests a 14% upside to the stock's Thursday closing price of $107.90. Investors may want to take advantage of an opportunity right here in Nike as there is clearly value to be had.
For Target, there is nothing to be ashamed about as it gave a valiant effort. Unfortunately, its shots were a bit "off target" in the last few seconds of overtime. But investors have plenty to be excited about now and going forward. In the company's latest report, it showed tremendous growth as its comparable store sales grew by 3% - its best annual performance since 2007. This growth reflects investments made in its remodeling program as well as 5% rewards loyalty program - both of which continue to drive incremental traffic and sales. These strategies make Target a more desirable shopping destination and enhances its customer loyalty, both of which are critical for its long-term success as it continues to chip away at the lead that Wal-Mart (NYSE:WMT) has established.
Wells Fargo Vs. Research In Motion
There were some other noteworthy match-ups, but none of which required overtime as was the case for our first game. However there was one upset to discuss as banking giant Wells Fargo (NYSE:WFC), the number 10 seed in the financials region whose motto is "together we'll go far" demonstrated what a quality team it has when it plays together. The bank simply dominated smart-phone giant Research in Motion (RIMM), the number 7 seed from start to finish. I can't help but look at the company and see what a bargain it still is even at its 52-week high of $34. As with other banks it still has a lot of work to do to clean up its balance sheet. And one has to consider that its acquisition of Wachovia will take additional time to fully integrate. Nevertheless, Wells Fargo at a P/E of 12 is (to me) trading considerably below if true potential.
Research In Motion just didn't have it in this game. The bigger surprise is that the blowout itself was a surprise to some investors. I've once said that absent of an acquisition of a company such as Sirius XM (NASDAQ:SIRI). In fact, the better option for RIM might be to make a play for a company such as Pandora (NYSE:P) which was beaten soundly in its match-up against chip giant Qualcomm (NASDAQ:QCOM). Unless RIM does something drastic, the company cannot be saved. Admittedly, after an increased study of the company's landscape, I have become slightly more open minded to other possible avenues. The reality is, as downtrodden the company is today, it still serves a smart phone industry that is still growing - one that currently is still less than half of the overall phone market. An acquisition of either Sirius XM or Pandora (although unlikely) would separate RIM from its dying enterprise footprint and further its own BBM Music Service strategy. But as far as the stock goes, it's hard to see where there is any value left. If it does not fall below $10 at some point this year it will be a surprise.
Summary
We will look at more results and complete the entire second round in the part 4 of this article. Make sure you stay tuned and we continue our investment tournament challenge on to the final four.
Disclosure: I am long AAPL, WMT.
Additional disclosure: Author is short SIRI.